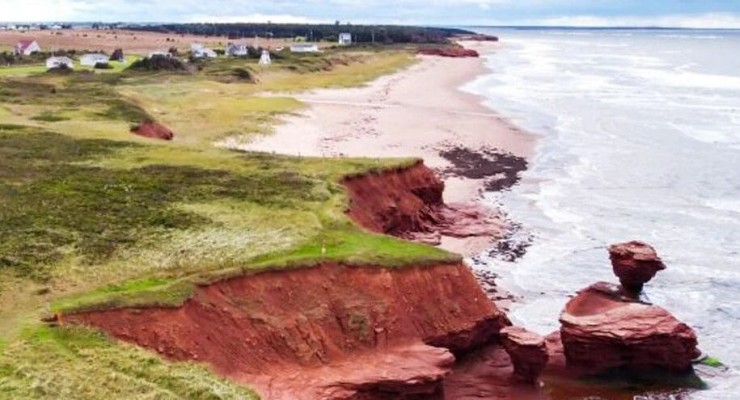 Prince Edward Island is famous for its sandy beaches and beautiful nature. But even on a rainy day, the island offers exciting activities: from exploring museums and local shopping centres, escaping to other realities, cherishing your beloved author or singer, to finding your inner child in a toy shop. We bring you 10 great indoor activities on a rainy day on Prince Edward Island.
Immerse in the World of Anne of Green Gables
Even if you have never heard of this famous redhead, you must see the iconic places from the beloved children's book Anne of Green Gables. There is plenty to explore - even on a rainy day. The iconic green house can be found in the Green Gables Heritage Place. In the Anne of Green Gables Museum, you get a chance to see many artifacts from the book and its author, Lucy Maud Montgomery. And if you still don't have enough of this story, see the musical Anne and Gilbert. Or combine all experiences into one Anne of Green Gables package for a discounted price.
True fans of this fabulous literary heroine should also visit one of the popular malls in Canada to get their own Ann of Green Gables inspired outfit. Start with a basic monochromatic long-sleeved shirt. Add a pinafore dress, steampunk boots (or oxford shoes) and a straw hat. Finish your styling with a pearl neckless, and voila – your outfit is ready. If you dare, decorate your hair with a red ribbon to create a perfect 19. century girl look.
Spend a Day in Charlottetown
The small but vibrant capital of Prince Edward Island is full of charming restaurants, romantic shops, exhibitions, and art galleries. A perfect setting for a rainy day. You could spend all day exploring all things Anne of Green Gables - there are souvenir shops (a porcelain Anne doll makes a perfect gift), bookstores, a chocolate store, and even a theatre play based on this beloved character. When you get tired, grab your favourite book and head to a local café.
A rainy day gives you a perfect excuse to fully explore the Confederation Centre. The museum gallery holds a significant Canadian art collection, including paintings, photography, and artifacts. The centre also commemorates the Charlottetown Conference that proposed a national union for the first time. If you come with kids, allow them to explore their artistic capabilities at the arts education at the centre.
If you want to spend a whole day indoors, head to the downtown Confederation Court Mall. Browse its many stores, buy souvenirs, and then relax with a cup of tea and a delicious meal. Or spend your day in a spa, at one of many mall events, or explore the finest olive oils in the Liquid Gold Tasting Bar and forget about the rainy weather outside.
Discover What Folk Music and NHL Have in Common at The Stompin´ Tom Centre
The good old hockey game is the best game you can name… Lyrics every Canadian and NHL lover knows by heart. Their author, Canadian folk musician Stompin´ Tom, was born on Prince Edward Island. Today, you can remember this beloved Canadian icon in his museum. Walk through the school where he learned to read and write, enjoy free music entertainment, discover singer's inspirations from museum displays and memorabilia, and end your day in a local restaurant with a Stompin´ burger. True musicians can purchase the Tips and Tunes experience – an opportunity to write your own song and then record it with the singer Kurk Bernard.
Have an Authentic PEI Church Lobster Dinner
Tourists visit Price Edward Island for two reasons: to enjoy the romantic sea and taste the delicious lobster. Lobster suppers were first organized as a fundraiser. Nowadays, you can get the opportunity to eat a rich portion of seafood every day. Fresh, delicious local lobster is usually accompanied by all-you-can-eat mussels, a chowder, salad, and a dessert – strawberry shortcake is a local staple. Beware – after this opulent dining adventure, you need to size up your wardrobe. Luckily, numerous popular malls in Canada can help you with that.
Escape The Rain in PEI Escape Room
Pouring weather just invites you for indoor adventure. Lock yourself for 60 minutes in another reality. You can pick from three different experiences with difficulty levels easy to medium. We are quite sure you will go for the island treasure adventure, but if you are more on the culinary side, try to qualify for the great island bake-off. If you want to start with an easy one, search for a missing neckless.
Immerse in a different reality, test your wits and skills and have fun with your friends in PEI Escape Rooms. And what's best, the escape room revenues go to the Voluntary Resource Centre, a nonprofit organization in Charlottetown.
Go to a Potato Museum
Fried, boiled, mashed, loaded, chipped – there are endless ways to eat spud. At the Canadian Potato Museum, you will learn all things... potato. From the harvest to the fork, from growing a spud to eating it loaded with bacon, this museum provides a complete spud experience. You can learn about potato varieties (over 100!), see different harvesting machines, tour a potato farm, eat at the PEI Potato Country Kitchen (we recommend baked potatoes with their famous hand-cut chips) and buy a spud-themed souvenir. Before you leave, don't forget to take a picture – with a giant spud. Yum!
Try Great Local Beers
Pick them on a rainy day, drink them on a sunny beach. There are many new local minibreweries in Prince Edward Island worth discovering. Prince Island Brewing Co. in Charlottetown is an award-winning brewery that offers tours, a tap with a great selection of beers and bites and events from trivia nights to music concerts. Copper Bottom was founded by a husband and wife with a passion for craft beer and music. Together, they built a brewery that serves as a meeting spot for locals. Try blueberry sour for a summer vibe or Flora to taste proper European beer. If you want to go right to the source, visit the only hop farm on the Island: Barnone Brewery and Hop Farm.
If your tastebuds have tried one too many beer varieties, shop at Charlottetown Mall (now called Royalty Crossing) for a hand-made Pretzel at the Pretzelmaker. A perfect ending to the rainy day full of adventures.
Remember your Inner Child at the Toy Factory
Not just another toy shop. This local toy factory has been in business for over 50 years and still makes all the wooden toys by hand. Enjoy the toys in the play area (with your kids, of course) or in a toy workshop. The shop carries toys for all ages, dolls and dollhouses, pirates and castles, fantasy, puzzles, and games. The shop is located in the oldest building of New Glasgow, just a 20-minute ride from Charlottetown.
Come For Some Shopping, Stay for a Movie Night
Prince Edward Island shopping centres offer all-day shopping and entertainment experience. The smallest Canadian province carries 15 shopping centres. The largest is the Confederation Court Mall in Charlottetown, but you can find more shopping malls in Summerside or Montague. County Fair Mall in Summerside carries 31 stores. Come over for seasonal activities and stay for great shopping, a movie, or a quick dinner.
Shop for Trendy Summer Outfits
You have done your spring cleaning at home. Now you have one lazy rainy day to find the perfect beach outfit! Browse local shops, vintage stores, and shopping malls to find your own Prince Edward Island beach holiday style. Choose from local brands, pick the best straw hat, romantic bathing suit, floral dress, and comfortable shoes. Accessorize with trendy sunglasses, necklaces, bracelets, beach bags, and waterproof phone cases. Complete your outfit with some vintage pieces from a thrift shop. Finish your shopping in style with a summer drink. And just like that, the rain is gone.