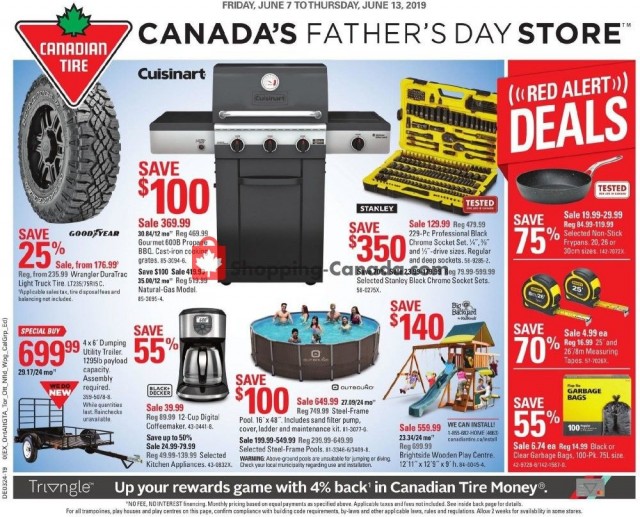 shopping-canada.com/flyers/canadian-tire
Have you ever heard of this?
On March 25, 2010 a contestant on the ABC Nightline segment Extreme Couponing Competition: How Far Can $50 Go? spent only $30 on products retailing for over $500! Now that's what we call a true art of making a flyer worth it. But it's not as smooth as it seems like.
In some cases, using flyers can be a nightmare if you are not well informed or organized.
There are several things to consider in order to save yourself from trouble of spending a whole salary at the grocery shop or, on the other hand, getting gray until you select the right flyers.
So, what is the best way to decide what's right for you?
It's important to balance both the time you spend couponing and the true cost savings for you and your loved ones. You will not save by purchasing expensive items just because something is on sale. But if you're able shop a long list of healthy groceries for a two-week meal plan that's the way to put aside some extra pocket change!
Also, before you get all excited about becoming a Flyer Master, consider this: Will you actually use every item you purchased?
Just like with any great sale, if the groceries you purchased won't get eaten you haven't really saved any money at all. Same goes for junk food or unhealthy snacks you bought only because it was discounted. You might even end up running back to the store to pick up more food to replace it. That's more time and money wasted.
Be smart with your minutes - commit to only spending certain amount of time couponing each week or month. Technology can help a lot, too. You can always download an app on your smartphone that can be scanned by the cashier at checkout. Again - focus on only making purchases you'll actually use. Stay wise and savvy.
To some, couponing is an extreme sport of saving as much money as possible.
Research has shown that clever shopping skills combined with couponing, makes it possible to save anywhere from 50 to 90% on the groceries, in some rare cases even more.
As with anything – there are pros and cons with using flyers.
This activity will certainly require a serious level of commitment. Although you may save some money, the time and effort that goes into couponing can quickly exceed its benefits. For the most passionate ones, matching coupons to stores and being aware of store policies, couponing can quickly become a full-time job. For example, using ten coupons to buy ten boxes of the same product may not be allowed. There are also store policies that prevent customers from tying up an employee and cash register for too long.
It takes a lot of time collecting and sorting the coupons and a decent amount of hours to actually grab the specific flyers before going shopping. After extreme couponing became super popular years ago, most stores have set limits for how many coupons for a single item can be used for the purchase at one time. You have to have this in mind before eagerly heading to the store.
Shoppers Drug Mart flyers and weekly ads are some of the most popular in the shoppers' world.
When you click here you will see a vast choice of products at discounted price.
# Did you know?
The first Shoppers Drug Mart store opened in Toronto, Ontario and was innovative in a way it combined mass merchandising and self-service into a retail pharmacy format. Over the past 50 years, the retail format has continued to evolve. Today, there are more than 1,307 Shoppers Drug Mart and Pharmaprix stores across the country.
Shoppers Drug Mart generously offers 20 per cent off on regular priced merchandise with a PC Optimum card to anyone who shops on Seniors Day. While Shoppers Drug Mart says official age of a senior is 65, some locations may choose to lower the age. Check with your local store for all the details!
No two Shoppers Drug Mart locations are identical. You'll find that the size, product selection, operating hours, and even the return policy can differ from store to store based on the location and clientele.
Although couponing may save you some money, it can be very stressful at times. Extreme use of flyers can easily rob you of the joy of the easy-going shopping. It's likely there will be times you forget your coupons at home or grab the wrong ones. There will, also, be times you do not notice a coupon has expired, or the store simply does not have one of the items you're looking for.
However, before you get serious in saving cash with flyers be joyful and remember the pros of it:
If you play it well, you'll get free or cheap products.
By using flyers, you teach your children the value of money and importance of saving.
You will reduce your expenses on food and personal products.
In case of an emergency, no need to worry – you will have a stockpile of food and supplies.
If you are eager to find Canadian flyers online here you will find literally hundreds of great offers waiting for you! From food and beverages to cosmetics and technology!
Especially during the holiday time, it is good to know there are so many healthy food options available. Click here to check it out.
It may happen that you will end up with flyers exceeding the value of the items you're buying – no need to stress out about it, use them at Walmart. They allow you to apply your coupon excess to other items. In other cases, they simply give it back to you in cash. Walmart itself has an amazing story with interesting details. After reading this, you will be even more inspired to head to one of their locations and try out using the best of your flyers.
Walmart stores sell everything from groceries to musical instruments. This business (founded by Sam Walton in 1962) has a significant presence worldwide today. Did you know they have 59 different names in 28 different countries? In India they operate as Best Price, they are called Asda in the United Kingdom and Seiyu Group in Japan. There are, approximately, 11,700 stores in total.
Waltons, the owners of Walmart, are the richest family in the world, with billions and billions of dollars in combined net worth. Founder Sam Walton was running the business until his death in 1992. Ownership was then passed on to his heirs, who hold 51% of the company – making Walmart Inc. a publicly-traded family-owned company.
Walmart has the largest privately-employed workforce in the world - 2.3 million employees! Also, company makes close to half of a trillion dollars a year.
The first store with the name Walmart was the Walmart Discount City opened by Sam Walton in 1962. It was twice as large as his previous store (the Walton 5 & 10) and made nearly a million dollars in its first year. This helped Walton expand his business rapidly, opening up about 18 stores in just five years. By 1970, just eight years after the first Walmart opened, they had 38 locations and were opening approximately two stores per year.
In 1987, Walmart successfully completed their $24 million-dollar private satellite network! Its aim was to provide a connection between every single store that the company owned with their own headquarters in Bentonville. This made it the largest private satellite network ever created.
Walmart is green and environmental - friendly! They introduced innovations that would increase the fuel mileage in their trucks and would also reduce the emissions produced by said trucks. Also, do you have any idea on how they heat the stores? They use used oil - both motor oil and cooking oil, for this purpose!
They created their own electricity company! They first helped, later on acquired an energy company called Texas Retail Energy. Their main intent was to purchase electricity for their stores at wholesale prices, saving them around $15 million per year.
Walmart promotes healthy eating! They keep lowering the price on whole grain food. Walmart also has their own store brand that is called Great Value. In 2011, the firm began working closely with Michelle Obama in order to introduce their new healthy eating initiative. They began doing so by pledging to reduce sugar, unhealthy fats, and sodium content in their prepackaged foods. In addition, they promised to cut prices on vegetables and fruits.
You would be crazy not to use the chance to grab the best healthy deals using their coupons. Click here to save money with Walmart flyers!
Before you head to your flyers chase also have in mind - it's very handy to learn each store's coupon policy, so you know what you can and can't do. It should be available on their website. Consider printing a copy, so you can show it to the cashier. Keep your coupons with you at all times. You never know when a deal might pop up. If you find a product on clearance, and you happen to have a coupon with you at the spot, imagine how cool that can be!
Spend smartly and find Canadian flyers online - click here!