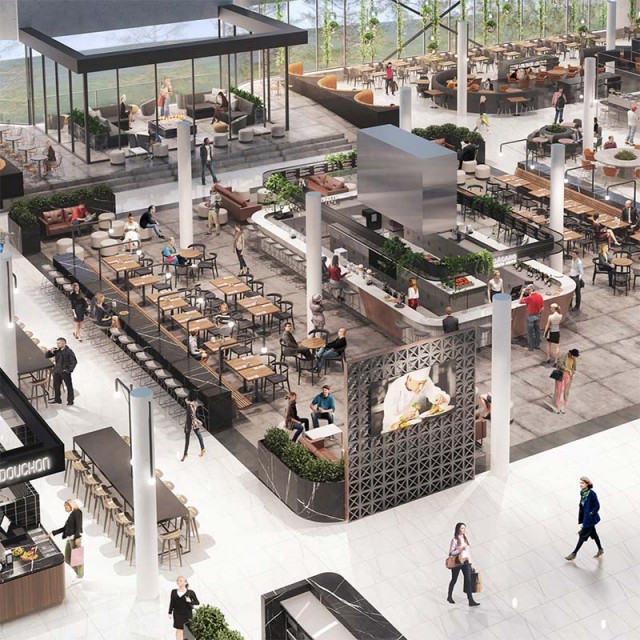 Source: centrerockland.com
Shopping mall Centre Rockland will soon have brand new food and beverage area that will cost it's landlord Cominar around $10 million. Renovation that is about to start will bring freshness to the space creating the mixture of cosy and modern with many interesting novelties that will help visitors enjoy their food experience while the redevelopment is in progress.
The current food court on the mall's third level has 15 permanent restaurants. Soon, there is a plan to introduce rotating pop-up food vendors, within the new food and beverage space, which will replace the current food court. Italian-themed bar and restaurant will be positioned as a focal point of this space and nearby, a chef's kitchen will host guest chefs for demos, food tastings, cooking classes as well as mixology workshops.
We are delighted to offer Rockland's customers a vibrant and authentic food court that will host culinary demonstrations where professional chefs will present unique gastronomic events. It will feature a central bar offering a fresh visual and tasting experience, as well as a diverse selection of food trucks every three months. Its new Children's Garden will cater to families by offering a range of services for their well-being, said Manon Larose, Vice President of Retail Leasing at Cominar.
As a part of redevelopment east side of the mall will be refreshed with new window constructions, that will give ample natural sun light to the space, during the whole day. Children's garden with big play area is a good news for all the parents intending to enjoy the services of Centre Rockland. Other components to the new food centre will be a three-season outdoor terrace and a personalized food waste sorting service to maximize recycling.
As it is well known how much people of Montreal love food trucks, Cominar has decided to position seasonal food trucks in two units of the new space. They will change with the season.
As the current food court space has been shuttered for the renovation, starting February 23rd, four food trucks will be parked outside of the centre to serve the guests. Heated indoor corridor will lead the visitors to the trucks and there will be seated indoor dining area waiting for them, as well.
Ms. Larose noted that the centre will be seeing some new retailers this and next year, but this will remain secret for a while, having in mind confidentiality of a company's project.