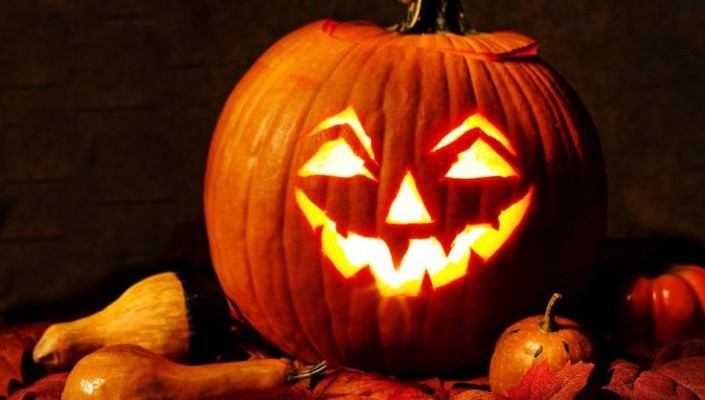 A holiday half of the world is crazy about is all about the candies, creative costumes and scary décor. But how much do we, really, know about the famous pumpkin day?
The history of Halloween dates back thousands of years to the Celtic celebration of Samhain, a festival that marked the end of the harvest and the start of a new year. The day was also known as a period when the veil between the living and the dead was the thinnest so humans believed they could easily communicate with their deceased ones and see them.
HOW IT ALL STARTED…
Halloween as we know started more than 2,000 years ago when Celtic people in Europe celebrated the end of the harvest and the start of a new year in a festival known as Samhain.
During the festivities they would honor the dead, build bonfires and burn crops and animals as sacrifices to the Celtic gods. Villagers would attend the bonfire dressed in the costumes of animal heads and skins.
Several Christian popes didn't like the idea of this type of "pagan" holidays like Samhain so they attempted to replace it with similar events - by 1000 A.D., All Souls' Day on November 2nd served as a time for the living to pray for the souls of the dead. All Saints' Day, used to honor saints and was always celebrated on November 1st. It was also called All Hallows. That made October 31st All Hallows Eve, which will later turn into Halloween.
In the 1700s and 1800s, women used to perform rituals on Halloween in hopes of finding a husband. Funny tradition people follow even today in some parts of the world involves playing with apples. Women would throw apple peels over their shoulder hoping to see their future husband's initials and competitively bob for apples at parties because the winner would be the first to marry. They would, also, stand in a dark room with a candle in front of a mirror hoping to see their future husband's face.
The holiday became really popular in the middle of the 19th century, when a wave of Irish immigrants left their country during the potato famine. They popularized the celebration nationally with their own new customs, like the jack-o'-lantern.
By the end of the 1800s, more communities pushed for a secular (and safer) set of rituals. Halloween started to look like something we know today – parties that included games, fall cookies and food and interesting costumes over witchcraft and celebrating connection with dead ones.
Trick-or-treating skyrocketed in popularity by the 1950s, when Halloween became a true national event. Today, over 179 million Americans celebrate the holiday — and spend about $9.1 billion on it per year, according to the National Retail Federation.
What to expect this season – be purple
Some communities will act as a support of Epilepsy Foundation's Purple Pumpkin Project to signify that they are taking extra precautions to lower COVID-19 risks this Halloween.
If you decide to put a purple pumpkin on your porch you will show that you are celebrating responsibly. A purple pumpkin on a porch or in a window means families will be wearing masks while handing out candies and will pass out wrapped grab-and-go bags. Local officials are using purple pumpkins to bring more awareness to safety guidance, including tips issued by the Centers for Disease Control and Prevention.
LET'S PLAY!
Halloween is a great chance to be creative, spend some time with your family and enjoy making the spooky décor and makeover. There are so many interesting details to pick and house corners to play with, so we reckon it would be a good idea checking out Home Depot flyers to save on Halloween decorations. Out of so many ideas that spark imagination and creativity, try out these 3 simple ones we have chosen for you.
Creepy Mirror
This ominous mirror message is very easy to craft (pick any scary message then choose letters accordingly). Tear letters out of newspaper, then lay them on the mirror with light double-sided tape. Spray the surface with a matte finish spray, allow to dry, then remove the letters. Once Halloween is over, use some glass cleaner to turn your mirror into a non-spooky one.
To make it happen shop – double-sided tape, matte finish spray and glass cleaner.
Black Cat Pillows
Make some adorable black kitty pillows and complete with cute moustache.
Get ready with - hand sewing needles, black thread, 1⁄2-inch black or pink button, black pillow (about 12 inches across in any fabric), two 1⁄2-inch crystal buttons and white embroidery floss.
Get to work:
# Thread a long needle with black thread; sew the 1⁄2-inch button to the center of the pillow, stitching all the way through and pulling the thread tight. The cat's nose is done!
# Sew crystal buttons above nose to give your cat eyes.
# Thread an embroidery needle with 2 strands of floss. To make moustache, make a small stitch on one side of nose; tie thread ends together and trim to about 2 inches long. Make several more whiskers on each side of nose following the same steps.
Eye See You Pumpkins
Remove the stems and prepare two white pumpkins and two slightly larger orange pumpkins. Cut hole in back of each orange pumpkin big enough for white pumpkin to fit into. Hollow out orange pumpkins - carve eye shape, and to carve lashes use linoleum cutter. Draw iris and pupil circles on white pumpkins, trace iris outlines with linoleum cutter and lightly engrave lines from outer to inner edge of iris. Paint them with diluted green acrylic paint and when it all gets dry use black acrylic paint for pupil. Take red permanent marker and draw blood vessels around iris. When dry, insert white pumpkins into orange pumpkins and there you go – your precious pumpkins are ready to "look".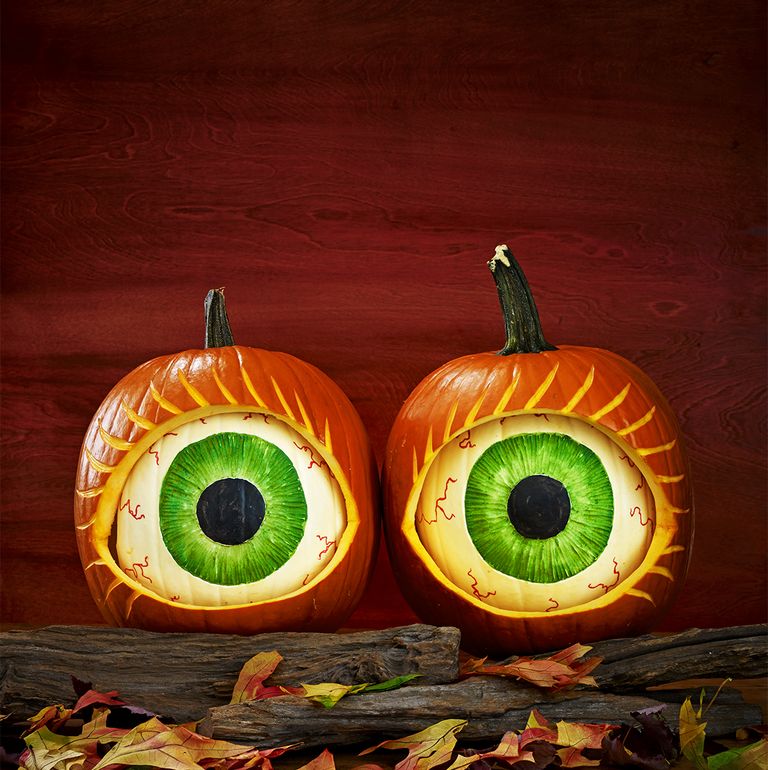 You will need – 2 white pumpkins, 2 large orange pumpkins, linoleum cutter, green acrylic paint, black acrylic paint and red permanent marker.
HALLOWEEN FUN FACTS
# The name of one of the most popular festivities in the world comes from an Old English adjective that means "holy," ("Hallow") and "eve" meaning the nighttime setting. All Hallows' Eve was also referred to as All Hallows' Even later shortened to "Hallow-e'en" by the 16th century.
# Ireland's devastating Potato Famine that started in 1845 caused mass immigration – more than 1.5 million Irish people found their new homes in the USA and brought most of the Halloween traditions we know today.
# Weird games like Snap Apple were popular and this tradition is still practices in many countries. The aim is to try biting an apple hanging from a stick with teeth only (no hand touching). The first one to succeed would marry.
# The baby boom of the '50s made the holiday more family oriented so Halloween parties began to be celebrated in school classrooms and homes.
# According to the National Retail Federation, Americans spent around $9 billion on Halloween last year. This year, the NRF expects consumers to spend a bit more. They predict the final figure will be around $8.05 billion on the holiday.
# Ever heard of samhainophobia? You can have a very real fear of Halloween and this is how it's called. Forbes defined it as a persistent, abnormal and unwarranted fear of Halloween despite conscious understanding by the phobic individual and reassurance by others that there is no danger.
# During Halloween week alone, Americans consume around 300,000 tons of candies. If you put all that candy in one big pile, it would be enough to fill six Titanics!
# Candy makers produce around 35 million pounds of candy corn a year. These white, orange, and yellow triangles of sugar are made to resemble a kernel of corn. The candies were first created in 1898 by the Jelly Belly Candy Company.
# Well-known trick-or-treating actually began in what is now the U.K., Ireland and northern France.
# Canada was the first country where the term "trick-or-treating" was mentioned for the first time!
SHOP, SAVE & PLAY!
Where to get ready for the Halloween to come? There are more than enough places.
Don't miss Home Depot Canada. It is one of Canada's top home improvement retailers. The Canadian operation consists of 182 stores and employs over 28,000 people in Canada. Home Depot Canada has stores in all ten Canadian provinces and serves territorial Nunavut, Northwest Territories and Yukon (via online sales).
Or find your local Walmart and dig into some creative work with all the Halloween must-haves, from scary and fun costumes, tons of yummy candies to unique home decorations. Walmart Canada offers a wide selection of Halloween decor that will transform your home into the spooky and fun scene! Search for the best Walmart flyers and grab your items at low prices!
You can also browse the list of the largest shopping malls in Canada and do some online shopping or lower the cost of your festive purchase and buy in bulk at Costco.
We will leave you now as you have a lot of work to do and become intimidatingly charming.
We will also leave you with a shocking fact we bet you did not know - pumpkins are a fruit, folks. Not a vegetable. To be more specific, pumpkins are a type of squash.
HAPPY HALLOWEEN!