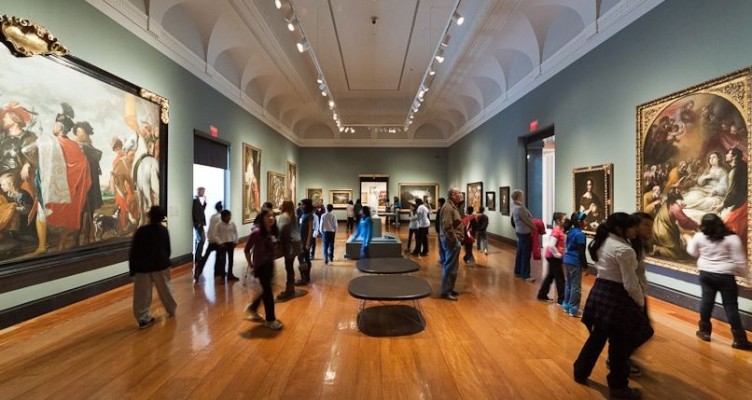 Ontario is one of the best places in Canada to discover the wonders of the art and craft.
Plenty of art galleries around the region invite you to immerse yourself in the world of cultural and historical marvels, discovering everything from contemporary art and abstract pieces to one-of-a-kind sculptures and prints.
These are art galleries not to miss in Ontario.
Taglialatella Gallery
This gallery will welcome you with modern and contemporary art. Here, you can see pieces from everyone, from rising artists to contemporary ones. You'll also be able to explore the latest works of masters like Keith Haring and Jean Michel-Basquiat. Apart from Canadian artists, you can also browse through collections of international legends like Andy Warhol.
Broken Cage Gallery
Located in Richmond Street in downtown Toronto, this space is a hot spot of a thriving art scene and it also serves as a venue for live events. It's a great choice if you love contemporary art. With humble beginnings as a gallery born out of the need to showcase and nurture art and creativity, today, they stand out because they often promote a bit out-of-the-box artists and pieces.
Baffin Inuit Art Gallery
Since 1987, this art gallery has been offering, presenting and preserving art pieces from Inuit artists! It's very special and we recommend you put it on a list because it's different from many places of this kind. It's almost as witnessing a snippet of history crafted thousands of years ago…
What is that you'll find here?
Beautifully crafted Inuit cultural gems, sculptures, prints and corporate gifts. They also offer restauration/repairs in case you are already an owner of some of these lovely art pieces.
All of the items have very competitive prices as they source directly from the Inuit artists. Also, every piece comes with a certificate of authenticity issued by the Canadian Government or an Igloo Tag. You can shop these items online or in person. Of course, second option is our warm recommendation.
Sybil Frank Gallery
You'll love what curator Craig Alexander gathered in this new artistic hub in the neighborhood!
This small, but eclectic space in the heart of Wellington Ontario, will welcome you with fine art ranging from contemporary modern and landscapes to very bold glass and metal sculptural pieces.
It keeps the memory of the owner's grandmoms, therefore…the name.
I try to create a story through art that honors and emulates the memory of both these amazing women; one, bold and daring, who could command attention just by walking into a room, and the other graceful, elegant and ethereal, says Craig.
The gallery represents a collection of artists both locally and from across the country. Sybil Frank promises to be an art experience where one can find unique talent with vision, artistry and the unexpected.
Mad Dog Gallery
For almost three decades, this gallery welcomes its visitors with extraordinary collections of fine art promoting some of the Canada's most noticed artists. If you choose to visit this recommendation, you'll get two in one experience. Apart from enjoying art, you'll be stunned by the surroundings of this gallery. It's located on the property surrounded by 25 acres of beautiful gardens and walking paths decorated with sculptures.
Piggery Gallery
Nestled along Lennox and Addington County Road 27 on Wartman Road, this unique place will welcome you with its unusual story. The space was once a genuine piggery and has been renovated since. That was many years ago and today the pig barn has been completely renovated and is filled to the brim with fine arts and crafts handmade by skilled local makers. You will love its eclectic charm and the fact it's in the middle of farm country along a scenic winding road in beautiful Stone Mills Township, Newburgh, Ontario, Canada.
If you're into arts and crafts, go for it! They promote and sell collections of original paintings, sculptures, fine gifts, functional and decorative items for the home, cottage or office, luxurious wool products, rag rugs, quilts, pottery, furniture and so much more!
Have in mind you can visit them not before May 1, 2022.
Quinn's of Tweed Fine Art Gallery
This one is a must-visit!
Not only because of the art it promotes but because its location will take you back in history, all the way to the 1880s. This gallery is located in one of the town's most beautiful historical stone structures. The twelve-foot walls and traditional French salon style are part of its unforgettable charm.
They present the works of Canada's finest artists and artisans to the customers, in a relaxed and inviting manner. Quinn's of Tweed Fine Art Gallery features 6,000 sq.ft. of gallery space. The main and upper floor galleries host the paintings, photographs, artisan work and fine gifts of Canada's represented contemporary artists, as well as a selection of historical paintings. They work with and offer incentives to the design trade. The gallery regularly mounts major shows with the annual show occurring in July. Quinn's of Tweed Fine Art Gallery is located on Hwy 37, the main sightseeing route between Ottawa and Toronto. In case you need it, they also offer art consultations, art restoration, estate consigning, art resales, worldwide shipping as well as professional framing.
Studio22 Fine Art
Just above the Kingston's historic Springer market Square, there's the next gallery we think it's more than worth of visit. It is a commercial fine art design studio representing many Canadian artists.
Established in 2006, the gallery showcases emerging and established professional contemporary local artists. Studio22 sells original fine art, in person and online, to suit any decor, style and budget. The gallery is dedicated to fostering the appreciation of original art and cultivating generations of new and experienced art collectors. They also have very interesting story.
Owners of the gallery and partners, Ally and Hersh Jacob, both came from theatre. Before living in Kingston, the pair ran and operated a small theatre space in Toronto- teaching and producing content as The Toronto Studio Players. Ten years stood between the closing of their theatre and the opening of the gallery, but the conception of a new artist space was churning throughout the decade. Studio22 came to life in 2003, under the name Idea Manufactory, a factory for poster art, design and micro publishing. The Idea Manufactory, a name referring to the creative studio that moves ideas into products, launched Studio22 Open Gallery in 2006.
With Ally's architectural design background and Hersh's unabashed passion for all things art, what started as a studio in a single room has grown into a beautiful building full of art as well as a robust online original art shop, open 24/7 and offering shipping all over the world. The versatility of the space, both physical and virtual, allows for a broad spectrum of works; art that is created in its whole and curated not for one person, but for all people.
For all the lovers of arts and crafts – you can play, too!
If you are someone who enjoys discovering the power of art and visiting different types of galleries and exploring various forms of art, you probably take some time at home to do some art yourself. By this, we mean crafting different small art pieces.
If you still, haven't tried – you should.
And if you decide to do so, you'll need some art supplies, easy to find around shops and malls in Canada. One of the best places for this is – Michaels.
Michaels Stores, Inc., more commonly known as Michaels, is a privately held chain of 1,252 American and Canadian arts and crafts stores, as of January 2021. It is one of North America's largest sellers of arts, crafts, framing, floral and wall décor, and merchandise for makers and do-it-yourself home decorators.
In 1973, Dallas businessman Michael J. Dupey founded Michaels in Dallas, Texas, when he converted a five and dime store into an arts and crafts store. Michaels Stores sell a variety of arts and crafts products, including scrapbooking, beading, knitting, rubber stamping, home décor items, floral items, kids' crafts, paints, framing, greenery, baking and many seasonal items. Michaels produces a number of private brands including Recollections, Studio Decor, Bead Landing, Creatology, Ashland, Celebrate It, Art Minds, Artist's Loft, Craft Smart, Loops & Threads, Make Market, Foamies, LockerLookz, Imagin8, and Sticky Sticks. You can check hours and coupons for Michaels and find whatever you need for making some inspiring art at home.
The company also offers custom framing through its Aaron Brothers Custom Framing store-within-a-store and online. Online, customers can upload, edit and print photos from their computer or social media sites. They can then select and customize the size, surface, frame and mat.
Or, in case you don't find what you're looking for, there are so many shopping malls in Ontario to solve this bug or you can save at Walmart.
For even better deals for shopping arts supplies we reckon you should check out the latest flyers by browsing the directory of malls across Canada.
Fill this spring with art & enjoy!