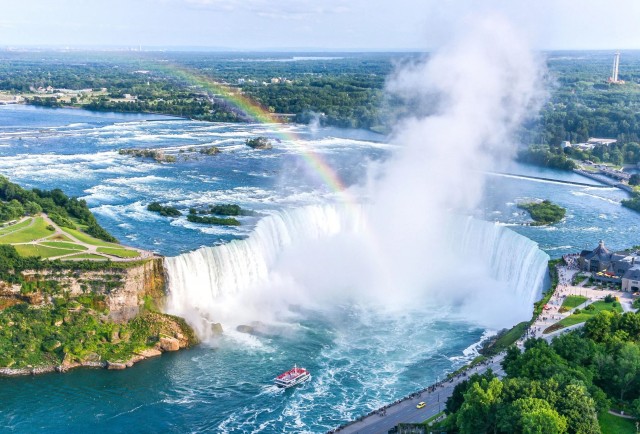 niagarafallstourism.com
Niagara Falls, 12,000 years old natural wonder keeps attracting thousands of passionate explorers each season. All of them get to enjoy the picturesque views, jaw-dropping rapids and numerous adventures like doing the walking tour throughout 400 acres of lush wildlife of Niagara Falls State Park or hiking the Niagara Gorge.
DID YOU KNOW?
Niagara Falls is a group of three waterfalls the southern end of Niagara Gorge, spanning the border between the US state of New York and the Canadian province of Ontario. The largest of the three is Horseshoe Falls, also known as Canadian Falls. It is the most powerful waterfall in North America.
The smaller American Falls and Bridal Veil Falls lie entirely within the United States. Bridal Veil Falls are separated from Horseshoe Falls by Goat Island and from American Falls by Luna Island, with both islands situated in New York as well.
The combined falls have the highest flow rate of any waterfall in North America that has a vertical drop of more than 50 metres (160 ft). During peak daytime tourist hours, more than 168,000 m3 of water goes over the crest of the falls every minute!
When the nature time is over – the shopping times takes place! Many visitors end their day in numerous shopping malls in Niagara Falls Canada or plan their trip carefully so there is time for both outside activities and shopping spree.
To find a specific store in Niagara Falls is not an easy task so we are here to help out.
Check out some of these recommendations and find more information at Shopping Canada.
MOUNT CARMEL SHOPPING MALL
Located at 3930 Montrose Rd, Niagara Falls, ON, Canada, this mall got its name by the 138 years old Monastery of Mount Carmel, home to the Carmelites. Perfect place for all of those who do not prefer hustle and bustle of big spaces and crowds. Mount Carmel Centre will welcome you with decent number of brands and you will always be able to refresh yourself with some yummy bites after the shopping is done. Here what people love about it:
Small convenient shopping centre. Has pretty well all you need 2 restaurants, grocery, Full service Canadian tire, men's & women's clothing store, furniture store and a pharmacy. Also, one Dr. Clinic & Dentist.
They often make their guests feeling more amused with mini promotions and interesting presentations, offering gifts, coupons or discounts.
Today we attended the gift shop and wine boutique. The gift shop has numerous gift ideas and religious articles with friendly staff to assist you.
The wine boutique has a variety of their own wines and ice wine with the grapes grown on this property. A well-designed wine tasting bar which displays the various wines for purchase and allows for a wine tasting – said one of the regular visitors.
CANADA ONE OUTLETS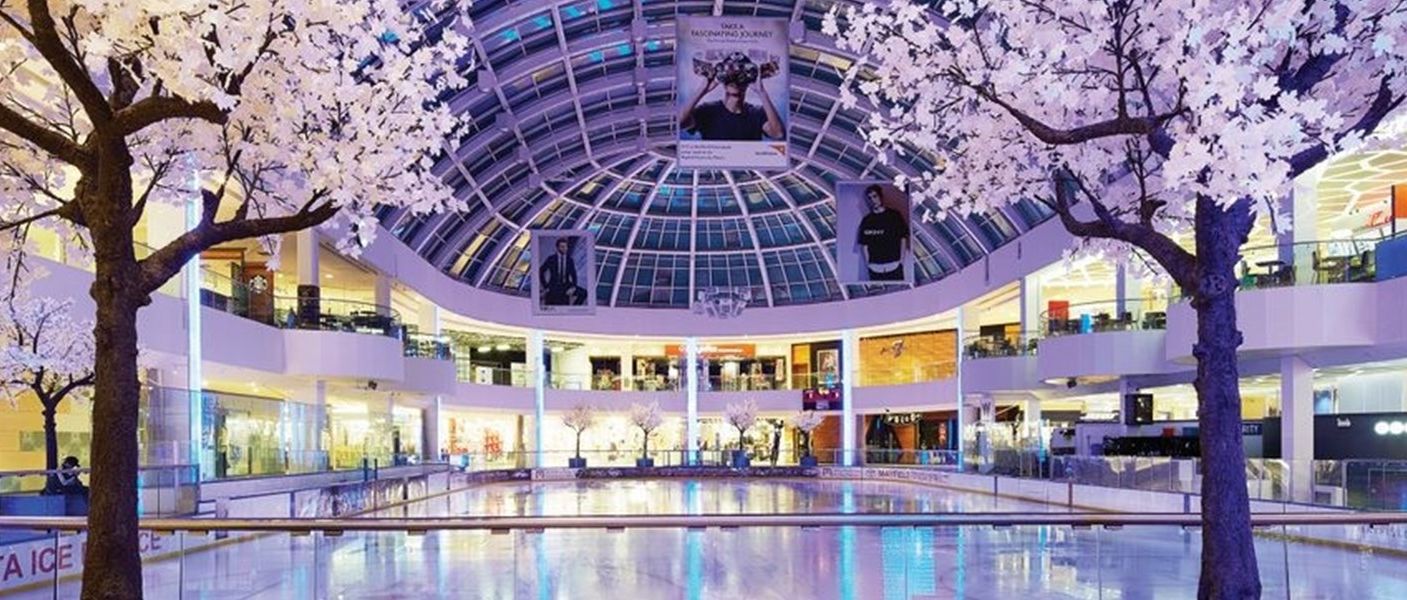 Great selection and service at this location and very friendly staff. Very clean and nicely decorated throughout - this location is highly recommended!
This is just one of many positive reviews of Canada One Outlets. Two greatest reasons we are recommending this shopping spot are pleasant open space and great deals – both make shoppers keep coming back to it.
Well-designed open mall. All are brand stores. The prices seem very reasonable.
Lots of parking and looks like people are feeling great here – said another happy visitor.
Canada One Outlets are located on Lundy's Lane in Niagara Falls and represents the home to more than 20 outlets with big fashion names such as – The Body Shop, Guess, Coach, Tommy Hilfiger, Adidas, Urban Kids, Urban Planet, TanJay, Tootsies Factory Shoe Market, La Vie en Rose, Laura, Nygard Slims, Alia, Carter's, OshKosh, Samsonite, Coach Men's Outlet, Blackwell, Stokes, Rocky Mountain Chocolate and much more. We reckon you will love this spot as it caters the needs of the most spoiled buyers and brings amazing selection of brands with the most affordable prices every single day of the year!
OUTLET COLLECTION AT NIAGARA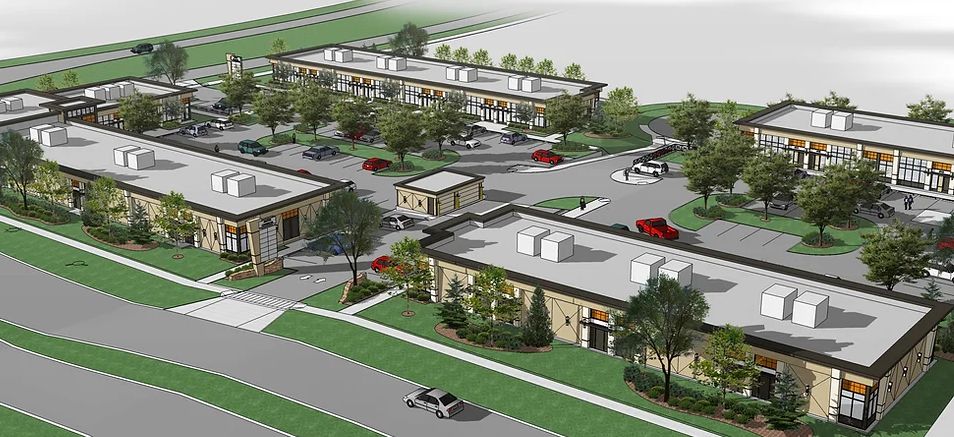 They call shopping in Outlet Collection at Niagara on the Lake a retail therapy!
And they call it like that for a reason!
This shopping destination will wow you with a collection of the top brands, available at irresistible outlet prices. With more than 100 fabulous brands, you can shop for a wide range of products at the mall. It's all under one same roof – apparel, terrific array of accessories, health and beauty products, kitchenware and all that a kid can dream of.
Located in the beautiful Niagara region, minutes from Niagara Falls, this refreshing outlet concept combines brand name fashion and lifestyle retailers—all at outlet prices you won't be able to say "no" to. This shopping centre will welcome all the eager visitors with hundreds of attractive outlet brands including Kate Spade New York, Brooks Brothers Factory Store, Coach, J. Crew Factory, Michael Kors, Tommy Hilfiger and much more!
Unique experience of shopping
Outlet Collection at Niagara is the proud and the largest open-air shopping centre in Canada spanning over 520,000 sq. ft. What is in there for you? All you can think of – packed in a superb design of a property made of eight buildings in a shape of a racetrack! Open-air walkways that are partially covered is what people love the most. However, there are more features worth of mentioning.
This shopping mall will ease the shopping hours for all the parents, because their little ones can play in the area just outside of the Guest Services building. It also includes an event place for market and a community place where people can gather and hang out. And of course – a pro shopper is a hungry one – so when the spree is done you can enjoy some good food in their food court known as "The Eatery". There are delicious coffee cups waiting for you in Starbucks, Tim Hortons or Aroma and fast food at Big Smoke Burger, Subway, McDonald's, Bear Sushi and Szechuan Express.
Some of the shoes and bags brands you can find here are: Claire's, Aldo, Coach, Ugg, Kate Spade and Rudsak.
Outlet Collection Amenities include:
Auto aid
Free wi-fi
Lost and found
Bottle warming
Urgent taxi assistance
Strollers and wheelchairs
Tourism Information
Fax and photocopying free of charge
Gift cards
Group Tours
This shopping spot is ideal for the group tours and provides a drop off and pick up area and space at motor coach parking.
THE PEN CENTRE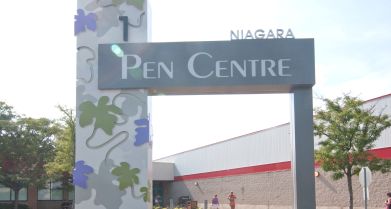 The Pen Centre, also known as The Niagara Peninsula Shopping Centre, is the largest mall in the Niagara region located in Ontario, Canada. It has an open-strip concept, with landscaped walkways in between, has over one million square feet of floor space and features over 180 stores, a major department store, a supermarket, a ten-screen movieplex and several large format anchors. It is another location not to miss if you wish to enjoy shopping near the Niagara Falls Canada.
The Pen Centre was built in 1957 as the Niagara Peninsula Centre, a single level, outside strip mall, anchored by Loblaws and 50 retail stores and opened in 1958. In 1966, the evolution of the Pen Centre included the addition of Simpson-Sears and 80 new stores, making this shopping mall the fourth largest shopping centre in Canada.
In 2011, the mall began a $13 million renovation of the common space, including 3,600 sq. ft. of new skylights, a new food court, floors and ceiling revamp. The renovations were completed in 2012.
In 2015, the location of Target was sold to Walmart Canada which began construction on a newly revamped building in February 2018 and opened on August 22nd, 2019.
GALLERIA SHOPS
If you ended up reading this online as a part of your research on where to shop around Niagara Falls in Canada how long would you hesitate before packing your shopping bags?
What an amazing experience this mall was. There is a Casino in the mall! Incredible! Not to mention the overall layout of the mall. Very impressive we had a blast!
Or…
The shopping area is really large and so beautiful. All of the decorations are stunning and it made it really enjoyable to walk around and look at all of the shops. Everything is clean and easy to find. We ate at one of the restaurants here and it was fantastic. I personally found parking using an app but I saw a lot of buses around if you wanted to do that instead.
If you go to Niagara and don't visit this place, you have probably missed the best one. It's all in one place. Food, clothes, grocery, everything...
The Galleria Shops at Niagara Falls will give you the total resort shopping experience.
From the latest styles, fashions, and accessories available from dozens of boutique shops to enjoying a gourmet meal from a wide selection of restaurants, if you pick this place for your next shopping station – you will not regret!
We think we pretty much covered it all and got you ready for your shopping adventure close to one of the most stunning wonders in the world. For all the latest news on the best shopping deals and malls all over Canada visit Shopping-Canada.com.