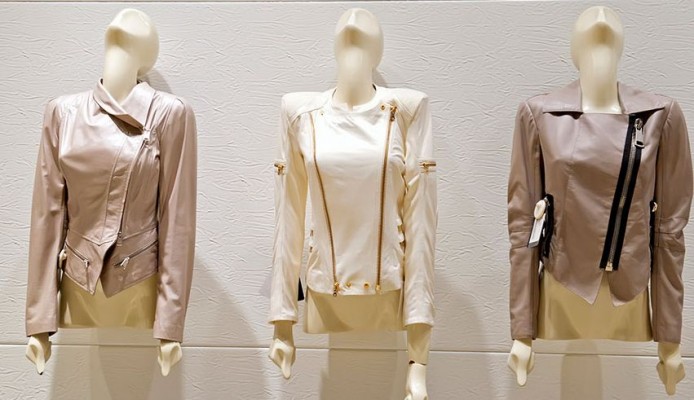 Now that we know how to survive the spring closet clean-up, we will have more space in our wardrobes. And more space means – a corner or two more for a new spring jacket this season!
When spring knocks on the door, there are a few jacket and coat silhouettes that are pure classics — think longline wool coats, teddy jackets, lightweight puffers or quilted coats and statement, vegan leather outerwear. In 2021, one of the main trends is pastel jacket to remind us of the joy of dressing up, and shackets, otherwise called oversize overshirts – trend that has been a boom since spring last year.
Spring can be a very tricky part of the year as the weather changes often and most of the time we are forced to wear layers. It could very well rain, snow, and/or sleet between March and May, but then there are days when the sun actually comes out and you're straight-up sweating. That's why you need a good spring jacket (or two) to be ready for whatever forecast out there.
This is the perfect time to get yourself some new outerwear, whether it's lightweight and waterproof or insulated and soft. Instead of relying on same old jacket style you've had forever, try some of our suggestions and have in mind that spring shopping doesn't have to be a nightmare when it comes to costs. We'll give some tips on this, too.
The shacket
The shacket is a perfect piece of transitional outerwear. Our advice: Size up so you can comfortably layer turtlenecks and cardigans underneath. If you want to reflect more of a casual style with this type of clothing, pull the long sleeves up to your elbows and tie a belt around your waist.
Blazer
The piece that never fails! If you go for a blazer, regular fit or oversized one, you would be able to combine it with many different other pieces, depending on the style. There are many interesting models with boyfriend cuts, so you can stay in your comfort zone while looking and feeling like your best self. Try out double-breasted leather version for texture, if you are bored with the cotton or regular models. Whichever material you pick, you'll be able to style it over hoodies, t-shirts or pullovers.
Quilted jacket
This lightweight spring piece has the same utilitarian appeal as a heavy-duty raincoat, except it won't weigh you down. Pick a nude color or a green one, just to manifest a bit of spring spirit in your closet, and play with combinations. You can choose longer version of this jacket too, which will pair well with high-waist jeans and leggings.
Belted jacket
While the idea of belting your coat is nothing new, it's good to remind you how cool it looks on any kind of style—denim jackets, bomber jackets, blazers…you name it. Depending on how long the waist belt actually is, you can fasten it around your midriff with a big bowlike knot to the front, or bind it loosely to the side. It will go well with both trousers and skirts.
Denim jacket
This style is arguably one of the best transitional jackets a woman can have.
A good old' fashioned denim is one you'll wear over and over again, regardless of the trends.
Military jacket
An olive-green style with tons and tons of pockets will be your new go-to next season. Combine it with some cool snickers of bright color and mom jeans or play around with the darker denim.
Leather blazer
Be edgy with a blazer made with leather - roll up the sleeves for a more undone look or keep them down to be ultra sleek.
Bell moto jacket
Same as with denim spring jackets – you just can't fail with this one. A suede moto design with cozy lining will be a true bingo if it's still chilly outside.
Zara is one of the brands to go to when you decide to do your spring shopping – especially if you are in the search for the jackets. They have affordable prices and numerous models to complete any outfit – from indigo denim jackets to sharp blazers, black bikers to soft kimonos. Visit Zara near you to experiment with original embellishments, uplifting colors or military details. Find your season twist!
Jackets for men
Not all is about the ladies. Let's see what is out there for our gentlemen as well. Denim? Sure! But many other things too – you can pick and play among the lightweight parkas, chore coats, bombers, leather jackets, fleece zip-ups, car coats, and even more. Get yourself something you can layer now, wear on its own later and enjoy till the summer comes!
Cotton parka
If you're more of a (lightweight, spring shower-friendly) parka guy, then go for parkas.
A track jacket
A track jacket is the quintessential casual layering piece when the weather starts to warm up. This is the piece every wardrobe needs, as you can wear it to the gym, walk, running or simply on a casual day out.
All conditions gear rain shell
If you're more of a sporty spice, snag a nylon Nike jacket. This one is both windproof and waterproof, with plenty of storage to keep your gear close and secure when a spring shower pops up.
Ruched-sleeve bomber jacket
Your search for the perfect bomber ends here. It's the classic every man needs just like the nude trench coat women use.
All under $100
Spanish brands like Mango and Zara and many local brands, too, offer excellent models of jackets – all under $100. Follow their websites to catch seasonal discounts and consider some of these models. There are many interesting options at Nordstrom Rack as well.
Flowy trench
Trench's are your classic sophisticated spring piece. Update your winter trench to a lighter more flowy trench that moves with you.
Colored denim jacket
Among many cool jackets at Mango, for example, you'll notice colored denim ones. If you are a denim lover, opting for this piece can be a great decision – also a great way to add a warm layer to a floral dress and chucks.
Updated moto jacket
When thinking about spring jackets, you want to go light not only in weight, but color. A black leather moto jacket isn't very spring (although most of us wear them all year round) so updating your go to moto jacket to a lighter color like the blush or nude is a great update. You can pair it with a floral dress and espadrilles for a perfect spring look.
Boyfriend blazer
Probably the most practical ever spring clothing item. You can wear it many many times, even during the cold weather months, too. Still, when the spring hits us, go for a model made of a linen fabric and in classic spring stripes – it is the best way to add this piece to your spring wardrobe.
Utility jacket
One of our top suggestions for spring jacket is the utility jacket. It's a classic that never goes out of style. Many people wear these for years, so it's probably 100% worthwhile investment.
We already mentioned that the spring shopping and search for the perfect spring jacket(s) doesn't' have to be a disaster for a wallet. Go for known Spanish brands and retailers like Nordstrom Rack.
It is an American off-price department store chain founded in 1973, and a subsidiary of the luxury department store chain Nordstrom. Nordstrom Rack offers branded clothing and accessories for women, men, and kids at a large discount to consumers across the United States and Canada.
Why buying there? Because it's affordable.
# DID YOU KNOW?
They have several huge sales across the whole year – you just have to be attentive and follow the announcements.
The 'Clear the Rack' sales happen about 12 times a year.
If you really want to save money at Nordstrom, you'll want to go during the end of season 'Clear the Rack' sales. During these sales, you'll get 25% off already reduced items, which means huge savings for you!
Though the exact dates for the Clear the Rack sales change every year, the company will let you know when one is happening via email. And when it comes to discounts, these are for real. For example – a jacket that has an original price of $299 can come down to incredible $60 with the final 80% of discount.
Put these guys on your spring shopping list, you won't regret!
After the rough times we all went through and many people around the globe are still going through, we all need some light, sunshine, walks and positive energy. Is there a better way to lift a mood by cleaning up your personal space and do a touch up of your wardrobe and then fill it with the items you will wear with joy! You will never fail with a stylish and affordable spring jacket.
For more infos about the places to shop in, visit Canada online shopping mall directory and search for the Canada shopping malls closest to you.
Happy spring folks!