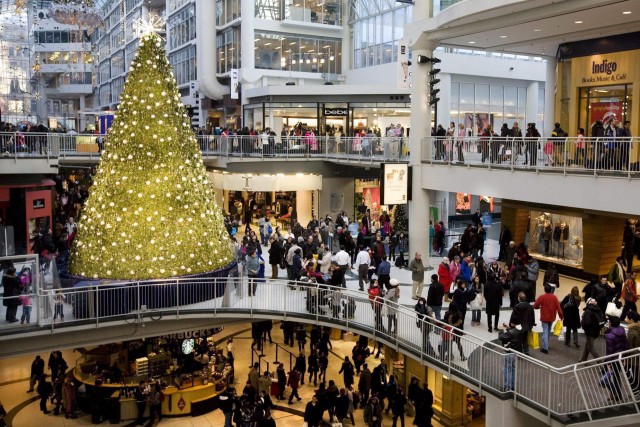 According to the numerous research papers, early November remains the most popular time to start holiday shopping. That makes almost two months of thrilling, euphoric wondering around favorite malls and enjoying diverse winter holiday experiences.
Studies also show, Canadians are so passionate about this time of the year, they will spend more money on their Christmas shopping spree than on their whole monthly rent.
Despite recent announcements about household debt-to-income ratio rising, around 25% of respondents are feeling better than last year about the state of their personal finances and more than 80% plan to use their credit card at some point during the holiday shopping.
Recently, PwC Canada conducted a survey of 1,302 consumers from coast to coast to find out their shopping plans for the upcoming holiday season.
Survey revealed that eight out of ten Canadians plan to spend the same or more this holiday season and they are likely to focus the majority of their spending on family ($869), followed by indulging themselves with a few gifts ($537), gifts for friends ($118), pets ($40), and others ($29). The report also shows a significant difference in the amount that men are planning on spending compared to women. Men are expected to spend $1,820 this year on gifts, travel, and entertainment, while women are expected to spend $1,384 on the same things.
All this goes to show the holiday spending spirit is getting stronger with each new season.
That's why we prepared for you the list of the best malls in Canada for holiday shopping!
CHARMING GIANT HARD TO SKIP
It's tough to miss this one out. It's huge. It's sparkly. It has all you need. The most popular one and the most crowded one. Every winter it attracts the visitors with its dazzling lights, wowing decorations and stunning 50-foot Christmas tree!
The Eaton Centre is eastern Canada's largest shopping mall, and Toronto's top tourist attraction. Each week, it welcomes more than 1 million visitors, who come to shop, explore and have fun at more than 230 stores spread across 1.7 million square feet of enclosed space.
Not only you will have a great shopping here, but you'll also have an amazing time too.
YORKDALE – HEAVEN FOR PASSIONATE SHOPPERS
Did you know this shopping centre was the place that hosted Canada's first Apple store?
When Yorkdale opened in the suburbs of north Toronto in 1964, it was the world's largest mall. This is not the case anymore, still Yorkdale Shopping Centre keeps its image of being a true paradise for shopaholics. More than 400,000 customers visit it each week and it also has the highest concentration of luxury brands in Toronto with more than 250-plus stores waiting for the visitors to come, shop and enjoy!
TWO LEVELS OF PURE JOY!

If you are around Toronto this holiday season Fairview Mall is a must-visit spot!
Operating from 1970, this shopping centre is one of the largest and busiest in Canada!
Two-level shopping hub welcomes visitors with all sorts of retail options – Fairview Mall stores span over the 80,000 m2 space, together with many specialty shops and kiosks.
For the fun, after the shopping, there's a multiplex cinema, a food court and several restaurants connected to the mall. Free customized services are especially interesting – they change throughout the year but some of it includes a personal style program that offers clients individual image consultations or personal shopping sessions.
It will take time to browse all the Fairview Mall stores, as there are more than 180 of them with the worldwide known brands – but be persistent!
Current event for the kids is something we especially recommend – until December 24th this year, families and their youngest ones will be able to enjoy the magical time with Santa in the Fairview Mall. Every visitor will be able to pick the type of experience with Santa! Families are kindly invited to select the experience that best suits them with a note that it is necessary to pre-book the date and time that suits them the best.
The future of the mall seems to be bright and fun with more offers for the most demanding visitors, as well. Cadillac Fairview (CF) and TD Greystone Asset Management (TD Greystone) are at the moment in the mission of major revitalization of CF Fairview Mall! By investing around $80-million they will transform 230,000 square feet of the existing department store and other retail space. That way, the needs of the growing community of shoppers will be met soon.
HILLCREST MALL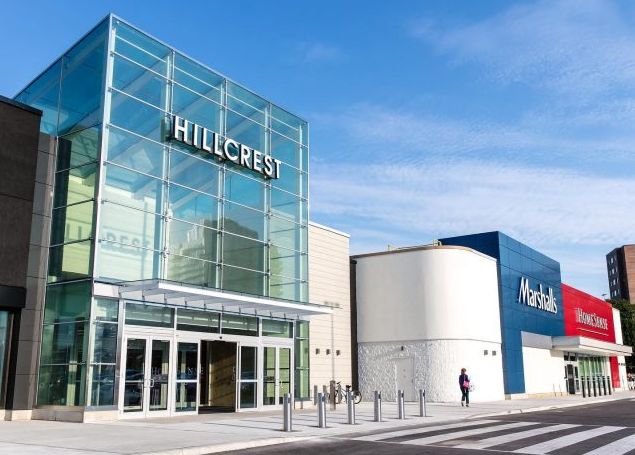 Hillcrest Mall is a 54,419-square-metre enclosed shopping centre located in the town of Richmond Hill, Ontario. A list of stores in Hillcrest Mall will not disappoint shoppers and the mall itself has an interesting story.
When first built, lighting at the mall was designed with input from the David Dunlap Observatory to reduce light pollution. This included minimal signage, shielded lights in the parking lot, and a light-absorbing parking lot surface.
The mall underwent extensive renovations in 2000. In late 2002, construction of a separate building in the northeast corner of the mall's parking lot was completed. In 2006, a Farmer's Market was established on the premises.
On September 12, 2015, Hudson's Bay expanded anchor store was officially reopened. The $125 million project expanded the store by 7,500 m2of retail space to 11,000 m2 (120,000 sq. ft) total - its Men's Store and Home was then merged into it. The vacated anchor space was reconstructed for other tenants, so the list of stores in Hillcrest Mall increased - by the end of 2016 came brands such as Aritzia, Pandora and H&M.
The mall's interior got a refresh with new floors, lighting, washrooms, ceilings, upgraded food court, and new entrances 1 & 6 which was completed by October 2018.
In a spirit of a holiday season, this mall, as well, prepared some sweet and exciting meet-ups for the youngest ones! Until December 24th, Santa will be waiting in the Centre Court. Hillcrest is offering children 2 different types of experiences with him – The Jingle Jolly Santa Show & Meet and Greets. You can choose which experience works best for you and your family.
Also, don't forget to check out the traditional Christmas tree market - for the 32nd year, Marchildon Trees are back at Hillcrest and it's all going on at the Southwest parking lot. Have fun!
A SPIRIT OF ASIA
It's not a holiday if you don't experience something different! That's why Pacific Mall in Markham had to be on our list of the best malls for the holiday shopping this season.
Pacific Mall is an Asian shopping centre in Markham, Ontario. Opened in the mid-1990s during a period of significant Chinese immigration to Canada, Pacific Mall is the largest indoor Asian shopping mall in North America. This complex was founded by Len Cullen, the founder of Cullen Gardens and Miniature Village in Whitby, Ontario and consisted of two barn wings and a silo.
Back in 1999 half of the unused second floor was renovated into something this mall is widely known for today – its attraction Heritage Town. This Pacific-style market attracts locals, tourists and numerous non-Chinese customers each season. Heritage Town was successful in also attracting additional business, prompting the mall to seek and be awarded designation as a Canadian Tourist Attraction. Artists and sculptors from China crafted wonderful pieces of art to make this part of Pacific Mall in Markham one-of-a-kind!
Custom decorations include a large bas-relief of a dragon, 300 lanterns, an emperor's chair, a wood-work bridge, and famous terracotta soldiers. We are sure this can be the perfect spot to find a unique holiday present for your dear ones. Stores offer all sorts of products including traditional Chinese clothing, contemporary fashion, jewelry, charming tea shops, electronics, mobile phones, ornaments, food, as well as Chinese books, magazines and newspapers.
PROMENADE MALL
Promenade Shopping Centre is a major shopping centre in Thornhill, Ontario. List of stores in Promenade Mall counts more than 150 tenants ready to wow you this holiday season featuring many great events!
Let's go back to the past for a second – in 2017 bad event led to huge turnover when the mall 's last Sears Canada store closed due to the entire chain bankruptcy. Since the Sears occupied more than 20% of the mall's space the mall owners have submitted an extensive redevelopment plan to the City of Vaughan which resulted in a major renovation to the mall, plus the addition of several condominium towers and a mixed-use office/hotel skyscraper using the existing parking lots. This was a happy ending of a bad start.
List of stores in Promenade Mall that will offer some good discounts is long, but here are some of the deals not to miss out – and are not clothing brands only!
Until January 1, 2020 you will be able to enjoy some yummy tastes at Baskin-Robbins with their Holly Jolly Sundae. Featuring their Flavor of the Month Jolly Mint ice cream, you can top off this sundae any way you like.
Baskin-Robbins is the world's largest chain of ice cream specialty shop restaurants. Known for its offering of 31 flavors you can have a different flavor every day of the month.
Only in the ROOTS store, until December 26, 2019 you will have the chance to be a part of a campaign #NiceTogether. The holidays are a time to reconnect with family, friends and as a community and celebrate the fact that we can achieve more when working together. Visit the store for more information!
But before you do all of this, always have in mind the best shopping is smart shopping!
Save money with flyers and shop carefree!