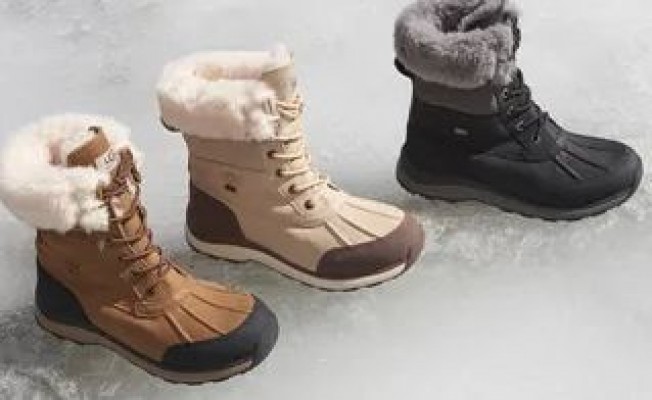 Let's start from the beginning.
When we talk about buying boots, good winter boots for good value, we need to kick off this talk with some basics.
First of all, have you ever wondered what the difference is between snow boots and winter boots?
Sure, both are designed eco-friendly to keep your feet warm in cold temperatures. But have in mind also:
Snow boots are much more water-resistant than regular winter boots.
Snow boots are heavily insulated, more than other models of winter boots.
You can use winter boots for your regular purposes, while snow boots are usually designed for more extreme weather followed by snow and wet conditions.
Types of winter boots
All-Weather Boots
This model usually has an upper made from weather-friendly suede and a quilted pattern that pops. That's the kind of winter style that can withstand a dusting of snow or a step in a puddle. This type of boot also has a fleece lining and thermal insulation, which helps keep feet warm on the coldest of cold days or even in the midst of a blizzard. The all-weather boots are an easy pull-on option for everyday winter wear and you can never miss with these!
Duck Boots
While these should be your go-to for freezing rain, sleet storms or any time streets turn to slush, they're not built for the most frigid winters unless you upgrade to the insulated version. Insulated duck boots are made for frozen lakes and trails. A rubber shell gives it total waterproof power, allowing you to step through even the slushiest of puddles and stay dry. Its tall leather shaft provides excellent coverage, keeping errant flurries and raindrops out of your waterproof boots. The fact that it's unlined makes it easy to wear with thick socks.
Squall Snow Boots
A waterproof rubber shell, a tall suede upper, and 400-gram insulation make this a waterproof winter boot that can be submerged in snow yet stay warm. Importantly, channeled treads on the sole prevent ice slips. It may be harsh outside, but these boots will have your feet feeling cozy on the inside. Also, this type of shoe has a molded rubber sole. Plus, a flexible shell and quilted upper allow for natural walking.
Smart shopping – function over fashion
When you head to winter boots shopping that will save you money you have to buy smartly getting the best value for money and choosing the right model. Here are some details you need to pay attention to before you pick your next pair. Model will depend on use and each has some key benefits.
Go for practical closures
If you're planning outdoor activities, consider a full lace-up boot: It provides a tighter fit, while pull-on styles or zippers aren't as secure. For extra protection, look for the tongue that is attached to the sides - this really helps keep out the elements.
Pay attention to insulation
It is usually made either of wool or certain synthetic materials. These, like Thinsulate give warmth without the weight and is better for wet climates. If you decide to go with Thinsulate, make sure to take note of the weight — the higher the number, the warmer the boot. For example, 200 grams are good for cold climates and for extra cold go for 400 or even more. Wool will provide very good temperature regulation and is a great choice, too.
Look at the sole
Most winter boots are made with rubber soles that block out moisture, but always check to make sure there's traction, too. The last thing you want is to keep falling down on an icy street or wet snow. Boots with bumps and crevices offer a much better grip. While purchasing winter shoes, also check the breathability of the shoe. It is a big factor for winter boots. If your feet keep sweating, then the wetness needs a place to escape somehow. To solve this issue, pay attention to socks you buy and pick the ones made of natural materials not synthetics.
Materials matter
For a durable boot, look for one made with nylon or leather, both of which can come with pre-treated waterproofing. The main, "upper" material (the part that covers the top of your foot) needs to be both strong and water resistant to stand up against harsh winter weather.
Shop the boots that give grip and traction
Walking on icy sidewalks and slippery pathways get hard if the traction and the grip of the shoe are not proper. Before buying winter shoes make sure the sole of the shoe is made of what. It should provide perfect grip and traction while walking or running.
Great models – all under $100
To give you an idea on some cool models keep reading…
You can go for "saltwater" type of boots with great rubber base. These rubber boots have a micro-fleece lining and rust-proof eyelets to make them durable and comfortable.
Another option can be short booties from Bogs. They are perfect choice for cold winter weeks when you need to fight with inches of snow. Their biggest plus is specific footbed that keeps the feet warm. You can buy them at Nordstrom but first take your Nordstrom coupon.
If you are a fan of patent leather go for cute Totes. You will love their round toe and zippered closure.
Our nomination for best quilted boots goes to all weather Lands' End boots. This model is designed with durable rubber sole, full front zipper and microfleece lining. Taking them on and off will be a piece of cake.
For both fashion and function you may consider pairs of Northikee. It's a great model of faux fur winter boots. They are waterproof, produced in three colors and mid-calf height with fashionable fur details.
We hope we helped you knowing more about winter boots, models to pay attention to and details that matter. All of this is very important for doing a smart shopping that won't leave you with empty pockets but will make it possible to get the best value for money and purchase the winter boots you'll be able to use for several seasons.
Mountain Warehouse and Browns are definitely two places to put on your list before you do your boots hunt.
Did you know?
In 1997 Mountain Warehouse in Canada was founded as the retail partner of Karrimor International, the UK based outdoor clothing and equipment manufacturer. Investment company 21 Invest (now Investindustrial) were Karrimor's lead investor.
Mountain Warehouse has nearly 25 years of experience developing the very best outdoor gear for all the family. They only had one single shop in Swindon when they were starting out. Today, the company has 380+ stores and employs more than 3,500 people. They also sell more than 20 million items a year from jackets and fleeces to rucksacks and sleeping bags.
Also, feel free to give your trust to Browns in Canada as they have interesting story, 82 years old!
Company has a long tradition that started back in 1940 when Benjamin Brownstein founded it. It was a single store on St. Catherine Street in Montreal.
After a fire gutted the original location in 1954, Morton Brownstein, who had taken over the business from his father Benjamin, decided he was going to take his father's legacy from a mom-and-pop shop to a household name.
Morton Brownstein was a rare personality. He had learned to prioritize personal relationships from his father and had extraordinary skill when it came to making individuals feel appreciated. This is how Browns became the first North American retailer to carry luxury Italian-made brands— In 1959, though European craftsmen of the time were hesitant to sell to far-away places, Morton's personal charm during his quest to secure a European shoe supply led not only to the success of his initiative, but invitations to numerous family meals.
Legendary shoemakers like Salvatore Ferragamo filled out Browns' orders for shoes and bags personally, as a favor to Morton.
Michael Brownstein, the current president of Browns, has successfully and organically expanded the chain to 70 locations across Canada and has opened a sister chain, B2, that focuses on edgy street fashion slated toward trend-conscious consumers. Michael was the first person outside of Italy to win the prestigious MICAM award, given to recognize fashion interpretation, knowledge of craftsmanship and success in the promotion of the Italian shoe industry.
Continuing his grandfather's tradition of cultivating and prioritizing personal relationships, Michael maintains close relationships with today's leading shoe designers, which is why Browns often stocks exclusive styles from well-known brands.
Now, are you ready do dive into the world of boots? We know it's not easy to save and make the right choice but with all the tips we just gave you, it won't be a mission impossible to pull it off.
If you need more ideas on where to shop, head to our directory for Canada shops or explore
Happy boots hunting!