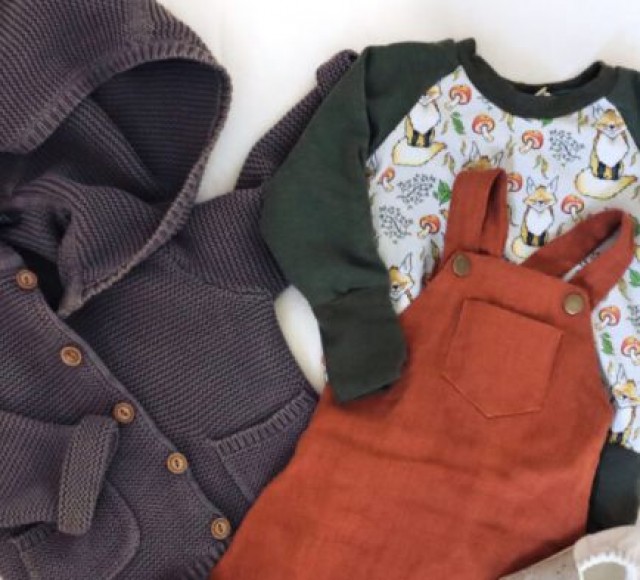 As the weather warms up and you have places to go and people to see, it's time to step it up a notch and get some adorable and trending spring clothes that match your child's personality. Take a look in all the kid's closets, clear out the old and make way for new but affordable spring items.
Still, it's not all about the new and fancy. The trick is knowing how to combine the key pieces that your little one uses on a daily bases. Think of – a few basic t-shirts paired with sweatpants, leggings or a skirt (if it's a girl), few cardigans and a jacket or two.
But – before making plans for a budget spring shopping for kids, a great idea would be mastering a skill of making a wardrobe capsule.
What is wardrobe capsule anyway?
It means they have a few pieces of carefully selected clothes that are simple to mix and match.
Kids grow fast and we need to replace clothes quickly, so from a financial and sustainability perspective, it's important to buy less to waste less.
For example – a kid capsule ideally includes between 12-14 items of everyday wear. That means each season they need roughly 6 tops, 5 bottoms and a dress for girls.
The important thing to remember is that to build an effective small wardrobe for your kids, you need to be intentional about the choices you make. That means you need to consider the following six factors: buy smart, simple, sustainable, comfortable and affordable. When we give careful consideration about purchases for our kids, we teach them on how to become conscious consumers.
Benefits of creating a kids capsule wardrobe
Capsule wardrobes are perfect for kids! Here are some of the reasons why.
#Shopping for your kids' clothes is way easier.
#Having fewer clothes means smaller, more frequent loads of laundry and less laundry mess in the bathroom.
#Buying less clothes means less stress during the shopping time.
#Kids can choose their own outfits that (almost) always coordinate.
#You will spend less on clothing.
Create your mini closet between seasons, or between sizes.
The best time to create a capsule for your children is when they need new clothes, either when the seasons change or when they're about to go up a size. Both seem to happen every three months. Shop early in the season for the best selection and size options.
Buy everything in 1-2 shopping "trips."
Test one-and-done mindset. It can help stopping you from impulse purchases in the coming weeks and months. Buying online can be the best option if you already know all the sizes you need because it will save you the precious time and you can skip the tricky try-ons. Look for stores that offer free shipping and returns, or with local locations where you can return items in-person.
Find one or two brands that fit your kids and your budget.
Kids clothing varies dramatically between brands: sizes, cut, but also color palettes. Buying from one brand means consistent sizing and colors that work together.
Kids, especially toddlers, run, jump and climb A LOT. Buy pieces they will feel comfortable wearing in both school, birthday party or playground. Try picking pieces that fit well in color and style so they look put together even when they dress themselves!
The trick is picking tops and bottoms that can easily be mixed and matched. For example, soft cotton tops and joggers or leggings for bottoms.
Other ways to save
If you plan on having more children, it's a good idea to buy gender-neutral clothing. This way, once your first child outgrows them you can store them away until you need those items for your second child and so on.
Those yellow, green and orange items could be matched up with a cute pink headband or little blue bow tie if you want to add a gender-specific detail to the outfits.
You can also do this for nursery items which can really add up to a lot of money. Then all you need to do is just add a few gender-specific accent colored items to personalize your nursery for each child as needed.
Skip holiday specific clothing
We know it is so hard to resist those adorable festive costumes for your little ones, but let us wake you up with the cruel fact and that is – each of these pieces is a total waste of money. Dressing your little girl in a red velvet dress or your little boy in a cute little suit with red or green bow ties and vests sounds cute but such clothing usually lasts for only one season and one occasion because they are specific and the kids will outgrown them very soon. You will probably only get one use out of those holiday-specific outfits, they won't fit next year.
You can still buy those special outfits for your little one and get more use out of them. Why not purchase an outfit that would be appropriate for other special occasions as well, such as Easter or your little one's first day of school.
Your next stops for kids' spring shopping
And the first one can be The Children's Place with their great quality, trendy styles and adorable children's clothes we know and love. You can find the latest and greatest styles for boys and girls all together for tons of colors, styles, and patterns you can mix and match with ease.
Whether shopping the girls dresses, or the preppy and put together looks for little boys, you are sure to find something for all the kids. Think of boys cable knit sweater vest and Oxford button up shirt paired with belted chinos in tidal. Comfy and easy to wear, these styles will make them charming little superstars while still allowing them to run, jump, and play all day. For mini princesses, there are many dress essentials crafted of soft cotton, with just a bit of stretch, to keep your kids happy and smiling as they enjoy the spring season both in and outdoors.
The Children's Place was founded in Hartford, Connecticut in 1969 by David Pulver and Clinton Clark. They began by selling toys, apparel and accessories before deciding that apparel had the most growth potential.
By the early 1980s, The Children's Place was repositioned as a specialty retailer of children's apparel for newborns to pre-teens and began offering private label merchandise as well as branded product.
In 2019, The Children's Place purchased the rights to the Gymboree brand and in early 2020, launched product in select stores and online. This iconic brand features colorful designs in playful, bow-to-toe collections that celebrate childhood and help families look their best for any occasion. Together, these two brands embrace the kids we love and inspire them to live, learn and love their childhood.
Few reasons to visit The Children's Place in Canada fast:
#Memorial Day savings go from incredible 50-75% off!
#There's a clearance on new styles added, 60-80% off!
#All shorts are up to 50% off with fun multipack going from only 4$ up!
#Did we mention pajamas are 60% off at the moment? And not only that – all mix&match essentials are now only 4$ and up!
There has never been a better time to prep your kids for spring, so hurry up!
Check out Forever 21 store.
Forever 21 is an American fast fashion retailer headquartered in Los Angeles, California.
Originally known as Fashion 21, the first store was founded in Los Angeles on April 16, 1984 by husband and wife, Do Won Chang and Jin Sook Chang from South Korea. Forever 21 is known for its trendy offerings and low pricing. The company sells accessories, beauty products, home goods and clothing for women, men and children. Worth of visiting for the girls' fashion and currently having 3 discount offers for online shopping only.
Abercrombie Kids is another address to go to for your kids' spring outfits. You will love their simple and sunny boys and girls collections full of bright basic pieces – tops, skirts, dresses and bottom, as well as swimming suites.
Abercrombie Kids is a children's clothing brand introduced in 1998. Targeting consumers aged 7–14, the concept is designed as the children's version of its parent company A&F. There are 122 full-price abercrombie kids stores in the US, Canada, Germany, Italy, the Netherlands, and the United Kingdom; including standalone retail stores and "carve-outs" in larger Abercrombie & Fitch locations. Abercrombie & Fitch introduced "abercrombie" in 1998 with 9 stores. The purpose was to attract a younger audience to the adult Abercrombie brand. The abbreviation from "Abercrombie & Fitch" to "abercrombie" with lowercase letters was intended to provide a children's image. Search Abercrombie Kids in Canada for more infos on discounts and children collections.
So, get out, enjoy the sun and grab your little ones to do some smart spring shopping. Make the space for the basics in their closets and mix and match the pieces that can be combined with a lot of other clothing. Also visit a Walmart Canada location and don't forget to check all the Canada shopping mall information before you jump into your spring shopping adventure.