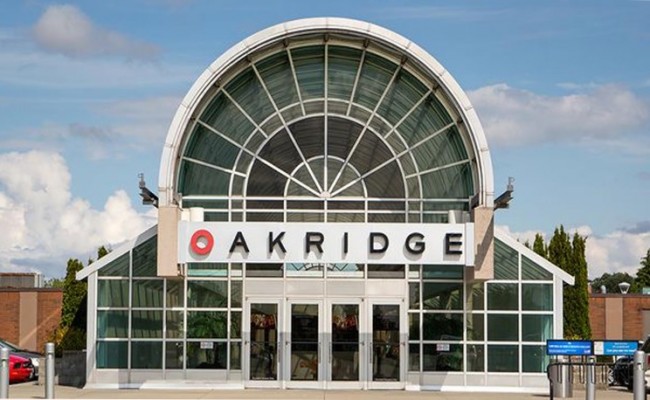 Source: oakridgecentre.com
Vancouver is about to witness the building of unique, never before seen, community, that will be the single biggest development in the history of this city. Company QuadReal will transform the whole Oakridge Centre area, including the mall itself, to develop something that will be, in a way, Vancouver's second municipal town centre, imagined to perfom as the City of the Future.
Our partnership with Ian Gillespie and Westbank has been refreshing and energizing as his creativity and global perspective is challenging us to look past the 'traditional, old ways of retail development' and be forward thinking in our design and tenant mix, said Mr. Andy Clydesdale, QuadReal Executive Vice President, Retail.
The existing 574,000 square foot shopping centre, will be transformed into an incredible mix of retail, residential, workspace, parks and civic space.
Some of the facilities that will be part of this futuristic city area are: public library, performance facility, dance academy, daycare, a massive community centre, restaurants and an approximately nine-acre park. Also, QuadReal plans to build a separate area with office space and residential towers offering more than 2600 new homes.
Since the whole project is imagined to operate as a mini city itself, it will have the concept of neighbourhood with streets. The pedestrian-only high street will be part of the mall's outdoor component that will run north-south. Another road will be built along the western edge of the property.
Great news for all the future visitors and residents is the fact the investors are planning to construct impressive cutting edge transport facilities – there will be around 6,000 parking spaces, most of them with electric vehicle charging stations. Valet parking will be available, as well. For those who prefer visiting this mini city of the future and the mall by coming with bicycle, there will be bicycle silos waiting for them in the ground level in a secure 11-metre deep well. QuadReal is planning to put self-driving cars as a part of the experience in the near future, too.
Oakridge Centre's largest anchor tenant will continue to be Hudson Bay – it will be moved to new location in a brand new 140,000 sq.ft. store. Instead of existing Safeway store, Oakridge will house a major grocery tenant Sobeys. Apart from large ones, the centre will feature some smaller anchors too, that will be part of the retail offer.
According to the Retail Council of Canada, Oakridge Centre is Canada's second-most productive shopping centre for 2017. The whole redevelopment is seen as a part of an effort to redefine the shopping centre as a way of socializing. It is, also, believed that this project will be one of the most interesting ones in Canada to watch as it develops. Once it is done, the centre is anticipating to welcome about 42-million visitors a year.