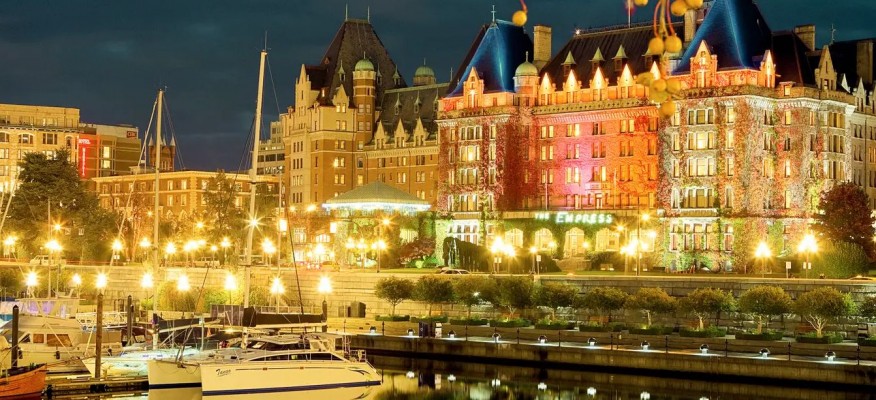 Victoria is a city with a long history, moderate climate, impressive culture and a great choice of restaurants. A place where you can get a high tea – the locals say that Victoria is more British than the British. A city closer to the U.S. than to the Canadian mainland, with the oldest Chinatown in Canada. Would you fancy a visit?
Must-go Place During Your Vancouver Winter Vacation
Just a 1.5-hour ferry ride from the mainland, Victoria on Vancouver Island represents a perfect one-day getaway. So, if you want to plan a skiing trip to British Columbia, don't forget to add this remarkable city. Victoria has a lot to offer, from the historical downtown, great restaurants (this city has more restaurants per capita than any Canadian city) and a very moderate climate to stunning parks, floating houses and water taxi ballet. You can even go whale-watching with a 95% chance of spotting these magnificent creatures! You could spend days here, but because your time is precious, we hand-picked the top sights and attractions for an 8-hour or shorter trip (with some extra tips for nature or movie lovers). But first, read some tips before you go.
Getting Around: Water Taxis Offer a Ballet Show
Downtown Victoria is compact and perfectly walkable, don't worry about taking or renting a car. If you need to get somewhere, there are exciting local transport options. Pickle boats, as the locals call the water taxi, offer a great option of transport. Use a boat at least once to get a perfect view of downtown. If you are lucky, you can even catch a water ballet performance. Synchronized ballet-style dancing of the boats in the harbour attracts many locals and tourists. The performance is free, and no tourists are harmed during the show (as the boats carry no passengers).
Travel tip: car sharing services such as Lyft or Uber don't operate in Victoria. Taxis, however, are available.
Shopping tip: there are many shopping opportunities in or outside the city, from downtown Market square to bigger malls. Check our list of shopping centres in Canada to pick the one that suits you best.
Start Your Day at the Inner Harbour, and Greet the Empress
Street performers, buskers, salty sea breeze and a beautiful view of the city. Where else should you start your 8-hour journey? Have a morning coffee, see the city waking up, and greet the ocean before you head downtown. Snap some pictures before you go – the harbour offers amazing views of downtown!
Have you spotted an impressive chateau-style building nearby? Actually, it is a hotel. Fairmont Empress, usually called just the Empress, was opened in 1908 by Canadian Pacific hotels. For 114 years, the hotel has been serving the best high tea in town. There are several cheaper spots downtown offering high tea, but the Empress has the best atmosphere and food. Come back in the afternoon to enjoy homemade scones, locally sourced cakes, quiches, sandwiches, tarts, macarons and other treats, accompanied by the best leaf tea. You will feel like a true Empress.
From the harbour, head to the nearby Parliament building. If you have time, take a free tour of the building. We recommend coming again in the evening: the building is beautifully lit. If you stay for 8 hours or less, admire the architecture, see the exterior sculptures, including the Statue of Chief Maquinna by Charles Marega, snap some pictures and head downtown for your next adventure.
Visit the Narrowest Street in the Oldest ChinaTown in Canada
China Town is special in many ways. Oldest in Canada, the second oldest in North America (after San Francisco), with typical narrow streets, small shops, restaurants and red lanterns, a place you shouldn't miss. Plan at least half an hour to browse the streets, have tea and get lost in the alleys. Don't forget to walk through Fan Tan Alley, the narrowest commercial street in North America, only 0,9 m wide.
Chinatown offers many meal options, but if you need something more local, visit a farmers market nearby. The Victoria Public Market resembles famous city markets in France or Spain. This indoor market offers the freshest local vegetables, meat or fish. Fancy some pasta, burritos, teriyaki, or a pie? Even if you are not hungry, a stroll through stalls full of fresh fish, juicy vegetables and delicious cakes will make you crave a treat.
Get a Souvenir in Market Square
Today, a trendy shopping mall in the city centre. In the past, a place where sailors, whalers and travellers found their entertainment. Market Square in Victoria offers boutique shops, local art and souvenirs, restaurants, and cafés. Those who don't fancy shopping (although almost everyone can find something interesting here!) can enjoy summer festivals and street art or learn about the original three-level fountain that used to provide water for horses and travellers (now replaced by a replica not located on the original spot).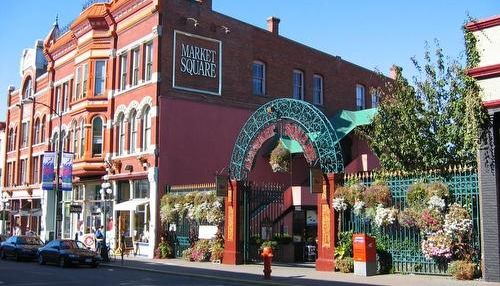 For lunch, head to Bastion square (just a pleasant 4 min. walk from Market Square). This pedestrian zone offers another glimpse into Victoria´s history. The entry arch will lead you to the place where Fort Victoria used to be – a trading post for the Hudson Bay Company.
Today, the place is full of small local shops, restaurants, and pubs. Grab something to eat, enjoy the afternoon and the view of the Inner Harbour. If you are a book lover, don't miss Munro's Books on Government Street just around the corner. Everything about this store is unique: located in a former bank, founded by a Nobel-prize-winning author (that doesn't own the store anymore, so please don't ask for her!), with original tapestries... Just come and see.
Colourful Fisherman's Wharf with Floating Houses
We started our trip in the Inner Harbour, and we will finish nearby. Fisherman's Wharf can be compared to its namesake in San Francisco, full of bright colours, offering great food, small shops, and seals watching you as you are enjoying your ice cream. What makes this place special are floating houses in bright colours. If you have more time, you can even book a bed and breakfast and try how easily you get seasick! Our recommendation: try local fish and chips at Red Fish Blue Fish.
Extra Tip for Nature Lovers
Don't fancy historical downtown? You can spend your eight hours in nature. Victoria offers many adventures. Have you been whale watching? Here, you can get a tour with a 95 % chance of spotting those wonderful creatures. The company even offers a free second ride if you are the unlucky ones that didn't spot any.
If you are looking for a calm day in a botanical garden, definitely go to Butchart Gardens. This 118-year-old garden, to this day privately owned, was designated a National Historic Site of Canada. Enjoy the beautiful smell of flowers, the solemnity of the Japanese gardens, historical displays and beautiful statues. If you get hungry, try the local high tea.
Hatley Castle: Where History Meats X-men
One more extra tip for movie connoisseurs. Hatley Castle, situated just a short drive from downtown, starred in many blockbusters, including the X-Men, Deadpool, or Poltergeist. This medieval-looking mansion was completed in 1908 and served for some time as a naval academy (no supernatural alumni, as the X-men movie would suggest, though). The castle is located outside the city; if you need to grab some food or get a spare set of cloth, you can shop at Langford Plaza, located close to the castle.
There is much more to do in Victoria – a hidden gem on Vancouver Island. One thing stays for sure: once you visit, you definitely need to come back!