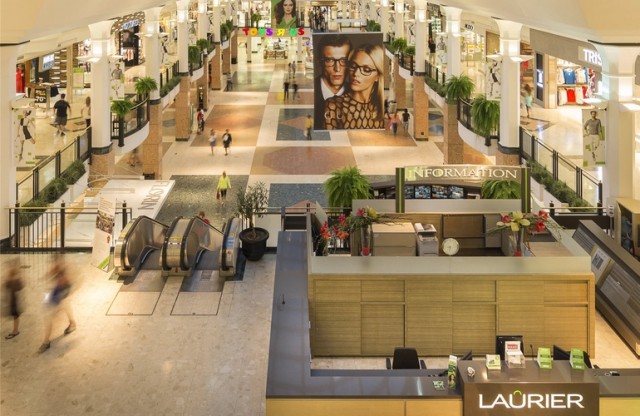 Source: laurierquebec.com
Laurier Quebec mall is considered to be one of the most significant shopping centres in Quebec. According to the study of Retail Council of Canada it holds the dominant position in the region, being one of the city's most productive malls, as well. The second phase of this mall's modernization starts soon, since Ivanhoé Cambridge has announced that $60 million will be invested in this shopping centre during the stage two of it's renovation.
The 2015 expansion started with mall's food court reconstruction and had the total cost of $18 million. The newly announced investment will be focused on certain changes in the parking area and common areas. As it became obvious the sales is going up in the food court area, the company decided to keep investing in it. Part of the renovation will include enhancements to the centre's garage, which will gain brighter lighting as well as the installation of new parking management system. Each parking space will be equipped with a digital sensor that will show the drivers the number of available and occupied places.
This initiative is part of Ivanhoé Cambridge's strategy of investing in its shopping centres to maintain and strengthen their competitive positioning in their respective markets. This investment is all the more significant in one of Quebec City's most competitive hubs: Laurier Boulevard, said Claude Sirois, President, Retail, Ivanhoé Cambridge.
Laurier Quebec is one of the region's busiest malls with more than 11 million annual visitors and it spans more than a million square feet in size. The mall is home to more than 260 retailers and is anchored by numerous smaller anchors and the big Hudson's Bay and Walmart as well. It is yet to be decided what will happen with the space where Sears was located until recently – this plan will be part of third phase of mall's recontruction.
Since 2010, more than $400 million has been invested in Laurier Quebec and Place Ste-Foy and these two shopping centres will probably be connected via a pedestrian connection in the soon future. Place Ste-Foy saw a significant renovation that also began in 2015 and included upgraded common areas, as well as former Les Ailes de la Mode retail space for new tenants. Place Ste-Foy is home to over 135 boutiques and stores, located at the gateway to Quebec City among the many hotels and stores along Laurier Boulevard and welcomes around 8,6 million visitors every year.