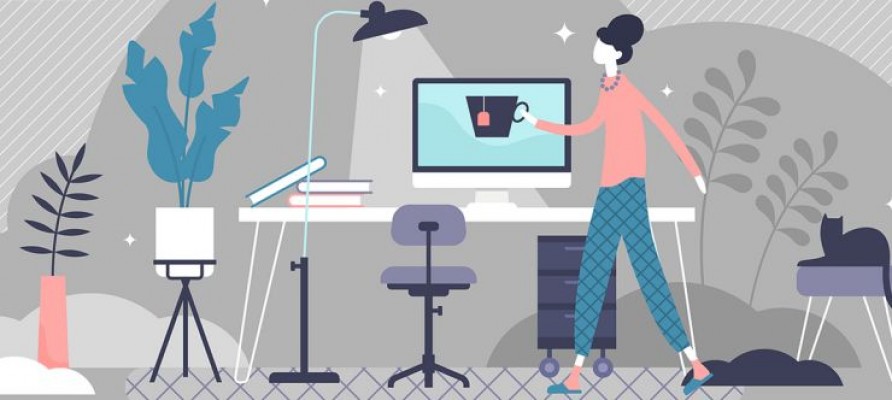 Did you know that before pandemic only 5% of full-time employees in the world worked from home? This figure is likely to hit 20-30% in the new normal with slight variations across industries. Location won't matter much in the future of work.
Moreover, 60% of the App Generation (ages 15-18) and half of Millennials feel their smartphone and laptop are the only essential tools for getting their job done. And companies are listening. According to Global Workplace Analytics, 40% more of U.S. employers offer flexible or remote work options today than they did five years ago.
We all know that work will never be the same, even if we don't yet know all the ways in which it will be different, says Slack co-founder and CEO Stewart Butterfield.
People are making new choices about where they want to live and creating new expectations about flexibility, working conditions and life balance. Slack's Future Forum research has shown that only 12% out of 4700 workers want to return to full-time office work while 72% aim for a hybrid remote-office model moving forward.
Remote work essentials
If you are in the position to choose or you plan to be a remote worker yourself, here are some of the essentials that your home office needs to have in order for you to create a productive and comfy working space.
Mobile desk station
Buying a simple working table that you can move around the house will save you from trouble called – family distraction. A simple, inexpensive and adjustable two-piece desk is all you need, to start with. Aside from the roller wheels, another bonus of tables like these is their double function - the desk allows you to work seated or to use it as a standing desk, with one platform for a keyboard and another for a laptop or display.
Good ergonomic chair
Wrong chair might cause pain in your back, arms, hands or wrists. You might also find yourself fidgeting, making more mistakes or taking more breaks - all because you're uncomfortable. Try sitting with your back against your chair and always support your feet. Either plant your feet on the floor or, if they don't reach, use a box or other foot rest to support your feet.
If your chair lacks lumbar support, you can roll up a towel.
You can make working from home more smooth with one of the many chairs from Walmart's office program.
The Mainstays mid back office chair
This desk chair is both comfortable and stylish. The sleek black bonded leather upholstery is made with memory foam for all day comfort and ergonomically padded arm rests for extra support. It's perfect for most standard desks and matches most any decor elements in your home or office. The executive mid-back chair is made for durability. It features a metal base that offers added support and includes 5 dual-caster wheels for smooth and easy rolling capabilities. Customize the way you sit with the gas lift for adjusting your seat height as well as tilt and tension controls for creating the most comfortable fit. Ditch the cheap task chairs and create the ultimate office space with the Mainstays Mid Back Office Chair! And with easy assembly, you will be ready to use your new favorite office chair as soon as you bring it home.
Gas lift adjustable seat height includes tilt and tension controls for comfortable adjustments and the model will match any decor in your home office.
Check out Walmart Canada opening hours and explore the offers while they're still on.
Ergonomic rolling desk chair with lumbar support
By using high-density sponge cushion, this flexible office chair with a middle back design, can provide good lumbar support. The mesh chair uses a high breathable mesh for comfort.
This model comes with all hardware & necessary tools and after following the instructions, it won't take you more than 15 minutes for a setup.
All the accessories of this office chair have passed the test of BIFMA, which is a guarantee for your personal safety. The chair can bear the weight of 250lbs.
The highly ventilated mesh back will keep you from getting stuffy when you are using it for a long time. The soft and moderate sponge cushion will fit into your sitting position for a long time. The back and armrest of the office chair are ergonomically designed so that you won't feel tired even after a long period of work. The bottom of the desk chair is equipped with a tension adjusting knob to provide a certain degree of tilt so that you can relax after work. The adjusting lever can help you adjust the height of the seat so that the chair can reach your ideal height from 16.9-20 inches and has a 360 degree swivel wheels.
If you don't find what you had in mind in Walmart, head to one of the stores of Office Depot in Canada. We are sure you won't leave with empty hands.
Work with zero noise – noise cancelling headphones
Healthcare, education, finance and businesses large and small are growing and improving with the help of audio-video communications. This year alone, hundreds of thousands of small business owners maintained and even grew businesses using a good quality tech gadgets.
And, while working from the comfort of our homes can be a huge benefit for many different reasons, distractions like TV noise or interaction among the family members can sometimes stand in a way of focused work. That's why, having a good pair of noise cancelling headphones is a must.
WH-1000XM3 Wireless Noise Cancelling Headphones
With this model we recommend, you will feel like the only person in the room. This pair of smart headphones is made with advanced noise-cancelling technology such as Adaptive Sound Control and the convenience of smart features including Quick Attention, Voice Assistant compatibility and touch control. The noise cancelling technology in the WH-1000XM3 headphones is the Sony's most advanced ever with close fitting ear pads and our HD Noise Cancelling Processor QN1. With new HD Noise Cancelling Processor QN1, noise cancelling power is greatly enhanced.
NC processor also ensures the reproduction of your sound is never compromised due to processor performance. The WH-1000XM3 headphones are also highly effective at blocking out daily noise like voices and the background sounds you might hear walking through a city or working from home. LDAC transmits approximately three times more data (at the maximum transfer rate of 990 kbps) than conventional BLUETOOTH® wireless audio, allowing you to enjoy High-Resolution Audio content in exceptional quality.
A built-in amplifier integrated in HD Noise-Cancelling Processor QN1 realizes the best-in-class signal-to-noise ratio and low distortion for portable devices and delivers exceptional sound quality.
The coolest feature - Adaptive Sound Control automatically detects your activity such as travelling, walking and waiting, then adjusts ambient sound settings to you. And with Quick Attention, you can communicate without removing your headphones — simply place your hand over the housing to turn the volume down for instant conversation.
If you think our recommendation is not what you need, check the other tech at Sony store locations around the country and pick a model that will ensure the peaceful work at home.
No coffee – no inspiration
What's an office without an awesome coffee maker? Come on…
For all of you coffee addicts out there, a good coffee machine has to be part of your remote work routine. And part of your home office.
There are many models to explore, depending on the type of coffee you like. We reckon you might try out this one:
Programmable coffee maker by Oster
You can enjoy rich, robust artisan-style coffee at home with the Oster 10-cup Thermal Coffee maker. This model will give you faster brewing, hotter pour and fresh taste in every cup.
Other bonuses:
# Brewing speed helps to achieve optimal coffee flavor and this model is also a great choice because it brews coffee 26% faster, meaning you can brew a full pot in less than 7 minutes (compared to competitive thermal coffee makers).
# In addition, it's engineered to heat water up to 205°F, which is the ideal brewing temperature to optimize flavor from the grounds.
# The double-wall, vacuum-insulated, stainless-steel thermal carafe keeps the flavor fresh and the coffee hot for hours.
# This coffee maker is designed with convenient features including Delay Brew for set ahead brew time and Brewing Pause 'N Serve to pour a cup during brew cycle when you just can't wait for your morning coffee. Also, 2-hour auto shut off turns off coffeemaker just in case you forget!
Treat yourself after a long day
Although working from home many times means being wrapped up in a blanket like a burrito wearing an old sweatshirt and with a messy bun, that doesn't mean we should forget how to feel royal when all the work is done. Once we move from the office area to the chill area, a great idea can be treating ourselves with a mini spa ritual. Our warmest recommendation is trying out a MAC Prep + Prime Essentials Oils Grapefruit & Chamomile. This oil does a great job at smoothing out and hydrating your skin, especially when mixed with a moisturizer and doesn't leave your skin feeling oily. Your skin will feel energized with a healthy glow and all of this with lovely scents of nature – grapefruit and chamomile. Search MAC cosmetics skincare products for more options.
We hope we gave you some useful ideas when it comes to setting up your home office. However, we all have personal preferences and we probably skipped something. In case you need anything we missed out, head to Canada shopping mall directory to explore further.
Let's make the most out of new era of remote work!