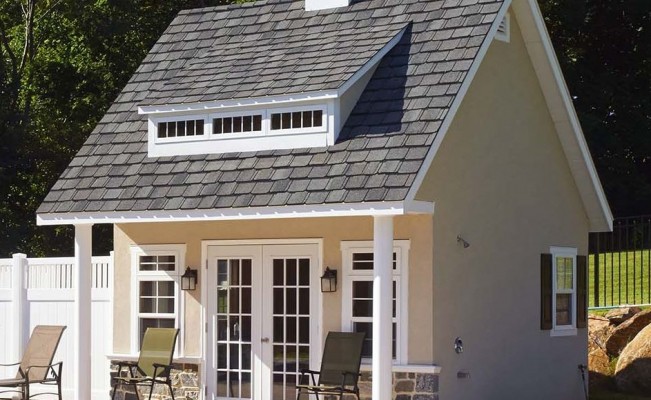 The design of a cottage is all about living in harmony with nature. However you have so much space to play around with decorating and this doesn't have to exclude contemporary styles such as geometric patterns, straight lines, etc.
On the other hand, many people prefer relaxing, laid-back country vibe with rustic details and wooden furniture.
In order to help you out with redecorating your home on a budget we are giving you a bunch of ideas on how to set up your lovely space in the nature and a list of some places where you can purchase all you need for this personal joyful project. Read on and let's get started!
Heavenly Patio
Some of the fave spots to enjoy your early mornings and sunsets are the back patios and the front porches. Try working on an attractive wicker patio set. You can make it even more beautiful with some cushions sewn by hand. There are many craft store where you can purchase fabrics for this occasion.
What you can, also, do is add daybeds to your porch that can convert into full beds. That way you will have more space to read, have a nap or simply enjoy your first morning coffee.
Play With Colors in a Bedroom
Although neutral shades are the trend of the season, you should try out bright shades if you're a fan of bold hues. Why not using a a sunny-yellow paint for your master bedroom? Add a spark of life to your sleeping paradise with linens of blue-and-white print for example.
You can also play to make the most out of the room. To utilize the space efficiently try filling one side with bookshelves and build some drawers and cabinets for the other side.
Classic Floors
Floors come in a variety of different warm wood tones that are easy-to-care and pretty affordable. They also complement perfectly with light colors and soft fabrics. You can either leave the floor bare or opt for a rug during the wintertime. Thing of opting for hardwood floors – they can give your cottage style decor a stunning and beautiful appearance.
Natural Fibers
Natural fibers add a lot of details to the overall decor. For instance, you can purchase baskets made with natural fiber for storing extra supplies. Another idea is to mix different fabrics that are generally used for upholstery, slipcovers, draperies, curtains, pillows and many more. And for a collected look you should try to coordinate different prints like checks, florals, stripes or plaid. It's not hard at all updating your furnishings to create a relaxed look if you pick details that suit your style.
Don't Forget Windows!
Window shutters are not only a functional adornment but also decorative. It helps to add character and value to your cottage. You'll find plenty of options for a window shutter like- plastic window shutters, bay window shutters, plantation window shutters, etc.
Open Shelving
If you've got a beautifully designed kitchen, open shelves will help to give it more character. From an appearance perspective, open shelves seem to be a better option than the regular cabinets with doors. Why? Because it creates an illusion of more space by making the kitchen appear more open and airy. You can also use this space to show off your precious collections like unique dishes and other glassware.
Rustic Materials
By incorporating rustic materials into your décor you will make your cottage look timeless. For example, use old red brick for the flooring on the back patio. It feels great even in bare feet and brings a sense of history to any cottage. Using rustic materials can, also, bring a lived-in, comfortable feeling to your space. Think of how you can reuse materials. Old windows used as wall art or salvaged barn wood used to make shelving or a table can add the unique character and make your loving family space stand out.
Use Rattan or Bamboo for the Furniture
Wicker or rattan furniture might currently feel trendy, but these materials have long been used in cottage homes. Not only do these wood and natural products add warm color but they bring texture to any decorating scheme. The most important cottage redecorating tip? Don't be afraid to mix it up. Cottage style means not taking decor so seriously. If you want to mix your wood tones, your patterns and your furniture, just do it. Cottage style is all about summer comfort, memories and easy living. Turn vases into pitchers, and discarded wood signs into wall art. However you express this creativity is up to you.
Put Together a Games Corner
Your cottage is your nest. Decorate it so it has the nook for your leisure and relaxing time. What we mean by this is a couple of bookshelves with plenty of storage, some wing chairs and an upholstered window seat for comfy seating around the vintage table. Sounds awesome, right?
There's no better feeling than hanging out in your own reading, crafts and games corner.
Bunk Beds? Bring 'Em In!
If your kids and their friends are always fighting for space, consider swapping out twin beds for bunk beds. Built-in bunks are a great space-saver and make sleepovers fun. You can, also, consider models with a double bed on the bottom and a single on the top since they're great for hosting families.
Keep It Light With White
The idea of painting most of your cottage rooms in white is to invite as much light into the space as possible. Paint everything white, from the walls to the furniture, then use cream, sand, or white textiles. Read online some tips of interior designer Tamsin Johnson – adding some darker shades of with the bedding can be a great idea, too.
All Those Flowers
Bright cheerful colors, a mix of patterns, and flowers everywhere—real, painted, and printed make the living room playful. If you are not into "all white" mood then play with different color palettes to get a vivid sensation in your main home areas, such as living room.
Paint the Furniture
Yes, yes, we know, it seems complicated, but it's actually not at all! Unifying a ragtag patio set can be a piece of cake with just a little bit of will. Grab your antique sofa and assorted chairs and coat it in matching colors.
Arrange Backyard Flowers
Whether you grow sunflowers, tulips, carnations, or anything else in your garden, consider bringing some inside and arranging them in vases to spread the cheer throughout your cottage rooms. They can be a great decoration for the kitchen, too.
Outdoor Shower
Who doesn't like outdoor showers? Rinsing off salt or sweat will feel much much better under the open sky. And the whole family will be thrilled to have one in your garden!
Where to Shop & Save
One of the best places to purchase al you need for your cottage redecoration is HomeSense. It's an off-price retailer. Unlike traditional retailers, they generally don't do promotions, sales, coupons or other gimmicks. Just exciting merchandise at amazing prices, every single day! Their selection changes frequently with new brand names and other high-quality home fashions arriving several times a week, with each delivery containing thousands of items. So explore HomeSense flyers and stop by to see their latest designer finds, at spectacular savings!
If you love it, grab it! They don't hold replenishment stock in back rooms and often, the store managers don't even know what's coming until they throw open the delivery truck doors! That's what makes shopping here exciting!
The amount they buy of each brand varies greatly so don't miss out some good deals!
H&M Home is a design-driven global interior brand within H&M Group, offering contemporary decor and home accessories for every style and room. It was first launched online as a home-textile concept in 2009 and has since been extended in many markets through shop-in-shops and online, and in 2018, H&M Home opened its first standalone concept stores. The assortment ranges from high-quality bed linen and timeless dinnerware to stylish textiles, furniture and lamps. Check out H&M Home locations to save and decorate your space wisely!
#DID YOU KNOW?
Hudson's Bay Company is a corporation that occupies a prominent place in both the economic and the political history of Canada. It's probably one of the most extraordinary places to do shopping for the occasion we were talking about. It was incorporated in England on May 2, 1670, to seek a northwest passage to the Pacific to occupy the lands adjacent to Hudson Bay and to carry on any commerce with those lands that might prove profitable. It still exists as a commercial company and is active in real estate, merchandising and natural resources, with headquarters in Toronto. It is, also, the oldest incorporated joint-stock merchandising company in the English-speaking world. Check out Hudson's Bay deals and enjoy your cottage touch up!
We gave you enough ideas to be really busy this summer. If you are among the lucky ones to have a cottage to redecorate, do a bit of search for discount shopping in Canada with our Canada shopping locator and get to work!
Happy summer!