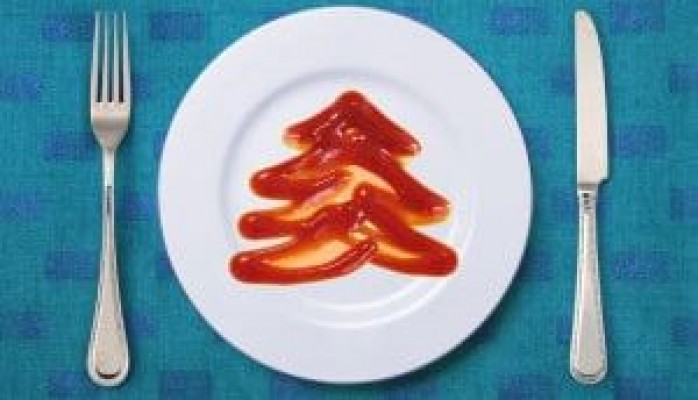 One fact none of us likes about holidays – is the fact holiday season is expensive!
Gift shopping and travel fees are the top two reasons your bank account gets drained in no time but – there's food too!
During the holidays we tend to cook more elaborate meals, many host holiday parties, we decorate Christmas cookies and make gingerbread decorations. Oh, let's not forget hanging out with friends and family and bringing coffee, sweet treat or bottle of wine for each visit.
For these reasons and more, today we are bringing you some cool tips on how to save, spend and play with food this holiday season! Read on…
How to save with food during holidays
Follow sales and make stock in time
Certain cooking ingredients get costlier this time of year. So, try to stock up on certain things — like butter, sugar and flour — in advance. Ideally when they're on sale or when you have a coupon.
Be smart - watch the unit price
Most stores will tell you how much the item is per ounce, pound, or item. Compare different brands and sizes and you might get surprised that a name brand or even smaller package size is the best deal.
Use coupons
There are tons of great seasonal coupons out there – make sure you stay up to date and use every single one whether it's an online coupon or the one from the newspapers. Coupons are especially handy for ingredients you use for desserts and side dishes. Walmart flyers are also a smart idea.
Don't make a science out of your menu – make dishes that use the same ingredients
The thing is - with complicated dishes often comes expensive ingredients and longer grocery lists. Not to mention, more time in the kitchen and less time enjoying with your guests. That's why we suggest you keep your holiday menus simple, with perhaps one appetizer or dish that's new and unique. Also, try to stick to dishes that use same ingredients in order to cut down on food waste and spending too much.
Bake your own dessert
Many of you will hear this for the first time but know that baked products have the highest price in the grocery store, sometimes as high as 300 percent. That's why, instead of buying a cake or cookies, bake your own! It saves a lot of money and is a fun activity to do with your family members than can help out. If you don't have much time to experiment with cakes, go for a box of brownie or cookie mix. It's a lot cheaper and very handy to put out for sudden guests.
Explore new traditions
While advertisements and the media might have you thinking everyone cooks the same thing for all the big holiday meals, that's not true. Take your time to explore more on other holiday meal traditions that might be fun to try. You can then compare the cost of those meals to what you typically make. For example, baked potatoes, homemade soup and bread for Christmas Eve can be a cherished family tradition, but not cost a fortune.
Play with leftovers
You don't have to buy new bunch of groceries every second or third day in a week. Try make the most out of what you already have in the fridge and learn to turn leftovers into new dishes. With just a bit of good will and creativity, it's not that hard to reinvent holiday meals. For instance, turkey and stuffing can be used in a quiche!
Christmas recipes that won't break the bank
Not everything is about knowing how to shop. There's a lot about how to cook a good food and not spending much. Therefore, these are our three awesome winter recipes that will warm up your belly and save you some cash.
Balsamic Roasted Baby Carrots
Sometimes we find ourselves with a bag of baby carrots and we aren't sure what to do with them. Try roasting baby carrots in a maple-balsamic glaze and enjoy simple but rich holiday meal.
Ingredients:60 ml balsamic vinegar, 60 ml extra-virgin olive oil, 2 tbsp. maple syrup, 1/2 tsp. crushed chili flakes, 675 g baby carrots, salt, freshly ground black pepper, freshly chopped parsley.
How to prepare: Preheat oven to 200°C (180ºC fan). In a large bowl, combine vinegar, oil, syrup, and chili flakes. Add carrots, season with salt and pepper and toss to coat. Place carrots on a large baking tray. Make sure not to overcrowd them. Roast until carrots are fork-tender and slightly charred, 30 minutes. Garnish with parsley to serve. Enjoy!
Slow Cooker Turkey Breast
Yes, you can have a great turkey without hustling with an oven!
All you need to do is mix up a simple brown sugar rub, coat the meat and let your slow cooker finish the work!
If you decide to use a frozen turkey breast, transfer it to the fridge for about 24 hours (and maybe more depending on the size) to allow to thaw. A typical bone in breast sold at the grocery store (half of the turkey breast) will serve 2 to 4 people, depending on how hungry you are!
Ingredients: 1 bone-in, skin-on turkey breast, room temperature 2 tbsp. packed light brown sugar, 1 tbsp. chili powder, 1 tbsp. smoked paprika, 1 tsp. garlic powder, salt, freshly ground black pepper, 120 ml low-sodium chicken stock, 2 tbsp. honey, 60 ml soy sauce, 2 tbsp. freshly chopped parsley.
How to prepare: Grease a large slow cooker with cooking spray. Roll a large piece of aluminum foil into a rope and then fold the rope into an oval. Place in slow cooker, creating a rack for the turkey. In a small bowl, whisk together brown sugar, chili powder, paprika and garlic powder. Pat turkey dry with paper towels and season generously with salt and pepper. Press sugar mixture all over turkey, then place in slow cooker, breast side up. Whisk together chicken stock, honey and soy sauce and pour into bottom of the slow cooker. Cook on low for 3-4 hours, until a thermometer inserted into thickest part of the breast reads 73°C. Remove turkey from slow cooker. To crisp up the skin, transfer turkey to a rimmed baking tray and grill until golden, 3 to 4 minutes. Let rest 15 minutes before slicing and serving. Garnish with parsley and serve!
Herb Roasted Potatoes
Is there anything better than a perfectly roasted potato? You can eat it as a full meal or combine with different food you already have at your holiday kitchen table. The best tip? Eat with a nice winter salad of your choice and round it up with aromatic white wine.
Ingredients: 900 g King Edward potatoes, quartered, 60 ml extra-virgin olive oil, 2 garlic cloves, crushed, 1 tbsp. freshly chopped rosemary, 1 tbsp. freshly chopped parsley, 1 tbsp. fresh thyme leaves, salt, freshly ground black pepper, pinch crushed chili flakes.
How to prepare: Preheat oven to 220°C (200ºC fan). In a large bowl, toss potatoes, oil, garlic, and herbs. Season with salt, pepper and a pinch of crushed chili flakes. Pour into a baking dish. Bake until potatoes are golden and you can easily pierce with a fork, 35-40 minutes. Enjoy your simple holiday meal!
You can check out Loblaws hours and buy almost all the ingredients we mention right there.
And in case you get lazy over the holidays you can always use Swiss Chalet coupons and enjoy eating out.
And now – dessert!
So, we already gave you some nice cooking suggestions that will make your holiday lunch or dinner a tasty and affordable culinary joy. But what about dessert?
Holiday season is there to be a bit lazy, too. So instead of inspiring you with a cake recipe we are sending you straight to the closest Dippin' Dots in Canada!
Let's break the rules and enjoy ice-cream in the middle of the winter, 'cause why not?
What is this for those who don't know?
Dippin' Dots are tiny beads of cryogenically frozen ice cream. Basically, to make these little pearls, all the ingredients of regular ice cream are used, then flash frozen into tiny beads. When you think frozen – think extremely cold temperature, like -320 °F.
The Dippin' Dots story began more than a quarter of a century ago and continues to embody fun and excitement for fans across the globe.
In 1988, microbiologist Curt Jones used his knowledge of cryogenic technology to invent Dippin' Dots – an unconventional ice cream that's remarkably fresh and flavorful, introducing the world to beaded ice cream.
Dippin' Dots Ice Cream proved to be irresistibly fun to eat. In the late 80's and early 90's the Dippin' Dots dealer network began and various theme and amusement parks discovered their customers' love for the exciting new ice cream. In 1995 Dippin' Dots were first introduced to an international market, making their debut in Japan. In 2000, the company's dealer network evolved into what is now an award-winning franchise system with locations coast-to-coast. Today Dippin' Dots can be found in more than 100 shopping centers and retail locations and in more than a thousand theme parks, stadiums, arenas, movie theaters and other entertainment venues across the country.
So, if you are too lazy to bake sweets during holidays, treat yourselves with these mini pearls of joy! Must-try tastes we recommend are - cool mint crunch ice cream, cotton candy, rainbow ice and ultimate brownie batter!
Wow, so many ideas to play with! In case we missed something feel free to explore Shopping Canada mall directory where you will find out more on the best places and ways how to save money during the holiday season!
HAPPY NEW 2022!