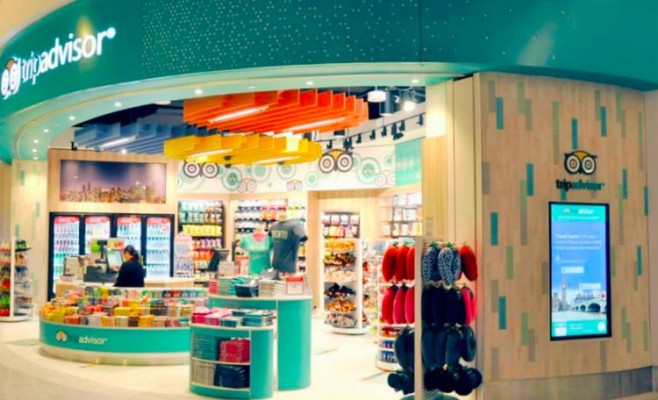 picture source: retail-insider.com
The retail space is opened in a partnership with Atlanta-based company Paradies Lagardère. More stores like this are expected to be opened this year and although the plan is to base them at airports, there might be a chance to see them at local malls in the future, as well – you never know.
Paradies Lagardère specializes in three concessions areas: Food and Beverage, Travel Essentials and Specialty Retail. Within Travel Essentials and Specialty Retail, the company offers many different categories of products including fashion, luxury, electronics, convenience, sports, luggage, jewelry, and souvenirs.
The first TripAdvisor store in the world, located in Pearson Airport's Terminal 1 Domestic, will offer you all the travel essentials you can imagine, while also giving you the chance to discover more about the Toronto and it's areas using large interactive screen. Customers will be able to access the latest TripAdvisor reviews and traveler photos for nearby hotels, attractions and restaurants and save a lot of time that way.
Paradies Lagardère works with it's airport and brand partners to create enhanced customer experiences and stay on the cutting edge of offering innovation and technology, said Gregg Paradies, president and CEO at Paradies Lagardère.
What's most exciting about introducing the world's very first-ever TripAdvisor travelessential store is that we've incorporated an interactive tool that's not only entertaining and fun, but is truly useful in helping travelers, he noted.
#TripAdvisor
Stephen Kaufer co-founded TripAdvisor in 2000 with the mission to help travelers around the world plan and book the perfect trip. Under his leadership, TripAdvisor has grown into the largest travel site in the world. As CEO, Steve has led the growth of TripAdvisor, Inc, which includes 24 other travel media brands that operate in 48 markets worldwide.
This travel website offers more than 570 million reviews and opinions covering the world's largest selection of travel listings worldwide — that includes 7.3 million accommodations, airlines, attractions, and restaurants. TripAdvisor also compares prices from more than 200 hotel booking sites so travelers can find the lowest price on the hotel that's right for them. It is a home to the world's largest travel community with almost 455 million visitors per month.