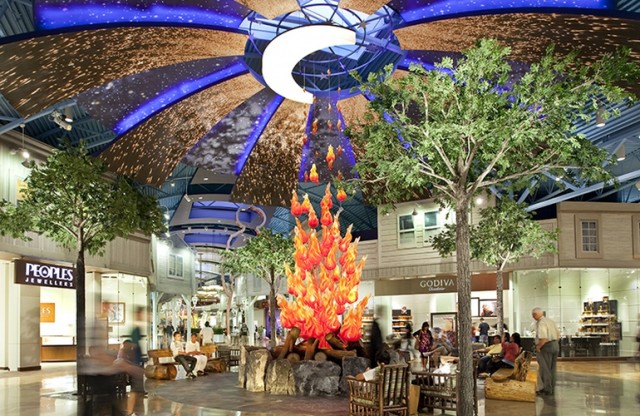 Source: crossironmills.com
The province of Alberta is one of the most productive areas in Canada when it comes to retail market. Numerous malls give the locals and visitors from abroad wide range of goods and excellent product line. Still, there is a shopping centre we haven't mentioned so far and it, surely, deserves a lot of attention, as one of the best malls of this region.
Outside the northern city limits of Calgary in Rocky View County Rocky, there is a fully enclosed shopping centre development CrossIron Mills. At 1.4 million square feet, and 674 acres, CrossIron Mills is the biggest one-level shopping centre in Alberta.
This shopping mall is located just 7.5 km from Calgary International Airport and approximately 1.5 km north of the City of Calgary and you can reach it by using Hwy 2, the busiest transportation corridor in the province of Alberta. CrossIron Mills was the first shopping centre of it's kind in Western Canada. Today it has the best features of a traditional shopping centre and premium entertainment destination.
The first Alberta franchise of Bass Pro Shops, was the first tenant of the mall, opened in the spring of 2009, while the rest of the mall was under construction. The majority of the mall opened in August same year. A final phase referred to as The Entertainment Neighbourhood opened in summer next season.
CrossIron Mills has more than 200 specialty stores and premium brand outlets and it can satisfy even the most demanding buyer. Many biggest-in-Alberta retailers are located precisely here, including the largest Toys 'R' Us, Babies 'R' Us, La Senza, The Children's Place, Tommy Hilfiger Outlet, Laura Superstore and XXI Forever.
Some of the brands you can find in this retail hot spot are Hugo Boss Outlet, Coach Factory, Calvin Klein Outlet, Bed, Bath & Beyond, Pro Hockey Life, True Religion Brand Jeans Outlet and Coach Men's. One of the most beautiful and most authentic parts of this shopping centre are it's architecture, and six themed neighbourhoods throughout the centre. These neighbourhoods are inspired by the geographic regions of Alberta, landmarks, and cultural icons of the province. All these features are connected by unique transition courts, and culminate around a themed food court with capacity to welcome 1200 people.
#Did you know?
• This mall is home to more than 200 premium brands and outlets and has 6,000 parking stalls.
• CrossIron Mills is the first enclosed shopping centre to be built in Western Canada in 20 years.
• It is one of the largest shopping centres in Southern Alberta.
• Many of CrossIron Mills' stores are the largest in Alberta.
• Retailers in CrossIron Mills like Bass Pro Shops Outdoor World, Gap Generation are in Alberta for the first time.