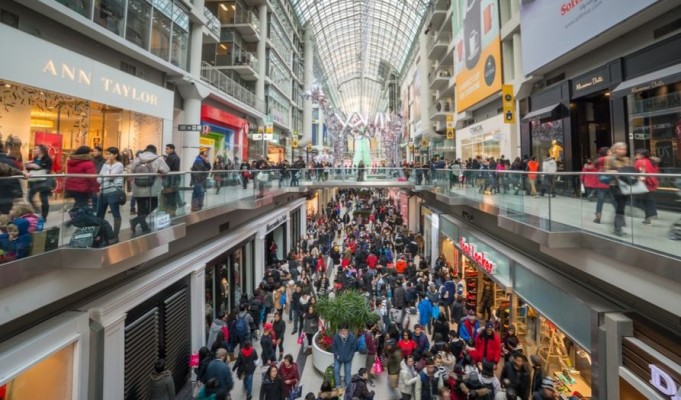 The latest research from the 2019 Deloitte Holiday Retail Outlook reveals that Canadians commonly spend around $ 1,706 on gifts, travel, food and alcohol during the holiday season!
The same study has shown that the Christmas spending habits of Canadians are so intense, they tend to spend more on their Christmas shopping, than on their whole monthly rent.
Despite serious competition from online retailers, 69% of Canadians prefer scanning and shopping potential gifts in a physical store, which proves they understand the benefits of being able to see, touch, and test products, but also avoid shipping costs.
That is why – malls are still a key destination for shopping, but only careful evolution will keep things this way in the retail field.
Before jumping to the list of the best malls in Toronto, let's dig a bit into a mindset of a shopper and see why overall experience matters so much.
Millennials are the most demanding group when it comes to shopping and it's crucial to keep them fully engaged, from the moment they step into the store to the point of sale.
One-third of Canadians don't go shopping just for the sake of shopping – they plan to make a whole event of it. That is why more and more people will shop where there are restaurants, play corners for kids, salons, movie theatres and other entertainment amenities – all with a goal to enhance the shopping experience.
Consumers are clever and know exactly what they want, so the goal of the retail organizations should be investing more in customer experience, following trends. This includes breaking down traditional models of shopping with new layers and ideas.
Canadians will, that way, continue to choose in-store shopping instead of online purchasing, but only where there is a serious evolution in the overall experience.
Another study has shown too that young consumers prefer spending their money on an experience rather than on material things and will end up buying in the mall instead of using the online options.
First Insight's most recent study examined the buyers' shopping habits and purchase behavior and found that 71% of shoppers are spending more per visit in-store than online.
A variety of retail offer matters very much too, when it comes to retaining people in the shopping centres.
According to industry experts, the future seems bright when it comes to international retailers coming to Canada. Jay Freedman, Vice President of Business Development at Oberfeld Snowcap claims Canada represents an attractive growth market for companies testing the waters before further expansion.
Mr. Freedman predicts we'll see new Australian brands in Canada in the coming years, as well as numerous Asian retailers – all this represents a very good base for reviving the in-store shopping.
Over the past several years, Yorkdale Shopping Centre has launched more first-to-Canada retail brands than any other place in the country.
That is why we can freely say the capital of the province of Ontario, Toronto is a true gold mine for shoppers!
Toronto is packed with so many shopping centres you could easily spend days exploring them. We've put together a list of the best malls in Toronto to save your precious holiday time and make you grab as many deals as you can – being in the right place at the right time!
TORONTO EATON CENTRE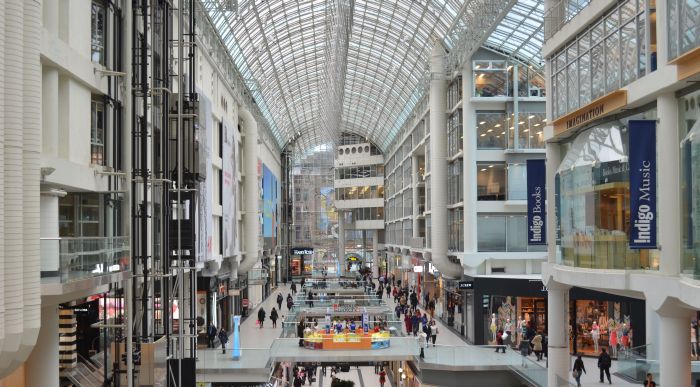 You haven't truly experienced the magic and joy of holiday time at a mall until you've been to Toronto's most iconic shopping centre – Toronto Eaton Centre!
Every winter it mesmerizes the visitors with its dazzling lights, spectacular decorations and stunning 50-foot Christmas tree.
The Eaton Centre is eastern Canada's largest shopping mall, and Toronto's top tourist attraction. Each week, this shopping hub welcomes more than 1 million visitors, who come to shop, explore and have fun at more than 230 stores spread across 1.7 million square feet of enclosed space.
You can stroll beneath the spectacular glass galleria and explore some of the mall's other highlights, including a flagship H&M and the Apple Store. The Toronto Eaton Centre offers fashion from some of the leading retailers from Canada and around the globe, including Steve Madden, Aritzia, Coach and Forever 21. When you're done for the day and can't wait to try some truly tasty bites, head to the huge food court where plenty of culinary treats will make your heart&stomach sing!
Check out Yonge-Dundas Square just outside the Eaton Centre doors, as well. The public space, at one of Canada's busiest intersections, plays host to concerts and events throughout the year and there's always something going on.
The city's most iconic shopping hot spot is conveniently located downtown on Yonge Street between Queen and Dundas, while Parking is available at the Yonge Parkade on Yonge Street and Shuter Street and the Bay and Dundas Parkade on Bay Street, South of Dundas Street and North of Queen Street.
YORKVILLE VILLAGE
This shopping mall is a must-visit destination as it represents the place where different people and influences come together to make one-of-a-kind experiences. Unique exhibitions, events and pop up stores have formed an atmosphere of cultural boom – address where people keep coming back to.
Formerly Hazelton Lanes, Yorkville Village has undergone a dramatic multi-million-dollar revitalization, creating the ultimate lifestyle centre and one of the best malls in Toronto. Anchored by a Whole Foods, and an SF Equinox, Yorkville Village hosts internationally renowned art gallery Galerie De Bellefeuille, and Quebec-based shoe retailer JP Fortin. Other new retail additions to the centre include the Canadian flagship stores for luxury British sportswear brand Belstaff, and Italian fashion house Eleventy. Yorkville Village has launched a brand-new concept by one of Toronto's most elite restaurant groups, The Chase Hospitality Group called Palm Lanea and will also welcome visitors with a brand-new food hall. Today, this mall hosts some of the greatest names in fashion, fitness and more.
YORKDALE SHOPPING CENTRE
When Yorkdale opened in a north Toronto suburban area in 1964, it was the world's largest mall. Although it no longer holds this title, Yorkdale Shopping Centre is still a true paradise for shopaholics. More than 400,000 customers visit it each week.
Did you know this mall was home to the Canada's first Apple store? Throughout the past decade, trendsetting renovations have helped Yorkdale draw a significant number of upscale retail tenants, including Michael Kors and Tiffany & Co.
Back in 2016, a $330 million expansion made a mini-revolution making a perfect match between the malls' appearance and its high-end stores. Why people love this destination? Yorkdale's spacious hallways and 27-foot high ceilings give shoppers the feeling of space even on the super busy days. Hungry ones can make a booking in advance and catch a table at Yorkdale's food court enjoying the fresh air at the outdoor terrace, while the spoiled ones will be pampered by personal concierge services, upon request. Also, there is the LEGO Store! What's not to love!
It also has the highest concentration of luxury brands in Toronto in its 250-plus stores. What are you waiting for? Head straight to 3401 Dufferin Street!
SQUARE ONE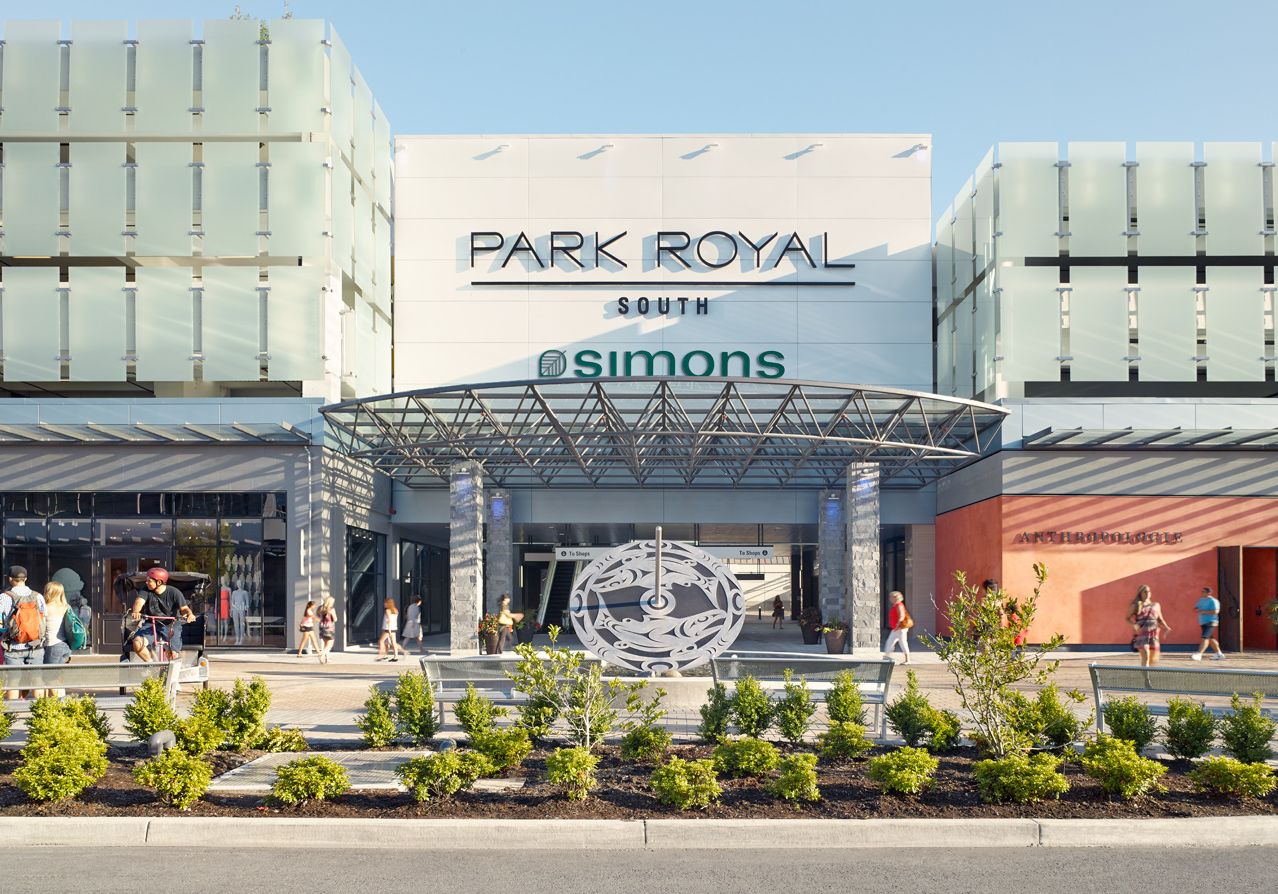 Square One is Canada's major fashion, lifestyle, and entertainment destination.
The largest shopping centre in Ontario boasting over 360 stores and services at 2.2 million square feet, has become not only one of the top ten malls in the country, but also an established tourist destination.
Visitors love it for its numerous specialty stores for accessories, footwear, electronics and more. It's top-rated for its high-end fashion game too - boutiques like Ann Taylor, M for Mendocino and Stars Mens. Opening of Ben Sherman and Simons back in 2016 also added an extra posh touch.
We recommend it for its vast selection, dedication to premium guest services and the fact it continues to grow, expand, and present innovative, fashion-forward experiences, having in mind all generations of shoppers. Extra tip – follow their interesting social media campaigns&collaborations!
Our list of the best malls in Toronto would not be complete without these three shopping hubs: Fairview, Markville Mall and Upper Canada Mall. Each, in its own way, contributes to the growing number of visitors making a holiday time – a time to remember!
FAIRVIEW MALL
There are more than 180 worldwide known brands, specialty shops and kiosks waiting for you in this shopping centre located just a step outside of the downtown.
A two-level fashion hot spot welcomes visitors with all sorts of retail options. It, also, has a multiplex cinema, a food court and several restaurants connected to the mall. Free customized services are especially interesting – they change throughout the year but never fail to meet the needs of spoiled shoppers.
Cadillac Fairview (CF) and TD Greystone Asset Management (TD Greystone) are at the moment in the mission of vital revitalization of CF Fairview Mall!
They are revamping this shopping centre not to let down the growing community of passionate buyers by investing around $80-million. They plan to transform 230,000 square feet of the existing department store and other retail space. Revitalization of Fairview Mall will include introducing numerous new brands to the property, creating a new set of restaurants and improving pedestrian access to the nearby Don Mills subway station. Construction is expected to end by 2023.
Future development plans will probably include residential, hotel and office use along the periphery of the property.
It deserves to be on our top-rated list for plenty of reasons – Fairview will never disappoint you as it has a lot of things to shop for all ages, clean space and enough parking spots, the fact it is fairly big and a pleasant place to walk around. It's got a pretty wide range of stores from clothing to convenience to cellphones and almost everything in between. Starting November 16th until Tuesday, December 24th this year, families and their youngest ones will be able to enjoy the magical time with Santa in the Fairview Mall. This holiday meet-up will be a true joy for many because every visitor will be able to pick their favorite experience! Hurry up to pre-book your jolly moments, as Santa has no time to waste!
MARKVILLE MALL
Located at the intersection of Highway 7 East and McCowan Road in Markham Ontario, there's a shopping paradise of over 160 stores waiting for you - Markville Shopping Centre!
The shopping mall was developed by JDS Development and opened in 1982. The mall was named by nearby historical villages of Markham and Unionville (now both incorporated in the city of Markham). The mall was renovated in 1991 as part of an expansion. It is now owned by Cadillac Fairview. Brand Forever 21 gave away its place to Japanese retailer Uniqlo by closing its door in spring 2018. That was one of four new locations of this brand as a part of a major expansion. The Uniqlo store was opened on October 12, 2018.
A few Chinese retailers have opened in the mall including Lukfook Jewellery, Osim and Miniso.
We always go there with friends and family, especially since they have renovated the food court. It looks much more spacious, clean and has more rooms for all the people to sit on. There are more tables and chairs for all visitors. We don't have to keep looking for a place to sit to have a decent place to eat and have lunch when we finish shopping or need rest to have some snacks. It is a good place to shop with lots of shops, restaurants, shoe stores and other amenities – says one of the many regular and happy visitors of Markville Mall.
Starting November 21st until December 19th, from 4 pm. to 7 pm. head to the halls of this shopping centre to pick up some great vibes and enjoy a good sound! Markville bunch will spread the holiday cheer by bringing you weekly DJ performances until December 19th. Join the happy crowds by a holiday tree in Centre Court to enjoy the festive music and a sweet treat from Baileys.
Santa too is taking reservations, so no time to waste!
Markville Mall made up creative four holiday programs for the young ones and their families. It includes Storytime with Santa, meet-up with Santa, pet photoshoot with Santa and a specially designed program called Sensitive Santa for individuals with autism and their family members.
In order to be more enjoyable, this Santa visit is designed with fewer wait times and lighter crowds. Also, to give maximum pleasure with minimal interference, the Sensitive Santa event timing is on lighter days and lighter times during the activation calendar. Booking is valid for one child with ASD and their family and all the Santas are trained on how to work with children on the autism spectrum.
For those who decide to make their furry friends happy too, have in mind all pets must be up-to-date on their shots and must either be on a lease or in a lightweight cage or pet carrier. Owners are expected to be responsible for their pets at all times. Check out more information here.
Have jolly good time folks!
UPPER CANADA MALL
In September 2018, the mall opened Market & Co, an area with restaurants and food stores, after renovating and converting the space that was previously home to the Zellers and Target stores and this was the beginning of its trues success with shoppers.
Since the opinion of people is what makes a destination worth mentioning, endless great comments both live and online made us inviting you to visit this mall! What buyers like the most about this shopping centre are the food choice, variety of brands or handy features all around the space. Online reviews especially show people enjoy the new food court very much (check out a famous booster juice or chicken & the fish specialties) the fact the space has very practical elevators and mechanical stairs and very kind and informed staff, ready to help.
There are also numerous mobile phone hot spots for re-charging all around the mall area.
Upper Canada Mall keeps attracting crowds as a perfect place for young families to connect, shop and spend time together. It is, also, recognized as a shopping epicentre that has "what you want" for fashion, home and family and named one of the "family friendliest malls in the GTA".
The number of shopping options and a vast choice of malls and brands that are eagerly competing to make the shopper happy just goes to show the in-store experience is more live than ever. Still, as everything – a retail word is evolving and will keep changing to adapt to requests of the ones who matter the most – its users. Toronto is doing more than great in fulfilling this demanding task as it offers something for everyone – with its locations, malls, brands and events!
In order to find a store near you check out the best online Canada store locator and enjoy your Christmas adventures wherever you head to.
May the holiday spirit warm you up – merry shopping!