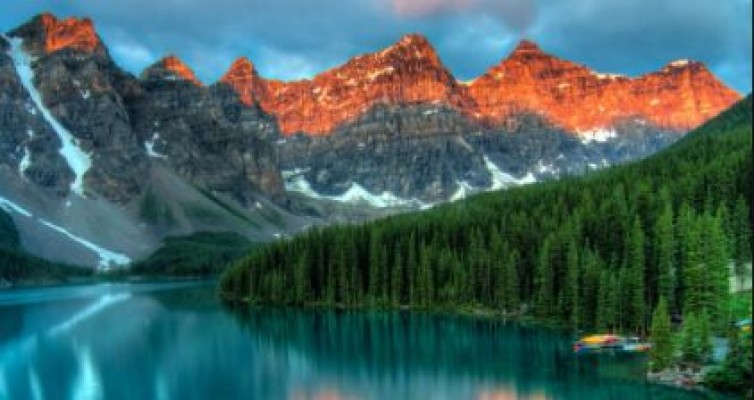 How and where to take advantage of some time off during the spring break when so many places we love are out of work and closed due to pandemic that has hit the world?
Now more than ever we need freedom. Air. Time outside. And be close to what feels good (outside of the 4 walls of our homes).
Check out the ideas we prepared for you and pick what suits the most for you and your young ones. The ideas you are about to explore show places that are open or work partially with all the COVID-19 security measurements.
NOTE: It's important to consult official guidance from the Government of Canada and the World Health Organization before booking or undertaking any type of travel.
Nature chill in Banff, Alberta
This world-renowned Canadian destination is usually crowded with international tourists, but the ongoing border closures make it perfect for Albertans to enjoy.
Banff, a wonderful nature reserve can offer a lot of fun for everyone and is one of the best solutions for your city getaway. You can go skiing on Lake Louise, take a spring hike up Johnson Canyon or book a ride at a famous Banff Gondola.
Play while you explore
Kids can download the Agents of Discovery app before visiting or during the stay in Banff and learn a bunch of interesting things. Agents of Discovery is an interactive mobile game that brings the wonders of Rocky Mountains to life at the Sulphur Mountain summit. Kids will explore details of natural history, learn more about ancient geology and read some fun facts about the Gondola!
Paris in Canada? Why not!
You might not be able to head to France, but you sure can head to the town of Montmartre, Saskatchewan. Inspired by France's capital city (and sharing a name with a famous Paris hill), you'll find Canada's only Eiffel Tower, a 30-foot tall replica of the original one. This won't take much of your time so you can continue enjoying the nature in Kemoca Regional Park.
If you are into camping, this is the right place to do it and make a small family adventure.
Kemoca Park currently has a total of 52 full service campsites which include sewer, power, and potable water. While 32 of these sites are designated seasonal sites the other 20 sites are available for daily, weekly or monthly rental. Each campsite has a picnic table and barbecue. Modern washrooms are located at the southeast corner of the pool building a short distance from the sites and a large dining shelter is located across from the campsites which is available for use if not booked.
NOTE - Reservations for campers not taking swim lessons start April 5, 2021. A one night deposit is required upon booking.
More active vacation mode
If you like more active options for enjoying spring break with kids, we reckon a visit to Niagara Falls or doing an exciting road trip could be a thing for you!
Before you jump into adventures of this kind it's important to gear up first. You can use Altitude Sports coupon to pick a good pair of snickers, sweatshirt or a practical spring jacket suitable for variable weather conditions.
Niagara Falls remains one of the top attractions to experience if you live relatively close and wish to spend a day here. We say this because the public park areas surrounding Niagara Falls are open for viewing the Falls while face to face attractions are closed. You can still enjoy Queen Victoria Park or book an unforgettable sightseeing experience with Niagara Helicopter.
Queen Victoria Park is open year round and parking is available by the Table Rock House & Journey Behind the Falls. It's a great place to bring your lunch and enjoy a spectacular view of the Falls. The park is open for viewing the Falls every day and there is no entrance fee.
And if walking around the nature with just sightseeing is not enough for your adrenalin rush, maybe you can try out the adventure number one in this area!
Niagara Helicopter's Premier helicopter flight over Niagara Falls is the coolest attraction in Niagara Falls! Niagara Helicopter ride offers an exciting tour from the air from one of their 7 -passenger Airbus H130's. Helicopters operate every day, from 9 a.m. and reservations are not required but highly recommended.
You can also hit the road on the budget-friendly road trip with your family!
Canada has one of the most beautiful, diverse landscapes in the world and is just perfect for spending school breaks in road trips.
Also, taking a road trip in Canada is the most practical, cost-efficient and exciting way to see this extraordinary country.
One of the best road trips in Canada is the drive between Banff and Jasper National Parks in Alberta, also known as Highway 93. In fact, this trip has been frequently listed as one of the best drives in the world. Explore the scenic parts of the Rocky Mountains or stop at the famous and perfectly picturesque Lake Louise along the way.
For all the folks living in Toronto area, we reckon you check out Walmart Toronto locations for preparing for your active family spring break time. From camping gear to active wear it's definitely "all in one" place to visit.
March break camps
Camp is one of the best experiences you can give to your child. It helps them develop independence, exposes them to new skills and improves their social skills.
March break camp we will suggest is primarily day camp, but there are also overnight camps offering spring break programs.
Pedalheads is one of the rare operating camps during these strict measures.
This camp offers bike, swim and trail programs to families across Canada. Their activities for kids ages 2-12 feature innovative teaching methods, small classes and incredible instructors! They also have bike camps. These are best known for helping kids take off their training wheels and ride on two wheels. It will teach them safely riding on the road in both a fun and safe environment. You can also pick a trail program which allows campers to explore nearby local areas by riding along various bike paths and trails.
From 2001 until now, Pedalheads expanded to over 100 bike, swim, and sport locations around Canada and the USA including Alberta, Ontario, Washington State, and California. This camp is suitable for kids age 2-12.
Before any booking please read - https://pedalheads.com/about/covid-update
For those who love animals, plants and farms
Reifel Bird Sanctuary has re-opened just in time! Get up close and personal with all kinds of waddling and flying fowl at this jewel of nature on Westham Island. Pick up some seeds on-site and feed the birdies, just beware of the overly friendly sandhill cranes.
Maplewood Farm, North Vancouver
This cute little demonstration farm tucked away down a side street in North Vancouver. What you will experience here is the vibe of the most magic children's storybook: cows, chickens, ducks, goats, horses, pigs and a big red barn. Maplewood Farm is centered around kids who can pat the goats, feed the bunnies and wander around the duck-filled pond all while getting in some fresh air and woodsy walks. You have to pre-book and don't forget to bring a mask.
VanDusen Botanical Garden, Vancouver
Here you can spend a pleasant day walking around and exploring all the mini wonders of nature. Discover what's in bloom. Check out the BC Habitat Garden and spot local birds such as herons, hummingbirds, chickadees and owls!
After visiting a farm or a garden you can end an afternoon with some fun outdoor activities. Check out Mastermind toys locations near you and equip your bags or car trunks with some tennis rackets, balls, a kite or a frisbee. And use them with joy!
Relax with art
Vancouver Art Gallery
With plenty of wonderful exhibits on, this gallery is always a great idea. This year, there are specific family focused events going throughout spring break. The theme is underwater, underground, space, outer space, and intergalactic. You must register in advance for all of the exciting activities.
Imagine Van Gogh
Head to the fabulous Vancouver Convention Centre for the new installation called Imagine Van Gogh a unique showcase including 200 of the artist's work on big screens, interactive and creative. Tickets range weekday – weekend ranging between $35 – $44.
In the harsh times we have found ourselves in, it is a true challenge to stay sane, happy and focused. Spring break is the best time to wake up the brain and senses by finding smart ways to stay safe yet still have fun with our family. Part of "new now" we all have to adapt to, includes so many challenges and one of the most demanding ones is living "normally" with so many restrictions. Is there a better way to solve this riddle than spending as much time as we can in nature, surrounded by plants, waters and animals.
Stay active and well and before you hit the road, don't forget to visit Canada shopping site and use online flyers to prepare for the adventures to come.