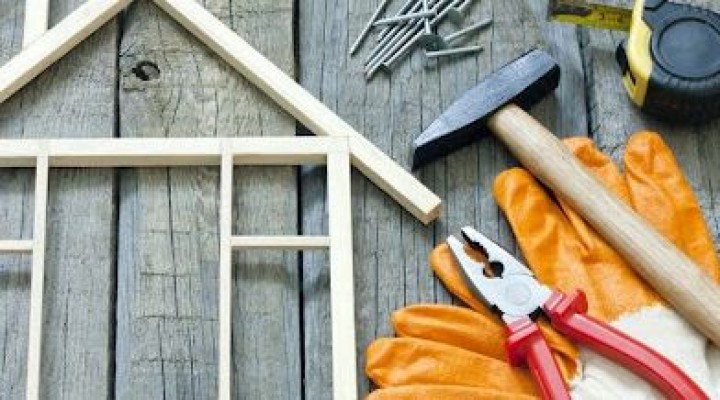 Whether you're looking to completely renovate a kitchen, add a home office or just change up some of your house corners, there's always a project worth investing in. Today, we will talk about home improvement ideas for the season of 2021 and tips on how to make your living space more practical and more beautiful without spending a fortune. We will also go through some trends emerging over the last year just to spice up your creative home design list.
Latest Trends in Home Design
Comfy fabrics, warm, earthy tones, vintage pieces and private corners are taking over the fall design scene. Last year, many of us were forced to reconfigure their homes into multi-functional spaces that could accommodate the needs of working parents and home-schooled children. However, the novelty of 'work from home' is fading away, and we've all had a year and a half to adjust to the new normal. As a result, the trends we're seeing for fall 2021 reflect more permanent changes we've made to our homes as a reaction to the pandemic. We could freely say the dominant trends focus on the themes such as convenience, comfort and color.
Let's start with earthy neutrals and terracotta trend. Sandstone is great for adding a more warm and cozy feel to the home, but is also great all year-round. A radiant autumn orange or Amberglow also creates warmth and blends well with other neutral tones like sand color. By using warm tones of nature within your home redecoration you will give off a feel of warm and cozy sensation and your house will become a nest you'd keep coming back to in cold winter days.
Also, vintage is back as well as antique furnishings mixed with contemporary pieces.
Old, bespoke and personalized homewares are all the rage for fall 2021. "I think the pandemic prompted a need to make our spaces not only more functional, but more personal," says Brittany Farinas, Interior Designer. This can mean breaking out their grandmother's set of glassware or porcelain from the '40s. For others this can be dusting off old picture frames, digging through beautiful old candlesticks, vases or even pieces of furniture that can bring a sense of security from the past.
There's a new trend when it comes to re-doing your favorite spot to make food magic – we present you the kitchen core. It is a fine mix between cottage core's aesthetic and cabin core vibe (think of an English countryside theme with a more rustic feel). The days of the white shaker kitchen are over and people are taking a less sterile approach. Dark palettes, stained woods, countertop stone with depth and movement are some new ideas to consider. Also, statement fixtures and hardware are not just more exciting but they're also more durable and mess-friendly than their white counterparts. Think about it? Search for Lowe's stores in Canada to pick the most suitable pieces of hardware for your next kitchen project.
There's one trend that every designer seems to agree on: ultra-soft fabrics and natural textures. Many big names in the world of home design focus on texture and boucle, Sherpa and other furry fabrics that bring warmth without the need for color. This makes decorating very simple, as you can add it to your existing decor for a quick, cozy change ."I see clients being drawn more to a relaxed feel in their home- something sophisticated and chic but still cozy," says Brittany Peltz. To get that 'cozy at home' feel, consider adding accent pieces like woven poufs, or wool blankets to your couch to cozy up with on when winter knocks at our doors. Check out the Home Depot flyers and store hours so you can head to their nearest store and find what's needed for your cozy fall glam-up.
If you're building, buying or planning a big home renovation in 2021, remember this: Many families are finding out that open floor plans may not be for them anymore with so many both working and doing school at home. Think of creating more privacy and playing with space so you can make more doors. Numerous homebuilders have reported over the last few months that buyers are having second thoughts when it comes to open floor plans. People are feeling like they need more privacy, so they are creating more home offices and spaces with noise control so they can make separate spaces to keep the kids busy while they work. Visit your local Rona to get some inspiration on this part of your renovation.
Cool Ideas to Consider For Your Home Renovation Project
Trending colors going into 2021 lean toward warmer tones and those that bring a comfortable feel to the home. Colors such as blush pinks, soothing greens, pale blues and vibrant cobalts are big right now, according to major paint manufacturers such as PPG, Valspar, Behr and Sherwin-Williams. Take some time to update the paint color in the rooms you spend the most time in. This can be a good start of your mini fall project. Or maybe a cool finish.
Did you know any room can be a laundry room? Yup, we are giving you a whole new perspective on this. If you don't use your garage very often or if it's not over-stuffed with things you use rarely, consider moving the washer and dryer out there. You'll have to keep the area tidy to make sure your clean clothes actually stay clean, but you'll be able to get fresh air while sorting out the laundry.
Have an extra closet? Apart from using it to store clothes there, what you can also do is clean and dry your things - all behind closed doors.
Try hidden kitchen, too. While all of us usually use the kitchen for placing the washer and dryer there, that doesn't mean you want everybody to know they're there. Try hiding the stacked units behind cabinet doors, but a washer and dryer sitting side by side under the counter would work as well. You will also have some extra space for folding your clothing.
Talking about kitchen design innovation, your hardware selections can help bring mixed styles together, a very popular moment in contemporary kitchen design. In fact, it's not uncommon to see different hardware types and finishes side by side.
For example, brushed nickel bin pulls complement gold-patterned and mercury glass knobs can be used for a wonderful modern-vintage mix in a gray-and-white kitchen makeover. Modern farmhouse chic comes alive easily with a combination of nickel-finished straight pulls and black iron door hardware.
While having fun with your fall home renovation, make sure not to forget to be practical, as well. Attending to practical matters is equally important as aesthetics. Traditionally, knobs are used for doors, pulls for drawers. But a beautiful knob is useless if it doesn't fit in your hand. Make sure the hardware feels good. It is the only way your doors will be opened easily and smoothly. And if knobs just won't work for you, you can simply use pulls on everything. Also, keep in mind the type of maintenance your hardware will require. Textured pieces are more difficult to clean, and some finishes require more servicing. Use HomeSense flyers to find the best details for your new doors and cabinets.
Another idea to get you started with your fall home renovation is trying to redo your wall with no paint!
The walls of our homes have the power to speak on our behalf, showing a bit more about our lives and who we are. Filled walls produce a lived-in look packed with personality, while blank walls sometimes suggest you don't plan to stick around for long (or that you are a minimalist). But – it's always more fun to play! Here's how:
# Create the sense of a unique gallery with a wall collage of photos from the magazine pages. Start with a unifying theme—whether it's black-white portraits or world architecture or samples of spectacular photography (think of National Geographic for your clippings).
# Change your wall decor with wildly popular Japanese technique called washi! This Japanese masking tape comes in several widths and literally hundreds of designs, so there's never a shortage of inspiration. You can stripe your wall in all directions - vertically, horizontally, or even diagonally to create a wallpaper-like pattern that's easy to remove or change.
# Pay tribute to the funky old '70s with a splash of macramé on your wall. You can buy or DIY samples of this classic hand-knotted art for a lovely hanging that will catch the eye of every single visitor of your room.
# Preserve the memory of your remodeling project with the blueprints on the wall! Custom-printed wallpapers are a great way to decoupage your own old blueprints on the walls of a small space.
# If you don't prefer anything ordinary, a large-scale mural guarantees a wall that will make a statement. You can enlarge a black-and-white photo of your own and print it out panel by panel in several prints or go step further and make something even more customized.
We gave you just enough ideas to get started and make yourself very busy this fall! To find the best places for your fall home renovation visit our shopping mall directory. Happy work!