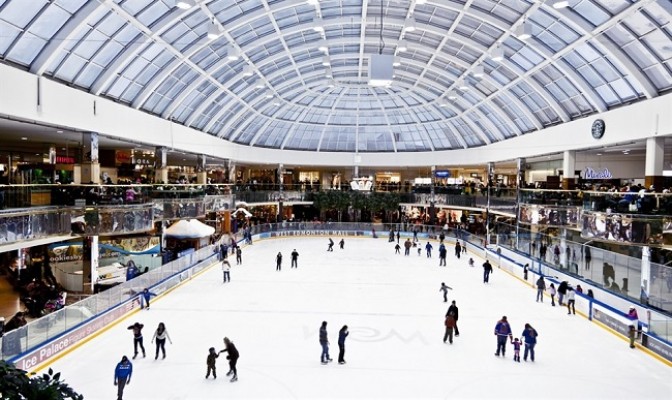 Source: wem.ca
Canadians should, definitely, be proud of the enormously wide range of retail hot spots all over the country – especially the malls. Canada is one of the best countries in the world regarding it's market of shopping mall experience and we will dedicate this post to one of the top 5 shopping centres in the country and the absolute winner when it comes to breaking the records in various categories.
Malls try to compete in the good indoor offer, simply because it is very important to amuse and retain the visitors inside as long as possible and give the service people would want to come back to. And not just the service, but the fun too! Wintertime, in particular, is the best season to gain revenue from amusement activities because both kids and parents can enjoy playing! West Edmonton Mall, the largest shopping mall in North America and the tenth largest in the world, is the centre that will offer you and your family an unforgettable experience in one of it's many attractions. That is why we will tell you a bit more about some of them and invite you to come and enjoy as if there is no tomorrow.
Galaxyland – come in and visit the second-largest indoor amusement park in the world with it's 24 rides and attractions! All the rides here are devided in sections from beginner level to the thrill rides, for the bravest ones. The triple loop Mindbender is the world's largest indoor triple loop roller coaster and it will bend your mind! If this doesn't increase your level of adrenaline enough try hopping into Galaxy Orbiter, ride that begins at the Mindbender and goes all around the entire park.
Mayfield Toyota Ice Palace – sport oriented folks will enjoy this rink. The rink is used for various hockey and other sporting tournaments. In 2017, West Edmonton Mall announced that the Mayfield Toyota Ice Palace will get a $3 million renovation. Due to this, it was closed until December 2017.
Ed's Bowling – an entertainment paradise where you can bowl, eat good food and sing! Complex consists of a bowling alley, arcade, a music stage and restaurant. The stage was one of Edmonton's major music venues. Motorhead, Wilco and Arcade Fire are just some of the big names that have played right here. On Mondays it's Ladies'Night which means ladies get to bowl for free and can enjoy premium drinks for excellent price.
The World Waterpark is a miracle for itself. It is the world's second largest indoor waterpark built in 1985, with a size of 20,903 square metres. The superstars of the park are the Twister and Cyclone, each 25.3 metres high slide. Can you dare to try them out? The park has 21 unique waterslides and the largest indoor wave pool in the world!
Santa Maria is something your kids will just love! It was built as an indoor lagoon which contains a salt-water habitat with four California sea lions. Yet, the greatest attraction is a replica of the huge boat Santa Maria, Christopher Columbus'flagship built for his first voyage across the Atlantic Ocean in 1492. This is an awesome place for organizing a birthday party for your youngest ones, so you should know the rental rate starts from 80$ per hour and the boat can be booked for the maximum of 3 hours.
Sea Life Caverns – is the place for both little ones and their parents to enjoy the company of fishes, reptiles, amphibians and penguins. At the Sea Lions' Rock, you will be welcomed by four adorable California sea lions and you can choose to attend educational shows with a focus on conservation that run twice a day from Monday to Friday.
#Did you know?
West Edmonton Mall was opened to the public on September 15th 1981. It was the largest indoor shopping centre in the world until 2004. This shopping centre holds records for: World's largest indoor amusement park, World's largest indoor triple loop rollercoaster, World's largest indoor lake, World's largest indoor wavepool, World's largest parking lot and is visited by almost 30.8 million people each year!
More information on how and where to have fun check out here: http://www.wem.ca/play