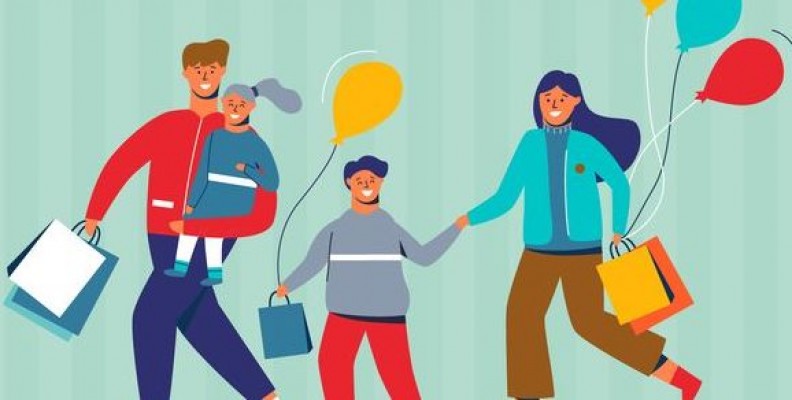 Boy oh boy, it's that time of year when we grab our wallets with no sense of guilt to dress ourselves up and our young ones, enjoying all the glitter and sparkles of the shiny malls and tiny stores, welcoming Christmas and winter!
Today, we'll share with you some fashion tips for you and your kids as well as some wonderful suggestions for winter photo shoot! Bonus – best places to shop.
First suggestion is not to miss Garage Clothing in Canada. It's the first place on our list where you'll find everything from fancy festive outfits to unique and charming Christmas gifts for your family and friends.
Groupe Dynamite is a global fashion retailer with two brands, Garage and Dynamite. They operate more than 300 stores in Canada and the United States, and employ over 4,300 people. Their distribution center processes millions of units of clothing and accessories per year which are then quickly and efficiently delivered to its network of retail stores and online customers. Check them out folks!
Kids' Trends 2021/2022
Kids are natural lovers of anything good, regardless of their knowledge on most situations. Having this fact in mind, fashion experts came to conclusion that trending colors the kids thirst for are pink, yellow, red and black!
Have this in mind if you want your little ones to be trendy this winter and never forget the good materials are 50% of the deal.
The trending materials for kids this season will be:
Striped cotton – the most practical material in clothes and especially good for all the navy design combinations.
Soft flannel – unmistakably the favorite material for PJs, onesies and sweet sleeping gowns. If you are among the ones who plan to celebrate the last day of 2021 in home cuddled up by the fire in casual code, consider going for flannel!
Clothes with messages – kids love t-shirts with prints and different messages, especially if they are promoted by their favorite characters such as Minnie, Mickey Mouse or Marvel Comics! You'll never miss with these.
Sequin – young ones also love sparkles in design and this is a small piece of shiny material used to decorate clothing. You'll never go wrong with this textile trend.
Glitter and metallic colors are a must too.
Grey mélange – a lot of collections for children this winter have this trendy shade of grey called a grey mélange.
Boho vintage outfits
Ruffled dresses of boho and vintage vibes have to be on your list for this cold season. The reflection of the trend can be seen in children's fashion globally. Layer-ruffled, all-ruffled dresses, along with ruffled collars and cuffs are present in the kids' new collections of fashion brands around the world. Think of attractive pants and a mini skirt, both with side ruffles that can also be plain, printed or with different patterns.
Bright colors
Fashion shows of fall/winter witnessed bright shades, especially the primary colors: red, yellow, and blue. Pinks and greens have been quite trendy too. You could style a bright monochrome outfit or add a colorful accent to neutral and dark colors for you and your kid.
Puffy sleeves
Statement shoulders and sleeves are expected to continue as a notable trend in the coming winter. The favorite statement sleeve design is puffy or balloon sleeves. Pick a nice outfit for your little princess with this style as it's tender, girly and looks festive. A dress or a blouse with puffy sleeves will be a great choice for a Christmas dinner too!
Jumpsuits
What's not to love? Jumpsuits are such a fun piece for your kids' outfit this winter. There are several trendy fabrics to pick - vinyl, velvet, corduroy and jeans. Try out all-denim or all-velvet combo or an outfit of jeans jumpsuit and vinyl coat. Vinyl and leather coats are trendy too.
Browse our directory to get Children's Place Canada coupon and try out some of these trending styles in the well-known fashion brand.
Ideas for a festive Christmas photo shoot
If you are one of those families who find joy in making memories by posing in front of cameras and make a ton of fun out of festive photo shooting, let's dig into the tips on how to pull off your best Christmas photo outfits!
So, what are the best clothes to wear on this occasion? Generally, something that's comfortable, well-fitting and has a bit of a Christmas vibe.
These are some Christmas outfit ideas for an indoor photoshoot…
Get comfy and casual - cream and white sweaters paired with jeans are great option to pick if you want to give off a casual vibe. You can always put on a white t-shirt instead of sweater.
Holiday-print PJs – get your family ready in matching onesies or mismatched pieces! Just for fun, to honor work-home dressing trend of 2021 consider pairing pajama bottoms with work-appropriate tops! Don't forget your furry friend and pick a cute Christmas outfit for your pets too!
Go glamorous – shine like a diamond in that luxe dress you were hoping to wear all holiday season. Let your partner play the same way and model by your fireplace in extravagant and shiny Christmas photo outfits. It's that one day of the year when you can be both a goofy kid and a superstar.
If you plan to do your shooting outside consider some of these tips:
Choose your Christmas clothes wisely – be mindful of the environment you will be in. High hills on the beach are a big no-no and light dress in the snow as well. Keeping warm while outdoors is essential to natural smiles. Nobody looks good when forcing a smile at below zero temperatures or freezing.
Don't wear colors that will blend in with your surroundings - make sure to differentiate yourself from the environment to bring out faces in the photo. Christmas photoshoot are usually done with a green background which means all of you should avoid looking like a bunch of cute trees. Break the green with yellow, red or golden tones and combine colors so that you can stand out!
However, have in mind that too many different colors can create visual chaos. Check out a few easy Christmas photo outfit ideas that we picked out for you:
Rich colors like burgundy, golden yellow, and emerald will add great depth to everyone's outfits. They will create an elegant ambiance and are the best bet for your festive photos, so go for jewel tones!
For a more traditional Christmas look with an elevated modern take, turn to earthy palettes. Colors like forest green, rust and tan pair beautifully together.
Dusty blue and blush are on a trending list in 2021. Accompanied by white and light grey, against a snowy backdrop, they will make the most perfect stylish family picture outfits.
To try some of these tips, don't be lazy and search for Old Navy flyers on our web and browse through all the Gap locations so you can purchase your holiday clothing with joy and not spending too much.
This is how you can coordinate your look
All that flannel! Wear flannel. The best family Christmas photo outfit ideas are often the simplest. Your entire family in jeans and flannel shirts will look natural and cozy, in the home or out.
Take candid shots. No matter what your Christmas outfits look like, natural reactions often look better in snapshots than formal posing!
Gather around the fire. Christmas mantel decorations are probably some of the most beautiful details you can use to make memories at home. Whether you're in matching outfits or not, your family will look more festive with this as a backdrop.
Play with camera and try out different angles and points of view. Take an overhead shot of the kids playing on the floor. A shot of the family on a staircase taken from below will make every photo slightly different, so why not try?
Have fun and get creative! Posing for photos can quickly turn into a big mess especially with small kids on the set. Getting everyone to participate in an activity can break the tension and make some excellent action shots. Think of dancing, a snowball fight or a game of charades!
Play with fun accessories
Magic is in details. And what's Christmas without a magic. Adding accessories and outerwear is a great way to complete your family photo outfits. Simpler ensembles can be jazzed up with festive mittens, sparkly jewelry, different hats or faux fur vests. Fun pieces like unique bow ties or Christmas themed hair accessories are also a great way of showing your family's personality!
We all have been through a lot in the past year and a half and Christmas time is the best time to get back to what really matters and that is – time with our loved ones and taking care of each other.
One way to do this is to have fun while creating memories.
There's no better time for that than December.
Canada shopping sites are there to make it all easier.
HAPPY 2022 FOLKS!