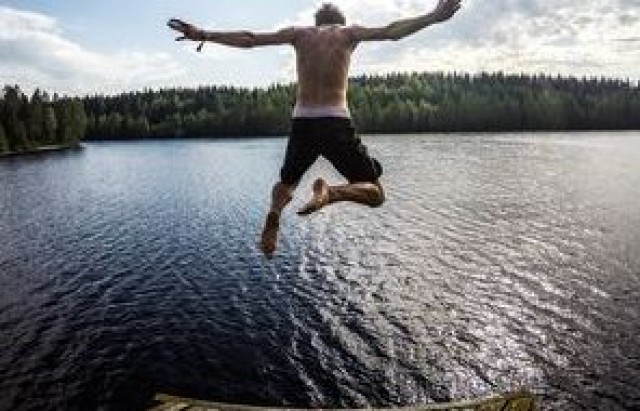 Staying physically active is one of the best ways to improve your mental and physical health and keep yourself on track. Physical activity helps with better sleep and reduces anxiety. Regular physical activity also helps you to improve your balance, lower your risk of type 2 diabetes and many kinds of cancer. Keeping active helps to strengthen bones and muscles, lower blood pressure and maintain or lose weight. Did we convince you to get active this summer?
The sunny days are finally here and we will talk about how to prepare yourself for the hot weather and what are some of the best active ways to have fun!
Experts recommend adults get at least 150 minutes a week of moderate intensity physical activity. You can break that up into smaller chunks of time or spread your activity out during the week. Try 30 minutes a day, 5 days a week. It all counts.
We thought it'd be fun giving you some ideas on how to be active on both mountains and seaside this season, but first, let's see what are the basic rules you have to have in mind before you decide to spend time outside this summer.
Always be close to the shade
Look for cooler places to exercise. Running by the sea, river or ocean, exercising in a tree filled park, or working out at air conditioned space will make a huge impact on your body and you will be able to stay active for a longer period of time.
Dress light
Buy clothes that will cool you down. Look into purchasing breathable fabrics and wicking clothing. If you dress accordingly, you will feel more comfortable in light clothing during your summer activities.
Listen to your body
It can get really hot in summer months and if you burden your body with a heavy schedule, it can impact your motivation. Shorten your regular workout or minimize your sets. Be more flexible with your workouts and listen to your body during the summer months. Being a bit less active but on a regular bases is more important than pushing yourself too much.
Water is a must!
Drink lots of water and stay hydrated before and after your activities. If you don't follow this advice you can feel fatigue very easily and get dehydrated and we don't want this.
Mountain Fun Suggestions
Whether you are looking for a little exercise in the sun, or want to experience the quiet beauty of nature, there is an activity for everyone in the mountains. Check out these top outdoor summer activities you can enjoy in:
Rafting thrill
If you decide to spend a vacation or some time off in the nature that has a river and canyons nearby, nothing will give you more positive vibe and chills than rafting. From overnight trips to half-day floats, you can completely customize your rafting adventure and have a great fun with your family members by waking up that adrenalin rush.
Mountain biking
This is a great cardio exercise and a fun way to explore all the corners of the mountain paths around you. Mountain biking is one of the most popular summer activities to do outside, and it's easy to see why! Many mountain resorts boast miles of trail that weave in and out of the mountain, along with exciting bike parks in the country. Most mountains also offer coaching for beginner bikers or those looking to improve this skill.
If you are not that much experienced use ski lifts for the complex routes, so you don't bother with a rough climb. Another good option would be renting an e-mountain bike.
To get ready like a pro, visit some of the Mountain Warehouse locations in Canada.
Hiking
Hiking is one of the easiest ways to get outside during the summer and gives you the most options to enjoy nature in active way. Most mountain destinations boast a wide range of hiking trails, from easy strolls to multi-day backpacking trips. Garb your partner or kids, pack a picnic for the top, and don't forget to wear sunscreen and hats. Altitude Sports in Canada is one of the best addresses to head to in order to be prepared for adventure like this one.
Horseback riding
If you have kids, they will love this!
One of the more relaxing way to enjoy the countryside, horseback riding is great for people of all ages! Most resorts offer many options, including traditional riding, dinner rides and even horse-drawn carriage rides. Don't be afraid to try this out if you never had this experience. One thing is for sure – you'll get to love horses even more and you will get the chance to practice your balance.
Picnicking
Isn't it fun looking for the most unique and unusual spot for lunch? This is only one of many joys of having a picnic in the nature. Plus - everybody loves a good picnic! The mix of good food with scenic views can be a true joy after a day of activities.
Camping
Imagine waking up with a crisp air, sound of birds and a magic sunrise, then washing your face in the cold water from the mountain streams? It sounds heavenly and if you like camping and you are skilled in finding the perfect spot, waste no time and plan your trip. You can change locations and enjoy different sceneries throughout your vacation.
To gear up for adventure like this, visit MEC in Canada.
Since 1971, MEC has sold exceptional products at fair prices and people who shop here get one of the best guarantees around.
# DID YOU KNOW?
In the late sixties and early seventies, climbing in Vancouver wasn't yet mainstream and climbing gear was hard to find. If you wanted a rope or an ice axe, your best bet was to cross the border.
The idea of making gear available in Canada surfaced on a trip to Mount Baker in 1970. A group of four climbers, socked in at the base of the glacier, had nothing to do but sit in the tent and talk. Through the weekend, the talk of opening a gear store crystalized into a commitment to start something like REI in Canada.
Ultimately, the team of this brand decided to start a business dedicated to nature lovers selling gear for rock climbing, mountaineering, ski mountaineering and hiking.
Mountaineering
You have to have a good physical condition for this type of recreation and various technical skills. It's not for anyone as it can be a bit more demanding. Still, it is very rewarding once you climb the top. Mountaineering is something between walking and climbing, or encompasses them all. There are challenges for everybody, from less than half a day, to multi-day adventures, so you can make the most of it, depending on the experience.
Joy Near the Sea
Nothing can beat a morning by the sea while sun rays touch your skin and a smell of salt fills the air. There are so many things you can do by the seaside – playing sports and exploring the wildlife like coastal birds, crabs or shells.
Explore a cave
So many beaches have caves to explore! Have fun but make sure to keep an eye out for the tide!
Play beach volleyball
Gather around your friends or folks from the beach and get into action! You can easily play with a beach ball and a line drawn in the sand to use as a net marker. After the match is over, head into the waves to cool down and relax your muscles with light swimming.
Get fit in the water
Daily dose of exercise near or in the water is a pure heaven for your body and mind.
Try out kayaking or SUP - it is great for your core and an excellent form of cardio
and strength training. In case you are a fishing lover, don't miss out using a Bass Pro Canada flyer and get ready for days at the boat.
Beach football
Beach football is a simple and easy way to keep both kids and adults entertained for hours. It's easy - draw out your pitch on the sand, it can be as small or large as you like and do that first hit! The best part is all you need is a swimming suite, a sun cream and a bit of enthusiasm!
Surf
Surfing is water sport very fun to learn and it can be interesting for anybody. You are sure to find a beginners lesson at or near the beach that will offer you the basics in boarding or body boarding. There is nothing better than getting out on the water and feeling your first wave.
Explore the seashell world
You can stroll along the beach looking for different seashells and colored sea glass that has been made smooth from the sea. Take the best ones home with you and make some jewelry. You can always use it as a gift or be creative and make a nice piece of art with it, like a photo frame.
Throw a frisbee
Probably everyone's favorite beach activity. It's cheap and fun and is one sport that people never get tired of.
We hope you enjoyed these ideas – now get ready and enjoy the nature and all it has to give! Canada shopping site will continue to be your key ally in leading an active life and shopping smartly, whatever the occasion is.