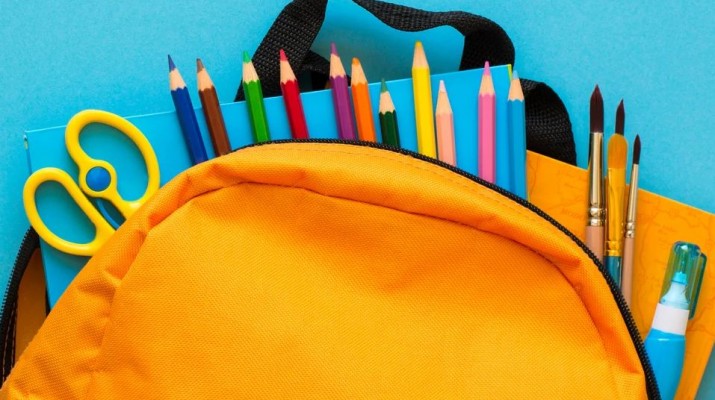 Preparing to return to school can be an exciting but anxious time for both kids and their parents. With the overall global situation with pandemic none of us know what the concept of the next school year will look like. Still, if we arm ourselves and kids with positive thoughts getting ready as if everything will go smoothly, the less stressful getting back to school will be.
Here are some tips on how to get you and your kids ready for the new school year – both mentally and practically.
Develop routines in time - At least two weeks before the school starts, set a bedtime routine for your child that will remain the same during the school year. Make them aware of the regular nightly bedtime. Be sure the bedtime routine includes turning off the television and electronic devices well before they head to sleep.
Prepare them for the homework expectations. You may consider requiring them to complete homework assignments during an afterschool program. Make sure all is done before the play time comes and they turn on their tablets or go out to play. Another useful idea is to establish a routine of reviewing homework with your kids. Once they get a sense of completion it can encourage them to be responsible for turning in assignments in time.
Help kids organize - Some children are naturally organized, while others need their parent's help in becoming and remaining organized throughout the school year. Helping your child to organize may begin with encouraging a check-list of "to-do" items for school assignments and tasks. Your child may use a notebook, small notepad, or utilize an app to keep up with tasks that are due. Teach them how good it feels once they cross out the tasks that are completed.
Practice - Learning how to get ready each morning for the trip to school takes time and practice. It's helpful to practice this before the actual first day. Pretend it's a school day, and go through the steps of getting up, dressed, fed, and out the door. You can also rehearse skills like dressing, undressing and hand-washing. Your kids will feel more confident if they know they can do it on their own at school.
Establish a learning environment - When study habits are developed early on, the probability of developing consistent sustaining study habits are increased. With your child's help, design a place in your home that is suitable for study time. Encourage your child early on to discover the most suitable environment to study. Be sure to establish an environment that is well-lit with minimal distractions.
There may be occasions where your child may feel the need to study in groups. Working in groups can often help children to better understand a particular concept and can enable students to complete assignments more quickly than when your child works alone. Be sure to keep the study groups small so it doesn't turn into a play time.
Visit the school before classes start - Some teachers invite families to visit ahead of time. If not, take a trip to the school to check out the building and the playground.
Read books about starting school - Literature is a great way to prompt a discussion about starting a new school year.
What psychologists say
Consistency and structure create a sense of safety for kids. Maintaining soft but firm boundaries, particularly around sleep and technology is another way of signaling predictability. The world outside might change; there may even be another lockdown so talk about that eventuality with your kids in a calm and relaxed way. Use familiar contexts to explain the unfamiliar events. Putting Covid into a recognizable framework means children will use existing coping strategies. Experts advise always to answer their questions honestly or you risk losing their trust. That way the world may seem like an uncertain or scary place for them. Use broad ideas for young children.
Children are very different in the way they express – and we should let them do it in a way that suits them the best. Some kids talk a lot while others are more closed about their school day. However anxious you are to find out how it went, keep it low-key with quiet kids. Give them space after school and then talk about what you did or any other subject - it gives a message that you are ready to talk when they are. Other children might talk a lot about worries and need help containing them. A good idea may be to ask them to write down (or draw) what bothers them.
COVID-19 moments
As part of their back-to-school shopping, consider having your children pick out a new mask that they'll be excited to wear at school. (Perhaps even surprise them with another new one a couple of weeks into the fall term, to keep it interesting.) Make sure to stock up on specific items for outdoor classrooms like rain suits and weatherproof pens and paper. We don't have to highlight a backpack always needs to contain hand sanitizer, a mask (a backup too) and a water bottle on hasty mornings before school.
Prepare children with the facts
Don't ever let your kids be confused with any misinformation. Keep yourself up to date with the school's policies — including what happens if a student tests positive for the coronavirus — by checking its website, communicating with teachers and attending virtual meetings in the area. Explain them what thy can expect in a calm, precise way. They might have their temperature taken upon arrival, for example, or see the signs on the floor directing them where to walk and stand. It's all part of a so-called "new now" and it's totally ok. You are never afraid of something you are familiar with, so the more you are being honest with your kid about the situation the better they will react.
Let the kids lead
Have tougher emotional conversations about their concerns. Many children are excited to go back to school, rather than fearful. By asking questions, instead of making statements, you'll have less opportunity to transmit some of your own worries.
Whether regarding hand hygiene or social distancing, ask kids what they should do and let them lead the conversation. This helps reinforce habits and allows them to take ownership of the process. They'll start to identify with it as their own set of goals or standards, said Jennifer Lighter, a pediatric epidemiologist at NYU Langone Medical Center.
Validate the fears they express. After many months away from school, and under very strange new circumstances, children might be worried about being behind on the material, whether their friends will still be there or what happens if they forget or break some of the new rules. Talk to them and explain it's all part of what's going on and that none of it is a big deal and it can be handled easily, with just a bit of patience and work.
Shopping time
Once the time comes for a "back to school" shopping make it a fun and memorable experience. Your little ones will need your help not only with shopping for new school items but with creativity, too. Especially if at some point they are forced to study at home.
Stock up on supplies
Whether you homeschool your child or they attend regular classes at a public school, there's a good chance they'll need many supplies. Most schools provide a list of everything your child will need. Stock up on pencils, erasers, markers and rulers now so they are ready to go on day one. Search for the Children's Place promo code in Canada to get good discount before you head to shopping.
Create a home message board
Life can be chaotic during the school year with all those online class meetings, sports practices and rehearsals. One of your creative ideas can be creating a message board so everyone in the family can keep track of schedules and appointments. You can design your own home message center or purchase one that is ready to go. Staples Canada is one of the best places to search for an item like this and you can use Staples flyers for smarter purchase.
Design a practical home learning corner
One of the best ways to prepare for distance learning and homework is by creating a comfortable learning environment for your little students. Create a space they can do their work with little to no distractions. Search for your nearest Walmart locations to get the idea on how to create practical home classroom that will have everything your kid needs – from practical desk and shelves to stationery.
Get a lap desk
Having a folding lap desk is perfect for doing school assignments on the go. It can function as a laptop stand, travel desk, breakfast table, kids study desk and much more. There's also extra storage space under the desktop. And the legs fold in flat, making these trays easy to store and portable. If your kids are forced to study at home, this little item is a must-have! Think like – What's the best Office Depot near me and enjoy searching for things that make learning more fun.
Happy new school year to all and don't forget to check out Canada's online shopping mall directory for more information.