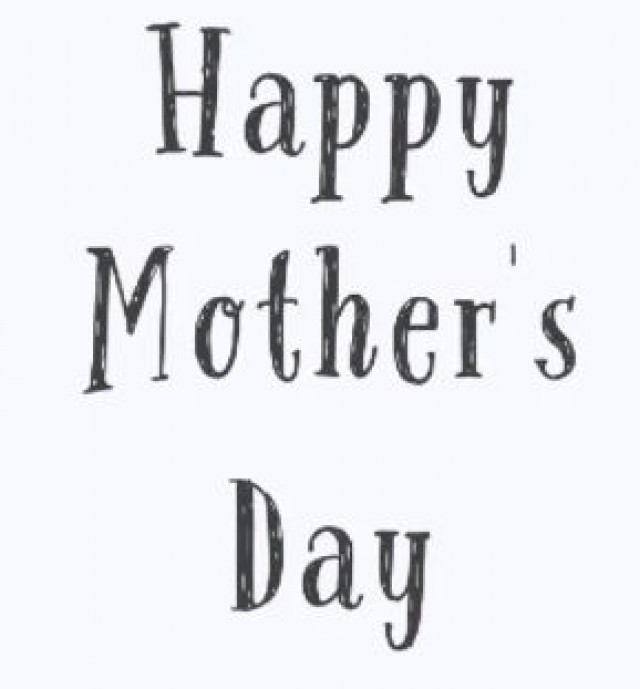 What would we do without the most precious person in our life, our moms?
It, somehow, seems showing them love and support and surprising them with small signs of affection is never enough. Probably, because it's not. Those loving Superheroes gave us life and are always there when we need them, so the appreciation for them should never be defined by numbers or dates.
However, it's nice knowing they have their own day and it's the best moment to go a step further in showing them how much we love them, in a creative way through unique gifts.
The study, conducted by Nancy Etcoff, Ph.D., of Massachusetts General Hospital and Harvard Medical School, concluded that flowers affect human behavior, making people feel more compassionate toward others and happier in general when fresh-cut blooms are around.
So, whatever gift you decide to give to your mom, never ever miss flowers!
The job of a mother is never done. It's a 24/7 , 365-day commitment, and the ongoing pandemic has highlighted just how much is expected of moms (often with little-to-no outside support, especially for working moms). We should have this in mind every singe day.
#DID YOU KNOW?
# The earliest Mother's Day celebrations were held in ancient Greece in honor of Rhea, the Mother of the Gods.
# During the 1600's, England celebrated a day called "Mothering Sunday", celebrated on the 4th Sunday of Lent. This was a time put aside for relaxation and enjoyment during the long Lenten fast. Servants would go home to see their families, bringing cakes and sweets to their moms. This custom was called "going a-mothering".
# In 1870 a female activist, writer and poet by Julia Ward (she wrote the "Battle Hymn of the Republic") suggested a day of peace and strongly advocated other women to stand up against the war. From this plea she was able to get Boston to recognize mothers on the second Sunday of June.
# The first Mother's Day was celebrated in 1908. Anna Jarvis honored her mother Ann Jarvis with a memorial. Ann Jarvis had started a committee in 1868 to establish 'Mother's Friendship Day'. Her motivation had been to reunite families after the Civil War.
# Mother's Day is the busiest day of the year for restaurants. In 2018 about 87 million adults made plans to go to a restaurant for Mother's Day.
# Mother's Day is the third highest selling holiday for flowers and plants (after Christmas and Hanukkah).
# In the vast majority of the world's languages, the word for "mother" begins with the letter M.
GIFT IDEAS
Amazing moms deserve amazing Mother's Day gifts—and Nordstrom is one of the best spots to go to for this occasion! Nordstrom always offers free standard shipping, whether you'd like your order sent to you—or you need your Mother's Day gift delivered directly to her.
If you'd like to treat her to some pampering self-care, be sure to explore the bath and body program including relaxing bath salts and bubble baths, luxurious lotions and creams, body polishes and much more. You can treat her to a new fragrance from favorite names like Le Labo, CHANEL and Jo Malone London. Home fragrances also make a scent-sational gift for Mom.
For moms who work out, Nordstrom offers activewear for every type of exercise, from running and walking to spin class and yoga. Fitness-loving moms can never have too many leggings. So be sure to explore all the latest styles from all the top labels, including Zella.
If you're shopping for Mother's Day jewelry Nordstrom offers unique earrings, necklaces, bracelets and rings from best-selling designers like Kendra Scott and Kate Spade New York. You'll find jewelry gifts for every budget, including many personalized pieces that feature Mom's name, initial or birthstone.
A good example of a personalized gift can be a meaningful sentimental detail like typographical vermeil pendant crafted in a shape with its own character and personality. Chain is sold separately, it's 1/2" width and sterling silver with 18k-gold plate.
Bracelet with a personal note or a line would melt hearts, too. A sleek bracelet is accented with a simple curved bar made from glistening vermeil. A slide closure easily adjusts the cord's length for a snug fit. It is sterling silver with 18k-gold plate/textile, 1/8" x 1 1/4" bar with adjustable slide closure. Be creative with your personal message and let the experts engrave it in-store.
Our third suggestion is embossed faux leather crossbody bag. An embossed finish makes this faux-leather crossbody bag a sophisticated way to add texture to the look. It is made with top zip closure, adjustable crossbody strap and interior and exterior zip and wall pockets.
For more ideas, explore the Nordstrom locations near you.
Spanish style gifts
MANGO, one of the best Spanish brands, is a great address to go to for picking some nice gifts for moms.
Go for twisted straps basket bag from Committed Collection. This natural handmade design will go well with a casual styling on a daily walk or a mom's leisure time with her kids.
The garments labelled as Committed are products that have been produced using sustainable fibers or processes, reducing their environmental impact. Mango's goal is to support the implementation of practices more committed to the environment, and therefore increase the number of sustainable garments in the collection. So, by picking gifts like this, you help green shopping.
Gift of Mango clothing is never mistake, too.
Flower pendant earrings from the 3D Printed Sustainable Collection is another idea to think about. This wonderful piece of jewelry is handmade dyed with turmeric and sandalwood.
The floral details of this piece have been printed with 3D printing technology, using high-quality biodegradable and compostable plant-based bio-materials.
Trade Secrets – Pampering time for moms
Making your mom happy with some natural cosmetics that will boost her well being and her mood is also one of the ideas for this wonderful day! Trade Secrets has some lovely options. Our warm recommendation is pure Tea Tree Oil that can be used on skin, nails and sculp.
Why is it so good?
When applied to the affected skin, it destroys the skin-dwelling bacteria that cause acne.
It has antiseptic and antifungal properties that help prevent acne.
It contains natural antibacterial and anti-microbial properties that make it an excellent alternative to harsh synthetic chemicals and kills acne-causing bacteria.
This product deeply penetrates skin to unblock the sebaceous glands. This disinfects the pores, dries out whiteheads, pimples, zits, and blackheads, and prevents further outbreaks.
It is used as an antiseptic that removes damaged skin cells and balances skin by controlling oil production.
It has natural antibacterial properties that treat cystic acne naturally and penetrates the skin to unblock the sebaceous glands, disinfect pores and dry out blemishes.
It can be used on scalp or in hair, apply to blemishes and it's perfect as a disinfectant on cuts.
Check out your nearest Trade Secrets location for more ideas.
Only the BEST for Mama!
And this includes the best makeup gifts as well! So, let's talk MAC cosmetics.
Make-Up Art Cosmetics started life in Toronto, Canada. Makeup artist and photographer Frank Toskan and salon owner Frank Angelo became frustrated by the lack of makeup that photographed well, so they decided to create their own. At first, they made the cosmetics in their kitchen and sold them straight from the salon to fellow makeup artists, as well as models and photographers. Soon, stylists and fashion editors got in on the action. As the magazine credits racked up and word-of-mouth popularity grew, the duo launched M·A·C in March 1984 from a counter in a Toronto department store.
One of the MAC's first big promotions happened when Madonna wore its lipstick. According to the company, Madonna wore an intense matte red lipstick on a photo shoot in the late 80s. She was later caught on camera wearing a MAC T-shirt and people began to take notice of the company.
These are our top two recommendations for MAC gifts for moms:
# Studio Moisture Cream MAC, a super-rich moisturizer that moistens and feeds the skin. It is hydrating and nourishing and it softens the skin, reduces appearance of fine lines. It is dermatologically tested and is non-acnegenic.
# Prep+Prime Essential Oils Grapefruit & Chamomile, a unique oil that leaves skin feeling energized and moisturized with a healthy glow.
Shopping in Canada has never been easier when you shop with emotion and knowing where to search.
But before you head to stores, have this in mind – we should cherish, caress, love and appreciate our moms every single day. Often we realize how much they matter, once they are no longer there. Make your mom happy with small life joys, whenever you can. Mother's day can be a late Sunday afternoon, or a misty Monday morning, it can be a mini trip or a branch in the nature. A simple kiss or a hug.
The only unconditional love in the world is a love between a mother and a child. Let's show our moms how much they matter. Because – if you have A MOM you have it ALL.