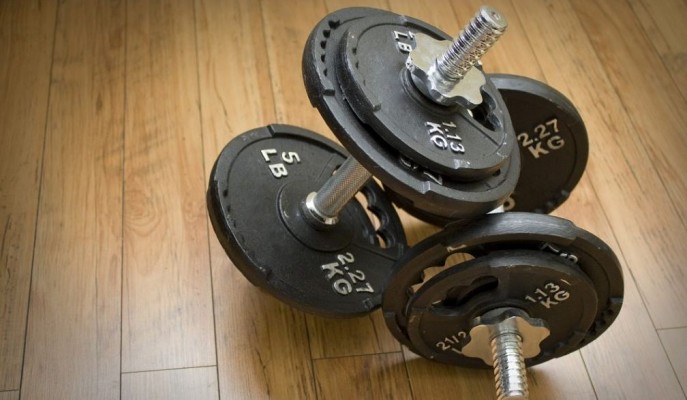 When the winter mood kicks in, the hardest thing to do can be rolling out of your warm blanket and do an exercise session. Still, being active is the best way to stay in shape, build your immune system and beat the lack of vitamin D.
It is not that hard to do a workout within your home and avoiding going to the gym. Read on to find out more about the ways to exercise at home and getting ready with the right equipment.
DO YOGA
Yoga is one of the best and easiest ways to do some relaxing physical activity anywhere in the house – it can be your bedroom, living room or even a dining room. Yoga is a good workout for body but especially for our mind, it helps us fight the winter blues, be more focused, grounded and calm. It also relieves stress. You can do a mini yoga session first thing in the morning to wake up slowly and get your body warmed up for the day. Including a meditation in the process is a great idea, as well.
The key physical benefits of yoga are burning fat and improved posture. It is up to you whether you will pick a light style of exercising or something more intense such as Ashtanga or Bikram yoga – all you need is a small mat. More vigorous styles are a good way of replacing a morning run or demanding workout.
RESISTANCE BANDS
Resistance training is another good way to turn your home into a gym during cold days to come. It helps to improve both strength and endurance simply by using your own body weight and inexpensive pieces of equipment.
Training with bands is suitable for lots of different fitness levels and is effective and simple to master. Studies show that any program that uses resistance bands increases muscle strength and size decreasing body fat in a very similar way to free-weight training programs.
KETTLE BELLS
Did you know that during a 20-minute kettlebell workout you can burn off, on average, 20 calories a minute? Thanks to the specific shape of these fitness props you will be able to gain significantly visible muscle tonus in the short time frame. If you want to stay fit in the comfort of your own home, swinging kettlebells is also one of the best ways for cardio and strength exercise. In around only 10 minutes you can have a full-body workout burning a lot of calories.
Why are kettlebells so efficient? They have an odd center of gravity that makes you do more work with your stabilizing muscles to complete the moves. One of the key benefits is the fact they are gentler on the wrists than traditional weights.
BODYWEIGHT EXERCISES
There are no excuses to be lazy! You don't need to buy any equipment for these activities. Just be determined to perform three or four of these exercises two to three times a week.
Push-ups
Planks
Squats
Chair dips
Calf raises
Crunches
Leg lifts
Lunges
HOME QUICKIE
To wrap it all up, here are last 3 home exercise suggestions that require no special conditions except your good will, dedication and a bit of time. Read on and get ready to get sweaty.
Warm Up
This will last for only 4 minutes - you need to be on all fours and raise your right arm and left leg at the same time and then do the same with the other side. Do three sets in a row with 20 reps per side with no rest.
Abdominal Crunches & Plank
Do three sets of 30 proper crunches and then immediately go into a plank. Try holding this position for 60 seconds. Do this back to back with 20 second rests between each set. This will take approximately five minutes.
Mountain Climbers
This exercise is done in a standing position and will take not more than 3 minutes. Get your knees as high and as fast as possible for 60 seconds. Do this 2 times in a row with only 30 seconds rest between each set.
WE ARE WHAT WE EAT
Especially during wintertime our body needs enough vitamins and healthy nutritions as the immune system is more sensitive and we spend more energy. Still, as some vitamins, like vitamin D, are hard to absorb naturally, there is always an option to use supplements. Depending on your diet and doctor's recommendations you can use a variety of products that will benefit your overall body and health condition, like – individual minerals and vitamins, amino acids, protein bars and blends, organ&stress support products etc.
The best place in Canada to purchase any of these is at Popeye's Supplements. It is the Canada's largest sports nutrition retailer with more than 140 locations coast to coast. What makes them the best choice when it comes to consuming any type of supplement is the fact they take the time to inform the customers in a useful and detailed way answering all the questions and concerns about sports nutrition. The offer of this brand is carefully selected based on the valuable feedback and information collected from their users, so no product is a waste. All you will see on their web store and in-store are 100% tested products of the best quality helping you to get the wanted results in the right way. Their team answers all the questions not only about the supplements they sell but also about the companies they cooperate with. We recommend you do your research and join their in-store mailing list, so you can get the chance to use discounts and exclusive sales coupons.
WHERE TO DRESS
In order to feel comfy while shaping up it is good to know where to purchase the best sports clothing that will facilitate your in-house activities. Let's start with Sport Experts. This is a major Canadian sports retailer, part of FGL Sports within Canadian Tire group. For more than 50 years, this brand has been cooperating with numerous sport organizations, events, professional teams, coaches and athletes promoting health and physical activity.
The story of Sports Experts began in 1966. when eight experienced business minds decided to join their forces and ideas. A year later, they formed a formal association under the name Champion Ltée with the key goal to create great purchasing power and offer products at the best optimal price. At the very first board meeting, the founders made the decision that their group should hold a different name to best represent their venture – this is how Sports Experts was born.
Sporting Life is another leading Canadian fashion and sports retailer with several locations across the country, and main locations in Quebec, Ontario and Alberta. Since 1979, they have been committed to providing the customers and their families with the best possible service. Sporting Life is a brand known for offering high quality products and most wanted brands from the world of sport that could enhance their customers' active lifestyle, whether it's skiing, snowboarding, hiking, tennis, cycling or just spending your free time getting in shape. It is location number 2 we recommend you visit either live or online in order to fully get ready for your winter home workout.
Their team will welcome you with the best in outdoor apparel and fashion, footwear, equipment and accessories for men, women and kids. They are also educated and informed and will be there to provide excellent service to help you find just what you're looking for, offering an exceptional overall shopping experience.
Sporting Life has large format stores that are carefully designed to give you a unique view of premium brands and products sourced from all over the globe.
Another great place to get yourself ready to be active this winter is Sport Chek. This is the largest Canadian retailer of sporting clothing and sports equipment, with 195 stores throughout Canada as of 2017. Known as Canada's health and wellness destination for looking and feeling well their role is to help motivate all of us to get moving and to prove that achieving wellness goals doesn't have to be a daunting task. In Sport Check, you will find literally all you need for an active lifestyle. Their collections make sports and activity more fun and approachable. Get your equipment at Sport Chek as there are always some great deals in the house!
To sum it up:
Pandemic already affected so many aspects of our lives but we are the only ones responsible for little steps that will help us live healthier lives. This includes turning part of our homes into gyms. And no – it is not hard as it looks like and trust us – you will survive after a bit of jumping and sweating. The mini exercise sessions we suggest are something every healthy individual can do at a living room twice or three times a week. Pick the workout scenario that feels the best, jump into something comfy and let's get started!
For more detailed infos visit Shopping Canada.