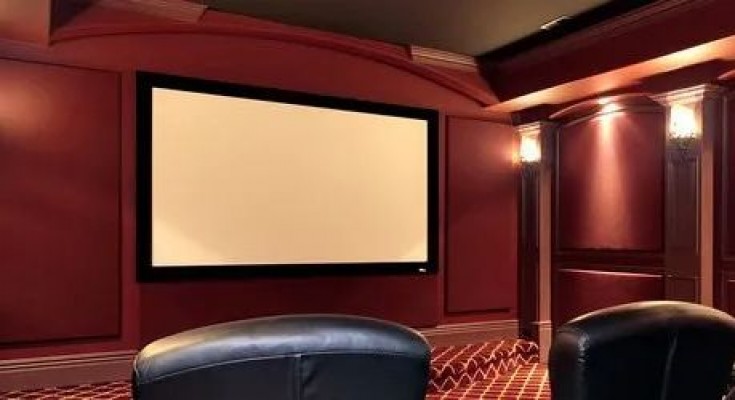 Two years ago, none of us could imagine how much time we would be spending in between our four walls.
And, if we assume we will manage to stay healthy, it's actually not bad news at all – if you are creative enough there are so many advantages of spending more time with your loved ones, taking on new hobbies, save time with remote work and finding new ways to have fun!
Talking about fun – how about making your own home movie theatre!
If you have an extra room in your house, making a home theatre or media room may be one of the best ways to use it. To create the ultimate cinematic experience in your home is a very fun challenge and there are several things to consider. You should take your time to review all available options before selecting the most appropriate components. You'll want to consider various aspects such as the seating preference and size, your sound system, picture size and quality etc.
Read on to get the best ideas on how to make the best mini home movie theatre.
Seating comes first
Proper seating is one of the most important factors for an ultimate home cinema experience.
First of all, have in mind that the seating arrangement, size of the room and the size of the screen all need to align. If you're planning on having more than one row of seating, it's best to plan for approximately 18 inches to 24 inches between them. You have a lot of space to play with the size, shape, and color of the seats in your home theater room. Many even add custom seats for your kids. To take it to the next level you can even set up different seat accessories such as power controls, inbuilt USB chargers or cup holders.
If you're curious about finding the right seating arrangement for your home theatre, there are plenty of options in the market. Here's what we recommend.
The Panasonic massage lounger could just be the right thing for your home movie theatre!
Model EP-1285K features a contemporary design with high quality leather and a float mechanism which gently touches the body. It also offers a thumb-sensation massage heads that permit 44 types of techniques including Hawaiian massage. This is slightly more affordable option that you can find in 2001 Audio Video store.
A bit more supreme model is The Real Pro Ultra EP-3004K intensity plus massage lounger. It offers a float mechanism that simulates the movements of a rotating wrist for an amazingly life-like massage.
All that sound
Without a proper sound system, the idea of making a home movie theatre is a total waste. There are many types of sound systems available that are suited for a small home theatre system.
Start by determining the number of speakers you'll need in your room based on the size of the space. Then, think about ways you can strategically place the speakers in the room to reduce your investment. If you're going to go through the effort of building a home theatre, you'll want to use either a 5.1 or 7.1 channel surround system. The first one combines 6 different speakers to create an atmosphere of surround sound. Similarly, 7.1 surround sound systems leverage 8 channels in total with two extra speakers improving the audio quality of the home theater system. More budget-friendly option can be choosing a 3.1 soundbar setup. Although a 3.1 system is not surround sound, it can deliver a great sound for a smaller space in your house and is a great value for money.
You can find some amazing surround sound systems and in the same time save at your local Best Buy.
Here's what we think can enhance the premium experience of your home theatre.
Model is called 2020 Enclave Audio CineHome II Wireless 5.1 Home Theater Surround Sound - CineHub Edition Bundle with 24 Bit Dolby Audio & DTS.
The CineHub edition of the CineHome II offers the CineHub wireless transmitter boxed along with 6 separate customed tuned speakers. The CineHome II speakers are driven by powerful 24 Bit class-D amps delivering crisp clear and room filling true 5. 1 HD surround sound without the need for speaker wires, wireless routers, or audio/video receivers. Soundbars simply don't compare.
Other key benefits and amazing features of this model are:
It's compatible with any modern TV with a simple one cable setup - Just one cable from the Enclave CineHub to your TV is all you need. The CineHub is equipped with eARC (Q3 2020 update), ARC and optical connections for quick and easy cabling.
It comes with 3.5mm analog and Bluetooth input. With 3. 5mm analog, your turntable can be connected with ease. You can also stream your music because you will be covered with Bluetooth 5. 0 connectivity for simple use with any mobile device or tablet.
Convenient system control – You can use the Enclave App or just your TV remote. No more confusing remotes with buttons you never use. After using the Enclave app to setup your system initially, the Enclave is conveniently designed to work with your TV remote or a universal remote for basic everyday use. For those who prefer an app or need to make a quick calibration tweak the Enclave app offers all system controls including advanced settings, room calibration, and system updates. Just connect your smartphone to your CineHub with Bluetooth and you're all set!
Dolby Digital Plus/DTS/PCM gives you an incredible surround sound audio support for flawless home theatre audio.
Picture
The picture quality is one of, if not the most, important aspect of any home theatre system. You'll need to decide whether you're going to go flat screen or projection. Projector screens are much more cost-efficient than flat screens provide by TVs.
Have in mind that a big projection screen paired with a budget-friendly projector is significantly cheaper than a large screen TV, especially if you want large screen options. You will spend much more buying an 80-inch flat-screen TV, for example.
If you decide to go for projection screens don't forget they will fit in the best in a room where there are no windows to disrupt the lighting of the room – ideally a basement or room positioned in the shade with not much sun light during the day.
Our tip is to check out the 75-inch SONY 4K Smart TV if you are going for visuals that stun and genuine cinematic experience.
It will come with:
75" 4K Ultra HD display with 3840 x 2160 resolution delivers fantastic visuals with crisp clarity
4K HDR processor X1 upscales image and color quality to give you smooth and sharp images with vivid colors
MotionFlow XR 240 with native 60Hz refresh rate smoothens fast action scenes in sports, action movies, or games, so you can see every movement clearly
4K X-Reality Pro does an impressive job of upscaling your HD content to near-4K resolution for even higher clarity and detail
HDR3 with Dolby Vision makes your content feel as immersive and alluring as ever
Seamless connectivity
Integrated wired and Wi-Fi connectivity allows you to connect the TV to the internet for automatic updates, streaming your favorite shows, and much more
Integrated Bluetooth 4.2 connectivity lets you pair the TV with various devices such as wireless speakers for wire-free audio
HDMI, USB, and A/V composite input ports let you connect various video sources, external media, and more
Smart features
Compatible with Apple HomeKit, Apple AirPlay2, Amazon Alexa, and Google Assistant for convenient voice control and integration into your smart home
Built-in Chromecast lets you stream your content from various sources directly on the TV
Android TV operating system provides a smooth navigation experience and an intuitive user interface
Pre-loaded with Netflix, Amazon Prime Video, Disney+, YouTube, AppleTV app, Google TV, and Crave to give you instant access to your preferred shows and movies (subscriptions may be required)
Additional interesting features
Triluminos Pro produces precise color reproduction for realistic picture quality
178-degree viewing angles means the screen is visible from all over the room
Video modes include Vivid, Standard, Cinema, Game, Photo, Custom, and more to match the type of content being viewed
10W built-in dual speakers with auto-volume correction produce excellent audio that matches the exceptional visuals
Custom lighting
Another detail to think about (though it's more a touch up) is the way you can transform the light in your room to improve the overall movie watching experience. Blackout curtains can help darken the room to make movie viewing more enjoyable. There are specific home theatre blackout curtains that you can buy, just have in mind the price is much higher from the one of classic curtains.
Now we got you all covered for playing with tech and trying to make some space in your home for genuine movie experience! It won't be easy picking the right options but it's where the fun is – check out The Source or use TSC Store flyers to save during your shopping.
You can always use our website too, to find malls near you and pick your gadgets there.
Have fun guys and enjoy binge watching!